New for March at EDSITEment
EDSITEment focuses on Women's History Month, offers a new lesson on the Magna Carta and highlights some of the best humanities on the web.
This March, EDSITEment focuses on Women's History Month; offers a new lesson on the Magna Carta, a new unit on early American foreign policy, and a new launchpad on Benjamin Franklin; takes a look back at March 1968; highlights some of the best humanities on the web; and shares this month's don't-miss programs on PBS's American Experience.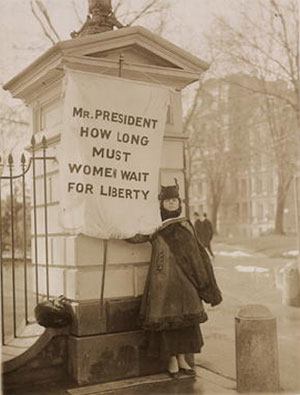 Women's History Month
March is Women's History Month, an ideal opportunity for students to recognize the value of women's empowerment in American life and in world history, as women have defined themselves and found their place in society. Journey with us through time to experience personal and public events from women's unique perspectives. Discover EDSITEment lessons and NEH-funded resources and learn about women in the Capital, in the arts, and in military and civilian service. Also, travel the long and winding road to women's equality!
The Magna Carta
EDSITEment has added a new lesson for March—Magna Carta: Cornerstone of the American Constitution. The Magna Carta served to lay the foundation for the evolution of parliamentary government and subsequent declarations of rights in Great Britain and the United States. During the American Revolution, this document served to inspire and justify action in liberty's defense. Find out why the colonists believed they were entitled to the same rights as Englishmen: rights guaranteed in the "Great Charter."
Early American Foreign Policy
The Crisis of American Diplomacy, 1793–1808, a new EDSITEment unit, covers the critical problems for United States foreign policy posed by the outbreak of the wars of the French Revolution. Was the U.S. alliance with France still in effect? Did America's young economy require the maintenance of close ties with Britain? Ultimately, President Washington decided on a position of neutrality. This official position would last until the outbreak of war in 1812. Neutrality proved to be difficult to maintain, however, particularly in light of the fact that both Britain and France consistently interfered with American affairs.
Benjamin Franklin
Also, take a look at EDSITEment's new launchpad, Benjamin Franklin's Virtues. Writing his autobiography at age seventy-nine, Franklin looks back to when, at age twenty-two, he undertook "the bold and arduous project of arriving at moral perfection." He wanted to live without committing any fault. He wanted to conquer all that natural inclination, custom and tradition, or the company of others might lead him to wrongly do. He wanted in short to reform himself, by himself, in order to possess full self-command. Alas, he discovered that this was no easy task. Follow Ben as he explains his youthful steps to self-improvement. Watch the videos and take a close reading of this classic American statement of the relationship between ethics, worldly success, and human happiness.
The 1968 Exhibit
The 1968 Exhibit is an ambitious, state-of-the-art, multimedia exhibit that looks at how the experiences of the year fueled a persistent, if often contradictory, sense of identity for the people who were there. It is the unsettled nature of the debate about damage done or victories won that makes an exhibit on this subject so compelling and urgent. In March 1968, the My Lai massacre occurs, college campuses erupt with student protests, RFK enters presidential primaries, and LBJ declines to run for second term.
Best Humanities on the Web
Women have traditionally and in great numbers volunteered to help protect the nation. Besides enlisting in the military, women have effectively served in the shadowy world of espionage as couriers, guides, code breakers, intelligence analysts, even as covert agents—spies. The National Women's History Museum introduces the dedicated "shadow warriors" who went undercover to preserve our national security in Clandestine Women: Spies in American History.
The New Bedford Whaling Museum and the National Park Service offer an interactive whaling adventure, New Bedford Whaling. Explore life in a nineteenth-century whaling port, board a whaling vessel, and take a "Nantucket sleigh-ride."
NEH Connections
Speaking of whales … tune into PBS's American Experience this month to view "Into the Deep: America, Whaling, and the World," the three-hundred-year saga of an American industry on March 20. Then learn about the Triangle Fire, the deadliest workplace accident in New York City history, on March 27.
Date / Time
Thursday, March 8, 2012 - 15:15
Library Type
Academic / College
Public
School (K-12)
Special
Job Functions
Resources and Program Starters