New for October at EDSITEment
Visit EDSITEment to discover the origins of Halloween and find out what happens when worlds collide.
Visit EDSITEment in October and discover the origins of Halloween, find out what happens when worlds collide, explore Philadelphia, apply for a school collaboration grant, and learn about an online writing gallery for your students.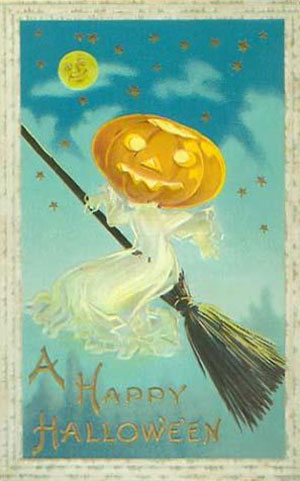 Halloween and el Dia de Muertos
The origin of our Western holiday known as Halloween is found in the ancient Celtic festival, Samhain. The many traditions associated with the contemporary American holiday, including carving jack-o-lanterns, dressing up in costume, holding parades, playing pranks, bobbing for apples, and lighting bonfires are holdovers from the Celtic Samhain festival. But the ancient Celts in Europe and contemporary Americans are by no means the only people with long histories of acknowledging the close of the harvest season by honoring ancestors, hanging ghostly décor, and donning ghoulish apparel.
History and Origins of Halloween and Day of the Dead Celebrations may be used with students as a framework for discussing the origins of our Halloween custom of trick or treating and introducing them to the Mexican festival, the Day of the Dead (el Día de Muertos), which shares similarities with Halloween, including the practice of decorating with pictures of skeletons and offering ghoulishly shaped sweets, like the famous pan de muertos (bread of the dead) and the sugar calaveras (skulls). But el Día de Muertos, which may be one of Mexico's best-known holidays, consists also of a blending of European traditions brought by the invading Spanish conquistadores and the indigenous traditions of the peoples of Mesoamerica.
When Worlds Collide
As we move from October into November, EDSITEment highlights a new offering from the PBS film funded in part by NEH, When Worlds Collide, which will help teachers straddle two national heritage months: Hispanic Heritage Month (September 15–October 15) and Native American Heritage month (November). The film looks at what happened when two worlds that for thousands of years had developed completely independently of one another suddenly come in contact in the pivotal year 1492. To help teachers make the most of this program, EDSITEment offers How Teachers Can Make the Most of When Worlds Collide. With links to lesson plans, teachers will find a broad range of creative opportunities to help engage high school and middle school students in discovering what happened after Columbus.
Also This Month
•   Discover gorgeous images of Philadelphia, its industry, architecture, culture, and people with the new NEH-supported Phillyhistory.org. Have an iPhone or Droid? Check out the smartphone version of the site, too!
•   Proposals for Picturing America projects—apply to NEH to organize a school collaboration project. Create opportunities for teachers to learn how to use this amazing classroom resource!
•   National Day of Writing—what can your students say about a great work of art? Direct them to EDSITEment's own online writing gallery and let their essays tell the world!
•   Finally, join our new group for teachers of Spanish language, culture, and literature on the Thinkfinity Community!
About EDSITEment
Now in its eleventh year, EDSITEment is a partnership among the National Endowment for the Humanities and the National Trust for the Humanities. This free-access, user-friendly website showcases more than 300 top humanities sites that have been identified and reviewed for content, design, and educational impact in fields such as social studies, history, literature, foreign languages, art, and culture. EDSITEment also creates grade-specific lesson plans that incorporate online resources, original source materials, and interactive learning activities, games, and quizzes for use by K–12 teachers and students. Find out why the American Association of School Librarians selected EDSITEment as one the 25 Top Website for Teaching and Learning for 2010.
Date / Time
Tuesday, October 12, 2010 - 17:30
Library Type
Academic / College
Public
School (K-12)
Special
Job Functions
Resources and Program Starters