'Thinking Money' Exhibition
Make financial literacy fun and engaging for tweens, teens and their families.
The ALA Public Programs Office, in partnership with the Financial Industry Regulatory Authority (FINRA) Investor Education Foundation, is now accepting applications for Thinking Money, a traveling exhibition to U.S. public libraries.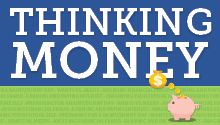 Money affects all Americans, but many of us lack the knowledge we need to make smart financial choices that will prepare us for whatever the future brings. Thinking Money strives to teach tweens, teens and their parents, caregivers and educators about financial literacy topics — like saving, spending and avoiding fraud — in a way that is not only understandable, but fun.
Thinking Money is a museum-quality exhibition that will travel to 50 U.S. public libraries between 2016 and 2018. Through an adventure-themed storyline, interactive iPad content and other fun, hands-on activities, the exhibition explores themes like wants vs. needs, preparing for a rainy/sunny day, and imagining your future self.
Each selected site will receive:
the 1,000-square-foot traveling exhibition — including two iPads preloaded with fun educational content and four low-tech activity stations — for a six-week loan;
travel and accommodations to attend an orientation workshop at the 2016 ALA Annual Conference in Orlando;
online training modules for library staff;
tips and tools for related programs; and 
a $1,000 programming allowance.
Prospective applicants are encouraged to attend one of two informational conference calls about the exhibition on Thursday, Nov. 19 at 12 p.m. CST or Wednesday, Dec. 9 at 2 p.m. CST.  To register for a conference call, please
email Brian Russell with your preferred date
.
ALA and the FINRA Foundation have partnered since 2007 on
Smart investing @ your library
, a program that funds library efforts to provide patrons with effective, unbiased educational resources about personal finance and investing. Now in its eighth year, the program has awarded over $10 million to public libraries, community college libraries and library networks nationwide. ALA and the FINRA Foundation are also working together on a research study of financial literacy resources and services available in U.S. public libraries.
Date / Time
Monday, November 2, 2015 - 11:30