National Poetry Month celebrates poems and poets, with annual events taking place nationwide in April.
National Poetry Month celebrates poems and poets, with annual events taking place nationwide in April. Established by the Academy of American Poets in 1996, the goal is to increase the visibility of the poetic form, as well as to increase access to it.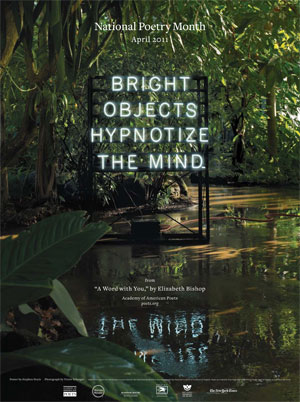 General Resources
The Academy of American Poets is ground zero for information about this annual celebration of all things poetry in the month of April. The website provides a list of major promotional events, including carrying a poem in your pocket. You can also sign up to be emailed a poem each day during the month from newly published poetry titles and see what's happening near you on the National Poetry Map. Check the website frequently for updates on this year's events and resources, including the 2011 National Poetry Month poster.
Library of Congress poetry resources
Featuring poetry-specific "today in history" information, webcasts and audio recordings, Civil War poetry, official state poems, and much more.
National Endowment for the Arts poetry resources
Featuring information on how to stage a poetry slam, how to create a poetry calendar, lesson plans, and additional resources.
Includes a poetry tool that allows users to search by poem, poet, audio/visual, articles, and for children, a poetry learning lab that "encourages readers of all levels to immerse themselves in poetry," and an iPhone poetry app.
Teaching Resources
Scholastic resources for teachers
Featuring classroom activities that are easily adaptable to libraries, and other resources.
Offers lesson plans for students of all ages that can easily be tailored to fit a library program. There are also other resources that focus on writing poetry, National Poetry Month, and the favorite poem project.
Features lesson plans for students between kindergarten and eighth grade that can easily be modified for the library. Activities include crafts, virtual poetry lessons, and fill in the blank poems.
Provides lesson plans for students of all ages. These plans and activities are easily adaptable to libraries. There are also poetry articles and resources for both students and teachers.
Library Programming
The Public Library of Cincinnati and Hamilton County hosted the Poetry in the Garden series with poets Dr. Tyrone Williams, Aryanil Mukherjee, and Dr. Tonya Matthews; Michael Hennessey and Dana Ward; and poets from the Greater Cincinnati Writer's League and Little Pocket Poetry. They also offered poetry appreciation and writing activities for kids and teens, including a poetry contest.
The Public Library of Brookline hosts the Brookline Poetry Series, which meets once a month on Sunday afternoons, September through May. Usually, one or two established poets read, followed by an open mic.
The Shaker Library in Shaker Heights, Ohio, began Poetry in the Woods eleven years ago when poet, college teacher, and environmental activist Barry Zucker approached the library and offered his services to create a monthly series of poetry readings.
A number of Massachussetts libraries participated in Common Threads, a program that sought to have 10,000 people in the state read seven selected poems for National Poetry Month. Each library was given a kit with the poems, discussion questions, and critical material as well as an audio clip of the poet reading the poem (or someone else reading it for a deceased poet).
Promote your National Poetry Month programming on your Web site with Poem Flow. You can copy and paste the embed code by visiting Poem Flow's home page and clicking on "Share" near the bottom.
Send your library's poetry month programming highlights to web@programminglibrarian.org to be featured on Programming Librarian—if you have a reading or event that could be webcast, let us know and we'll spread the word.
Date / Time
Monday, March 16, 2009 - 14:00
Library Type
Academic / College
Public
School (K-12)
Special
Job Functions
Resources and Program Starters
Audience
Adult
Children / Family
Older Adults / Seniors
Young Adult