Acts of Care in Times of Unrest
How can we take care of ourselves and others during this stressful time? 
"It is our duty to fight for our freedom. It is our duty to win. We must love each other and support each other. We have nothing to lose but our chains."
These words, from the great Civil Rights activist Assata Shakur, are a familiar refrain for protesters today. This refrain is a rallying cry and a reminder that fighting for our freedom is both a duty and an expression of love for our own humanity.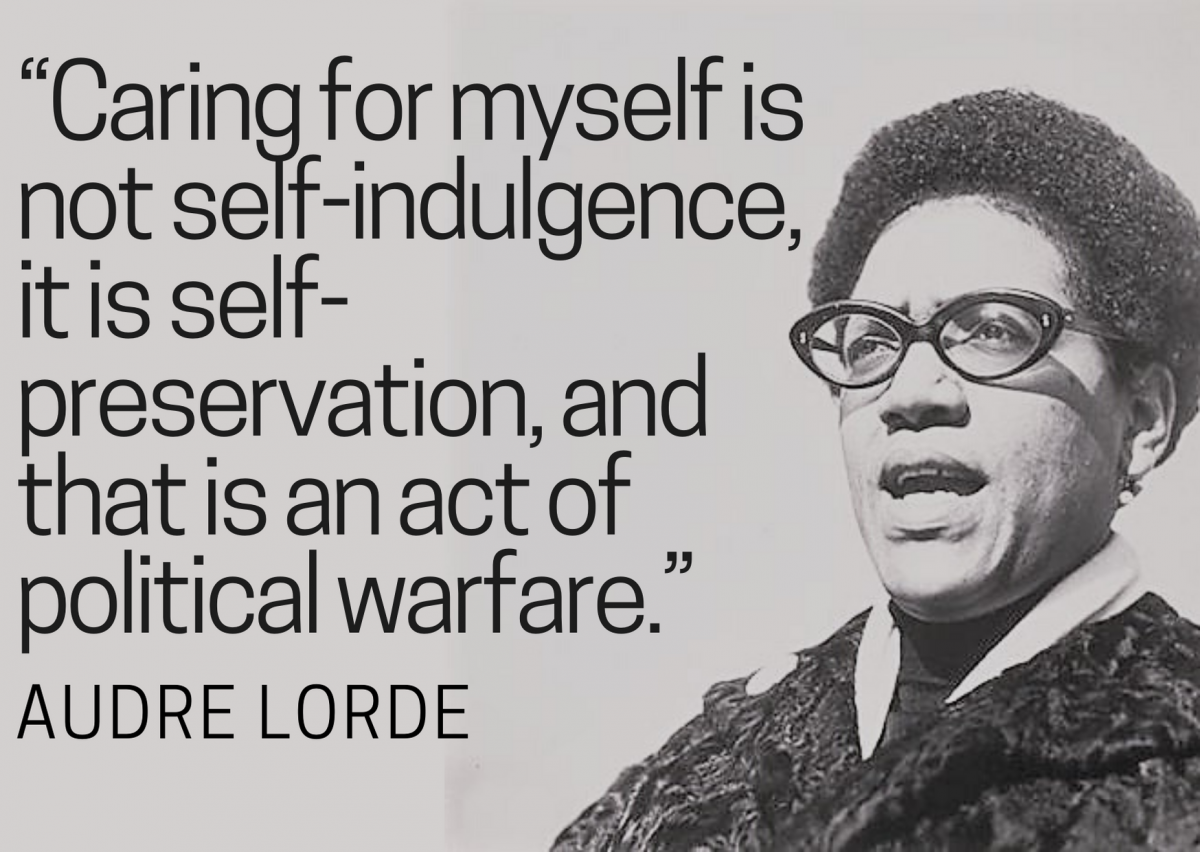 As a Black artist and activist in Chicago, I struggle to balance to create space to love and support myself in addition to protesting as a way to love and support my community. The challenge I present to myself — and to you reading this — is to think about self-care as a form of community care. If living during a pandemic can teach us anything, it's that protecting yourself is an incredibly impactful way to protect your community. But how do we find the energy to take care of ourselves in times of like these?
While there is an urgent need to engage socially and politically, it is also imperative that we create space for ourselves to rest and heal. Actively engaging in acts of care can have a great impact on our collective well-being, allowing us to continue to fight another day.
In light of the national protests in honor of George Floyd, Tony McDade, Breonna Taylor and many more whose lives were taken by police brutality, below is a curated list of ways to engage in acts of care.
This article is from my perspective as a Black artist and activist, drawing from my experience with therapy, mindfulness practices and community building. These are acts of care that have helped me; therefore, I offer them to you as encouragement to begin or find inspiration for your own journey. This is by no means an exhaustive list. However, this curation is intended to spark ideas and discussion around radical forms of self and community care as a way to combat systemic oppression.
---
Care for Black people
This section is a list of recommendations that non-black folks can take to express their love and support for the Black community. To start, here is a comprehensive list on what you can do to support the Black Lives Matter movement right now.
Don't Apologize, DO SOMETHING
We are all impacted by news of Black people being murdered by police, regardless of race. Hearing these stories can and should bring moments of self-reflection, which can come with memories of past behaviors that we want to address or even correct. 
This process of self-reflection does not necessitate reaching out to every Black person you know to see if they are OK. During this time, Black people are especially bombarded with the news and social media on top of our daily lives. While well intentioned, apologies or check-ins require even more emotional labor when we are already exhausted.
What I'm saying is: if you haven't spoken to a Black friend or colleague regularly prior to protests beginning, now is not the time to reach out.
We need our energy to cope and processing your guilt with you simply cannot be on the agenda. If you are reflecting on your relationship to white supremacy and anti-blackness, the best thing you can do is educate yourself and take action without relying on Black people in your network to tell you what to do. 
Check out the list below of places to donate to and books to read to further educate yourself on race and racism. After all, actions speak louder than words.
Another way to hold yourself accountable is to follow the advice of Black Chicago artist Dionne Addai: "If you don't know what to say — pay." Rather than reaching out to give an apology to a Black person whom you have wronged, send a brief note asking for permission to receive their Venmo/CashApp information and send funds to support their physical and mental well-being. Some Black people may give you permission to make this transfer and some may not, but this gesture acknowledges the work ahead of redistributing wealth and gives the wronged party agency to use those funds to obtain resources that they need. Then you can do the emotional work of processing the situation on your own or with a licensed professional. Note that redistributing wealth does not absolve you from educating yourself about racism and racial justice.
Donate to organizations who are fighting to protect Black people and stand against police brutality
These include Rebuild Lake Street (MN) and the National Alliance Against Racist & Political Repression
Learn about more places to donate here.
Educate yourself
Read — and recommend to other readers — from the following lists:
Suggest reading these books with colleagues and/or loved ones so you can begin conversation with them about racism and anti-blackness. I recommend starting with "Me and White Supremacy" by Layla F. Saad. If you have other recommendations, please share them in the comments below.
Some discussion topics to begin conversations about race and racism
How do we see racial privilege in our own lives?
What experiences from POC and/or Black people do we hear and not fully understand?

Follow up by finding articles written by POC and/or Black people.
Discuss what you find and assess if you have more clarity on the experience you did not understand.

What does our network look like demographically? Why is that?

How can we act together to dismantle racism in our own lives?
Conduct research together and make a plan.
---
Care for you
This section is for everyone.
Place a boundary on your social media and news consumption
This can look like limiting the amount of time you are engaging with social media and news, or you can set certain times of the day for brief updates/checks in and then LOG OFF.
Find your favorite scent
Lavender and other essentials oils are great to ground yourself during stressful times.
DIY- find something scented in your home that brings you comfort or joy - an item of clothing, a candle, deodorant, perfume, cologne, coffee, bread, etc.
Explore mindfulness and meditation
Headspace App (great for beginners!)
Additional grounding techniques like washing your hands, putting cold water on your neck and temples, eating ice cream, biting into a cold apple, or aromatherapy (find that scent!)
Anything that brings you out of your worries past/future and into your present moment.
Eat dark chocolate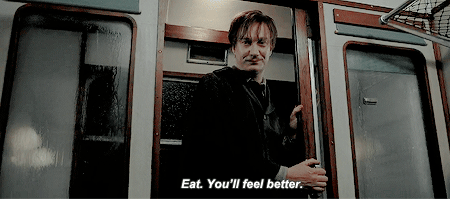 Journaling
Mood Journaling: Tracking your mood can be a helpful reflection to both find sources of stress/anxiety and sources of joy/healing. Track your days and see if you can link any patterns in your mood to your day or daily routine.
Gratitude Journaling: Write down things that you are grateful for everyday. From small moments to kind words you heard or read. Track what gives you hope.
Practice self-love and self-kindness
Talk to yourself with respect, love, compassion, and kindness.
Write down/say aloud/think to yourself words of affirmation.
For example:

I am enough.
I am doing my best and that is enough.
It's okay to not be ok.
My voice matters.
My existence is valid.
Move your body
Bodytalks with Pauline Moll

​"The Bodytalks is a movement workshop series focused on individuals learning how to be aware of, talk to, and have relationships with their bodies⁠—and hopefully creating some community in the process."
The next virtual Bodytalks is on Saturday June 13, 11am - 12pm CDT.

Online Therapy
---
Care for community
Join a mutual aid group in your neighborhood.
 
Mobilize your squad!
 
Get a group of friends to commit to each other's well-being.

Come up with a group name that's fun and motivates you (Wellness Squad, Team Ride or Die, Buddy Coalition for Greatness).
Build a group communication space (Group FB messenger, GroupMe, IG group chat, etc.).
Check in weekly on each other's health and needs and work together to tend to everyone's needs.
You can be accountability buddies for exercising, taking medication, eating, bathing, and other daily activities that demotivation impacts during stressful times.
 

If you plan to go to a protest, go with a group and be accountable for each other's safety. Be sure to conduct research about the protest to ensure it is being organized by someone or an organization that you trust.
 
Give aid to protesters by bringing food, water, PPE and medical supplies to where protesters are.
 
Be mindful of rumors and lies spread about protests online. Trust people who are on the ground and check your resources. This is a vital part of staying informed.
 
If you can, host virtual gatherings to get people together for healing and support. This can look like setting up time to make art together or seeing what virtual programming your local library is offering.
---
Care for grief
The resources below were collected through the love and dedication of Kelly Hayes, Tanuja Jagernauth, Delia Galindo, Kara Rodriguez, Bresha Meadows and Cindy Milstein in support of their organized action, We Grieve Together, to publicly mourn the more than 100,000 people lost in the U.S. to COVID-19. This action was held on Wednesday, May 27, 2020.
The below text are reformatted tweets from the #WeGrieveTogether Social Media Toolkit.
Find more ideas for coping with grief. 
Got all that? The most important thing is to take what you need, leave what you don't. Whatever you do, do SOMETHING. We have nothing to lose but our chains.
Date / Time
Friday, June 5, 2020 - 10:45