APPLY NOW: American Creed Grants
Public libraries are invited to apply by Nov. 19 for programming grants centered around a PBS film.
ALA, in partnership with Citizen Film and the National Writing Project, invites public libraries to apply for programming grants to host community conversations centered around American Creed, a PBS documentary that invites audiences to consider what America's ideals and identity ought to be. 
Read the project guidelines and apply online by Nov. 19. Up to 50 public libraries will be selected.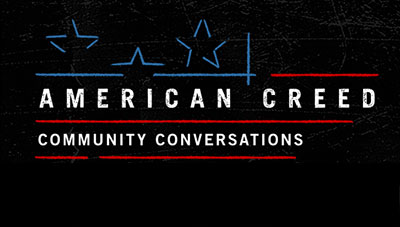 Awardees will receive:
a DVD of the American Creed documentary for their circulating collections
access to a high-quality, projection-ready download of the film, with public performance rights (PPR) included
a $300 stipend to support speaker fees for an eligible public humanities scholar, or access to a representative from the National Writing Project to serve as program moderator
a digital marketing and outreach kit with customizable printable postcards, posters and press releases and suggested social media posts with video clips for online promotion
additional resources, training and support
In the documentary, former Sec. of State Condoleezza Rice, Pulitzer Prize-winning historian David M. Kennedy, civic entrepreneur Eric Liu, moveon.org founder Joan Blades, Tea Party Patriots founder Mark Meckler, Chicago Cubs Manager Joe Maddon and other citizen-activists come together from remarkably different perspectives to explore the idea of a unifying American creed. Grantees may choose to program the feature-length documentary and/or a suite of short films, including exclusive content not available on PBS.
Public libraries that receive the grant must implement three public programs between January and August 2019 that explore the themes and humanities questions featured in American Creed. Grantees are required to work with a public humanities scholar or representative from the National Writing Project to facilitate a conversation about the film, and to recruit a local partner for programming and marketing collaboration. Read the full project guidelines.
Library branches within the same system are encouraged to coordinate submission of a single application. Successful applicants may opt-in to receive additional copies of the American Creed DVD and the projection-ready download of the film with PPR, for multiple branches within a single public library system.  
All libraries that submit a completed application — regardless of their grant award status — may receive access and permission to screen the film for a public audience, provided they agree to submit basic information about the screening to Citizen Film.
Co-produced by Citizen Film & WTTW-Chicago Public Media, American Creed is constructed around a seminar conducted by Stanford University professors Kennedy and Rice for first-generation low-income students.
Acknowledging their differences in political outlook, Kennedy and Rice recognize that "a unifying sense of American democratic ideals and identity is fragile." Their dialogue throughout the film interprets stories about different kinds of American civic activism and models the exemplary, respectful dialogue that American Creed Community Conversations seeks to support in public libraries around the country.
American Creed Community Conversations is supported by the National Endowment for the Humanities. The project is administered by ALA's Public Programs Office.
Date / Time
Wednesday, September 26, 2018 - 10:30
Audience
Adult
Community Members
Older Adults / Seniors
Rural
Young Adult