Apply Now: Community Connect
Rural libraries will receive support to assist patrons in establishing affordable high-speed home internet.
ALA with support from Capital One today announces a new grant opportunity for rural public libraries in select states to support digital access in their communities. Through Community Connect: Fostering Digital Access, the second phase of a pilot program, 12 public libraries in rural areas will receive resources and support to assist patrons in establishing affordable and high-speed home internet connections.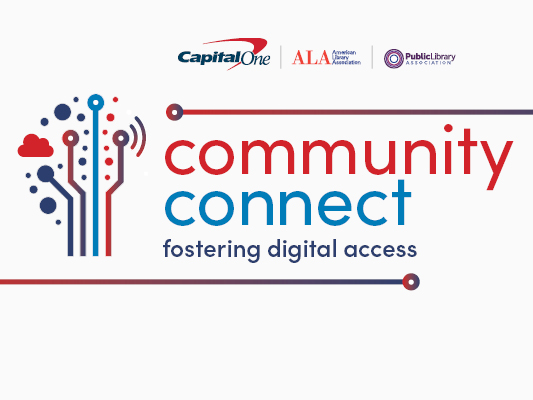 Applications will be accepted online through April 3, 2023. Rural public libraries from the following states are eligible: California, Delaware, Georgia, Iowa, Minnesota, Missouri, North Carolina, South Carolina, South Dakota, Tennessee and West Virginia.
In the first pilot stage of Community Connect, Digital Access at Home, 20 rural libraries received resources to offer a hotspot lending program to their patrons. Findings from this phase showed that providing patrons with the ability to access online resources, especially during the pandemic, supported an improved quality of life. Digital access is critical to connecting rural communities to education, entrepreneurship and employment, as well as to health, financial and other services that are increasingly only accessible online.
Libraries selected to participate in the second phase of Community Connect will receive:
Five Verizon Wi-Fi hotspots with one-year contracts and service for lending to patrons
Five HP laptops for lending to patrons
A $2,000 stipend to support educational programs
Professional development and support including a practitioner's guide and webinars
Expenses paid for a library staff member to attend a one-day orientation workshop at ALA's Annual Conference in Chicago in June 2023
Public libraries are eligible if they serve a population of 25,000 or less and are in a rural community at least 5 miles from an urbanized area, per the Institute for Museum and Library Services (IMLS) definition.
Grantees must meet minimum programming and reporting requirements. For more details, and to apply, see the project guidelines.
The goals of Community Connect are to expand the service capacity of rural libraries by offering hotspot and laptop lending policies, and information about affordable broadband access and digital literacy; improve digital access for rural library patrons to enhance opportunities for social mobility; and build on phase 1 of the pilot program by equipping libraries with resources to help establish internet connections via opportunities like the FCC's Affordable Connectivity Program.
Community Connect: Fostering Digital Access will be managed by ALA's Public Programs Office.
Date / Time
Tuesday, February 21, 2023 - 09:45