APPLY NOW: Thinking Money for Kids Traveling Exhibition
Public libraries are invited to apply by Feb. 8, 2019, to be part of the national tour.
ALA, in partnership with the FINRA Investor Education Foundation, invites public libraries to apply to be part of a national tour of the traveling exhibition Thinking Money for Kids.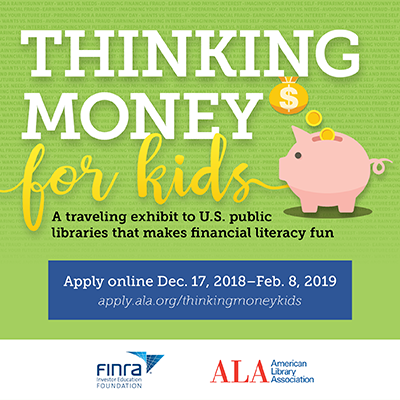 Inspired by the success of the popular Thinking Money exhibit, Thinking Money for Kids is a new financial literacy experience for children ages 7 to 11, as well as their parents, caregivers and educators. The interactive exhibit will help children understand what money is, its function in society, money choices, and money values, such as fairness, responsibility and charitableness.
The exhibit will travel to 50 U.S. public libraries between 2019 and 2021. Applications will be accepted from Dec. 17, 2018, to Feb. 8, 2019. Read the full project guidelines and apply online.
Selected libraries will receive:
the 1,000-square-foot traveling exhibition for a six-week loan
a $1,000 programming allowance
expenses paid for an orientation workshop at the 2019 ALA Annual Conference in Washington, D.C.
programming resources and support
Participating libraries will be required to hold a minimum of four public programs related to the personal finance themes explored in the exhibition and fulfill other marketing and reporting requirements.
Thinking Money for Kids will be administered by ALA's Public Programs Office.
ALA and the FINRA Foundation have partnered since 2007 on Smart investing@your library, a program that supports library efforts to provide patrons with effective, unbiased educational resources about personal finance and investing.
Date / Time
Monday, December 17, 2018 - 06:15
Audience
Children / Family
Tweens and Teens