APPLY NOW: 'The Vietnam War' Program Kits
Apply now to receive a programming kit for "The Vietnam War," a documentary by Ken Burns and Lynn Novick.
Public libraries are invited to apply to receive a programming kit for "The Vietnam War," a 10-part documentary film by Ken Burns and Lynn Novick that will air on PBS stations beginning Sept. 17.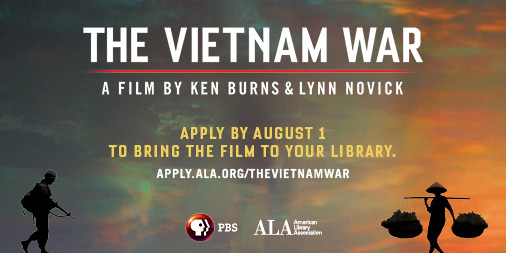 Fifty public libraries will be selected, through a competitive application process, to receive the kit, which will include a programming guide and a copy of the full 18-hour documentary series on DVD, with public performance rights. The kit will help libraries participate in a national conversation about one of the most consequential, divisive and controversial events in American history.
Recipients will also receive promotional materials, online resources developed to support local programs, opportunities for partnership with local PBS station(s), and more.
Participating libraries will be required to host at least one program related to the film before Jan. 1, 2018, along with other promotional and reporting requirements.
View the full project guidelines or begin your online application. Applications must be received by Aug. 1.
In an immersive narrative, Burns and Novick tell the epic story of the Vietnam War as it has never before been told on film. "The Vietnam War" features testimony from nearly 80 witnesses, including many Americans who fought in the war and others who opposed it, as well as Vietnamese combatants and civilians from both the winning and losing sides. Learn more about the film.
The project is offered by the American Library Association (ALA) Public Programs Office in partnership with WETA Productions in Washington, D.C.
Date / Time
Friday, June 16, 2017 - 13:30
Job Functions
Grants and Awards
Film Licensing / Distribution