Off Campus Outreach: Lessons from World Spay Day Pet Fair
University Library at Texas A&M, San Antonio worked with community organizations to tackle a city-wide problem.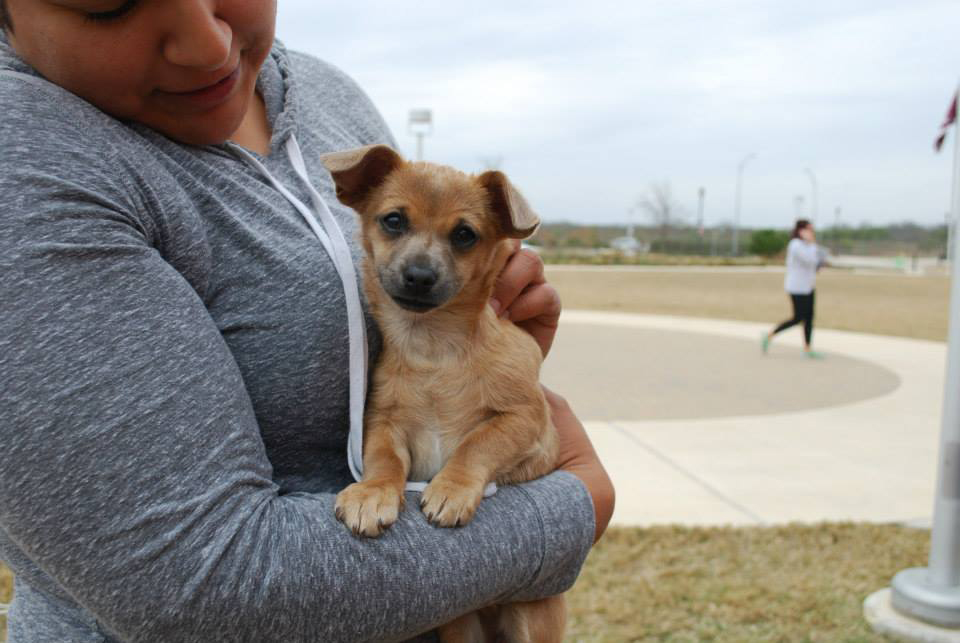 One of the wonderful things about working for Texas A&M University-San Antonio is that it is a relatively new and quickly growing university aimed at reaching the city's underserved population. As such, the main campus is located on the city's south side on an expansive piece of land (694 acres) that feels truly remote. On the mile drive up to campus you pass fields with cows and horses, and if you're not careful when leaving work late at night, you just might be greeted with the howls of coyotes in the distance or a family of wild hogs running across the parking lot.  
While the main campus setting is picturesque, it also offers an easy spot for people to dump unwanted pets. All too often we have seen dogs and cats dumped near the school and left to fend for themselves. By recent city estimates, 150,000 dogs and 187,000 cats roam San Antonio's streets, with more being tossed out onto the streets every day. 
The university's library is positioned on the ground floor of the main campus and near the street, so we have interacted with these animals often enough to want to take action. Since February was Responsible Pet Owner's Month, we thought this would be the perfect time to implement some programming to shed light on the issue and do our part to help the community with this problem. I'd like to share some of the lessons I learned along this journey. 
Our original idea started out small. We would host Gavin Nichols, director of grants and programs at the San Antonio Area Foundation, for a discussion of the foundation's animal no-kill program, Talk About It!, and its philosophy, "Care. Adopt. Neuter." Enter Lesson 1: It's all about who you know. We were able to reach out to Gavin through a connection provided by one of the university's staff members, and he gladly accepted the invitation and even offered to bring free giveaways! He also suggested that he could bring some pets for adoption from a local pet rescue agency, Missy's Haven Canine Rescue, which was approved by our campus administration. So from one relationship, the library gained two participants.
The university librarian then suggested we look into hosting a mobile spay and neuter clinic at our campus through the city's Spay Neuter Assistance Program (SNAP) to tie in with the idea of being a responsible pet owner. We discovered that any organization could host the SNAP mobile unit by providing a space for them to park and receive animals, but after presenting this idea to the university's president, Dr. Maria Hernandez Ferrier, she graciously agreed to pay the cost to bring out the unit and provide free spay and neuter surgeries. 
This illustrates Lesson 2: It never hurts to ask. We are fortunate that this cause is near and dear to the president's heart, but we also recognized that this would be a great way to provide a service for the community while also promoting our institution. Gavin provided the library with the connection to SNAP (reinforcing Lesson 1), and from there many an email went back and forth to set up the logistics of our budding event. We were excited to find out that the mobile unit was available on February 25, which also happened to be World Spay Day. With that, the World Spay Day Pet Fair was born.
Once the particulars were agreed upon — mobile clinic with free surgeries, pet adoptions and a presentation by Gavin Nichols — the next part was advertising to ensure the public knew about the event. Again, we were able to count on help from the San Antonio Area Foundation and SNAP, who advertised for us through social media, email distribution lists and even a robocall, an automated phone call that delivers a message to every unblocked phone in a given area. The San Antonio Area Foundation was already using the robocall to advertise an upcoming event, so they offered to include advertising for our World Spay Day Pet Fair on the same call for free. In an effort to reach our surrounding community, we limited the robocall to residents of university's own zip code.
A month into planning the event, we received a surprise phone call that demonstrated Lesson 3: If you build it, they will come. City Councilwoman Rebecca Viagran reached out to us and said she wanted to speak during our event. We happily accepted her offer and now had a multi-part program on our hands.
Fast-forward two months and our World Spay Day Pet Fair was a great success! Twenty-six lucky pet owners received free spay or neuter surgery for their dog or cat, as well as a rabies vaccine if needed and take-home pain medication. Five of the eleven dogs brought to campus by Missy's Canine Haven Rescue were adopted, and we had a great crowd of students, faculty and staff who received lots of great pet tips and resources, not only from the speakers but also from two tables set up by SNAP and the San Antonio Area Foundation.
Finally, many programming librarians know Lesson 4: The devil is in the details. Coordinating something with this many moving parts was difficult at times. Our university police department, communications department, events and facilities staff and IT department were all involved in some way. Face-to-face meetings and email communications in which involved parties were copied were definitely the way to go. Another challenge was the number of phone calls I received from members of the public who wanted to reserve a spot for their pets, even though SNAP operates on a lottery system. (If you build it and offer something for free, they will surely come!) After some investigating I discovered that an incorrect message was sent out to a SNAP email distribution list requesting that people reserve spots. Once the error was discovered, SNAP sent another email with correct information, greatly reducing the number of calls I received.  
Perhaps the most important lesson I learned was that we can host an event like this again — only bigger and with more local pet organizations involved — and it will be well received and more importantly, well supported.   
Date / Time
Friday, April 4, 2014 - 12:00