Can't-Miss Sessions at ALA Annual Conference 2023
Will you be in Chicago this summer? Check out our top picks for ALA Annual 2023 sessions. 
With over 200+ educational sessions, 10+ speakers, 700+ authors and 550+ exhibitors, this year's ALA Annual Conference & Exhibition is the place to be this summer.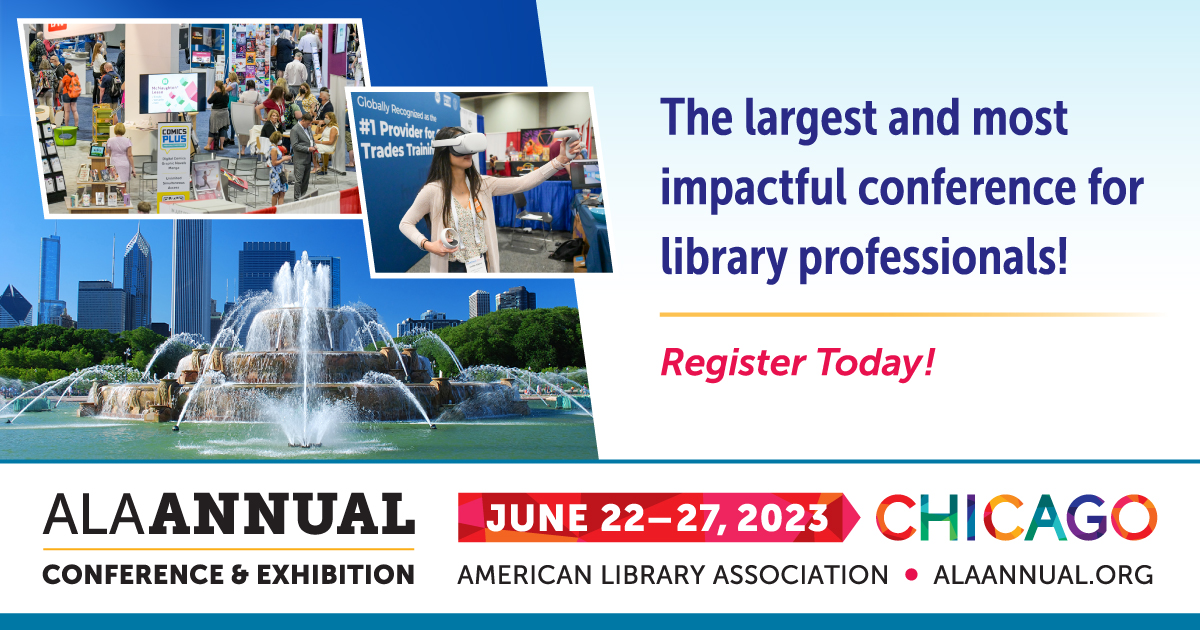 Join us in Chicago (ALA's hometown) to see headliners like Judy Blume, Amanda Gorman & Christian Robinson and Idina Menzel & Cara Mentzel.
Register now to come in person or opt for the Digital Experience.
With sessions covering topics from book bans, STEAM programming, teen/YA programs and more, check out some of our can't-miss sessions for programming librarians below. See you in Chicago!
* indicates a highly recommended session. 
Jump to:
---
Thursday, June 22
A Rally for the Right to Read: Uniting for Libraries & Intellectual Freedom
6:00 p.m. - 9:00 p.m.
Location: Hilton Chicago, Boulevard Room
Join us to honor the courage and resilience of America's librarians and their persevering work to protect the freedom to read. Program attendees will hear from inspiring speakers and recognize the 2023 recipients of the FTRF Roll of Honor Award, the Eli M. Oboler Award, the Gerald Hodges Intellectual Freedom Chapter Relations Award and the John Phillip Immroth Award. At 8 pm, a catered cocktail reception will provide a much-needed opportunity to come together in solidarity against censorship. A free ticket to attend the catered reception is strongly encouraged but not required. Space is limited and those with a ticket will receive priority admission. Due to security concerns, attendees will not be admitted without an ALA Annual Conference badge. 
---
Friday, June 23
Exploring with Tweens! Creating STEAM Exploration Spaces that are Inclusive, Equitable, and Accessible for Youth *
9:00 a.m. - 12:00 p.m.
Location: McCormick Place, W183c
The tween demographic is fun, unique, and comes with their own set of challenges. They are no longer kids, but not quite ready for your teen spaces, so how do you create an area just for them at your library? Join STAR Net as we share lessons learned on the creation of STEAM Exploration Spaces for this special age group! Participants will explore inclusive strategies for designing equitable learning environments and ways to engage tweens through community dialogues. [This is a paid ticket event, advanced registration is required.]
---
Saturday, June 24
News You Can Use - Equip Communities to "Be MediaWise" with a Misinformation Resilience Toolkit * 
9:00 a.m. - 10:00 a.m.
Location: McCormick Place, W179a (Also available to stream as part of Digital Experience)
Older adults, communities of color, and rural populations in the U.S. are disproportionately affected by misinformation. This amplifies some of the biggest problems facing America today: intensifying polarization, promoting vaccine hesitancy, and undermining faith in democratic institutions. Poynter Institute's MediaWise in collaboration with the American Library Association (ALA) Public Programs Office and Stanford Social Media Lab through support from Stanford Impact Labs and the Empowering Diverse Digital Citizens Lab, is creating a digital toolkit that can be used by librarians across the country to teach digital media literacy to adults in their communities. 
Public and Cultural Programs Advisory Committee (PCPAC) Annual Meeting
10:30 a.m. - 11:30 a.m. 
Location: Hyatt Regency McCormick, Clark C Room
The Public and Cultural Programs Advisory Committee (PCPAC) serves as an advisory committee to the ALA Public Programs Office. To promote excellence in cultural programming; to assist library staff to become more effective providers of cultural programming; to identify and disseminate resources for cultural programming; and to promote the cultural communities fund. Join current PCPAC members, ALA PPO staff, and prospective members at the annual PCPAC meeting.
Hear Me Out: Podcasting as Community Connection
1:00 p.m. - 2:00 p.m.
Location: McCormick Place, W187c
Gwinnett County Public Library creates podcasts as a novel way of connecting with our community, informing them about library programs and services, sharing interviews with some of their favorite authors, and taking fun, deep dives into young adult literature. In this session, GCPL staff members will discuss the benefits and challenges of podcasting, including the technical, budgetary, and time requirements. Presenters will also discuss how GCPL has encouraged and facilitated the community in the podcast creation process.
News You Can Use—Books Under Fire: Law and the Right to Read, 2023 
1:00 p.m. - 2:00 p.m.
Location: McCormick Place, W180 (Also available to stream as part of Digital Experience)
In 2023, attempts to ban books and limit access to libraries through new legislation and even local ordinances accelerated at a pace never seen before. These are driven by attempts to censor access to books and materials related to sex, reproductive health, gender identity, sexual orientation, and content related to race. Learn about the various types of adverse legislation, understand how these laws infringe on library users' rights, and what steps can be taken through the courts and through advocacy to preserve the right to read.
Programming for Accessibility: Workshops, Graphic Design and 508 Compliance
1:00 p.m. - 2:00 p.m.
Location: McCormick Place, W181a
Explore accessibility through the creation of a new, hybrid early literacy program for expectant parents and parents of newborns, Mother Goose on the Loose: Hatchlings, designed in conjunction with Maryland State Library. Learn common accessibility issues and how they impact a variety of people who use the library's services from the librarian who created the program, the graphic artist who designed all of the printed and online materials, and the section 508 specialist who advised and curated the website on which the downloadable materials were located for ADA compliance.
Using Virtual Reality to Explore the World Around Us
1:00 p.m. - 2:00 p.m.
Location: McCormick Place, W185a
Empathy is an invaluable 21st century skill, which allows us to better understand others' perspectives in order to be more compassionate individuals. This session will show you how you can harness the power of virtual reality (VR) through a variety of tools in order to open students' eyes to the world around them and within them--accessing Rudine Sims Bishop's (1990) "Mirrors, Windows, and Sliding Glass Doors." Participants will learn about free and paid tools used by librarians for both consumption and creation of VR content across a variety of platforms to develop students' empathy and understanding.
Censorship and Diversity: How Do Librarians Continue to Protect the Rights of Marginalized Communities Amid Targeted Book Challenges?
2:30 p.m. - 3:30 p.m.
Location: McCormick Place, W181a
This session will discuss the recent uptick in censorship challenges that have been taking place across the nation. Moderated by Dr. Andrea Jamison, three panelists will discuss how librarians can continue advocating for diverse books and preserve the First Amendment Rights of those communities targeted by censors. This session will serve as a call to action to encourage librarians to align professional practices with ALA's Library Bill of Rights.
Memory Cafes and Library Dementia Services
2:30 p.m. - 3:30 p.m.
Location: McCormick Place, W175ab
Panelists in the session "Memory Cafés and Library Dementia Services" will offer concrete and practical guidance for libraries' programming for persons living with dementia. Attendees will receive both research and anecdotal evidence for the impact of Memory Cafés and other programming for dementia, as well as a wealth of practical guidance for starting their own Memory Café: planning, event topics, funding, marketing, community partners, resources and training. Come hear the wisdom and experience of librarians who have already moved outside their comfort zones, working with the dementia community, and developing Memory Cafés and other programs and services to meet their needs.
Using Twitch at Your Public Library
2:30 p.m. - 3:30 p.m.
Location: McCormick Place, W181b
Twitch is a versatile streaming platform that allows anyone to connect with others through their original programming. It came into prominence as a site for streaming esports, but content has since expanded to include everything from video game streaming to Dungeons & Dragons to chess to live music concerts. In this program, participants will learn why Twitch is a useful tool for enhancing virtual programming, what hardware and software are needed to effectively stream and record for Twitch, the specifics on how to advocate for a Twitch channel, and the types of programming that are possible through Twitch.
Americans and the Holocaust: Bringing Holocaust History to Local Communities *
4:00 p.m. - 5:00 p.m.
Location: McCormick Place, W181b
What did Americans know about Nazism, war, and genocide in the 1930s and '40s? How did your community respond? The U.S. Holocaust Memorial Museum and ALA invite library workers to learn about Americans and the Holocaust, a traveling exhibition that explores the stories of individuals and groups of Americans who took action in response to Nazism. This powerful exhibition is currently touring to libraries across the U.S., and a new 50-library tour will begin in 2024. In this session, public and academic librarians who have hosted the exhibition will share how the experience helped them host meaningful conversations and forge powerful connections in their communities. Attendees of this session will learn actionable strategies for connecting with Holocaust survivors and their descendants, identifying partners in their community, reaching youth audiences, amplifying often-untold local connections to Holocaust history, and finding free online programming and teaching resources. Finally, attendees will learn how their library can apply to be part of the upcoming Americans and the Holocaust traveling exhibition tour.
---
Sunday, June 24
In Search of Teens: A Discussion on How to Welcome More Teens into our Libraries 
9:00 a.m. - 10:00 a.m.
Location: McCormick Place, W178b 
The pandemic's effects are still being felt at libraries across the country, especially when it comes to teen engagement. In this panel conversation, participants will hear about the approaches and strategies that we're employing to be a resource for our teen patrons when they aren't sure what libraries mean to them. Participants will have the opportunity to engage in discussion on the delicate balance that is teen services in public libraries and explore what it means to re-engage teens whose interests and needs may have changed over the past two years. This panel conversation between 3 - 4 library professionals will be moderated by Siva Ramakrishnan, from the New York Public Library, and Amy Wander from New Orleans Public Library.
Libraries Transforming Communities: Hosting Accessible Community Conversations *
9:00 a.m. - 10:00 a.m.
Location: McCormick Place, W183a  (Also available to stream as part of Digital Experience)
Quality community engagement requires libraries to engage the whole community. How can libraries best engage their communities from an accessibility lens? In this session, participants will learn more about how to address barriers to engagement and accessibility and what considerations they should make in planning and convening community conversations. Presenters will share strategies for learning about the accessibility needs of the community before holding conversations, logistical considerations that need to be made, and approaches to making community conversations accessible. The session will also cover how traditional methods for engagement (e.g. public meetings) may not be accessible for all, and how to utilize alternative means to allow the whole community to participate. Participants will leave this session with a deeper understanding of how they can engage their community in conversation through an accessibility lens, as well as how to continue to receive input and feedback from the community to improve involvement in the future.
Therapy Cards: Mental Health Resources at the Library
9:00 a.m. - 10:00 a.m.
Location: McCormick Place, W186
The Covid-19 pandemic has changed the landscape of patron needs. Boston Public Library prioritized mental health by adding the Headspace application in 2020. After the successful reception of this online resource, the Health & Human Services Specialist wanted to build on the momentum in the community and expand mental health offerings with an equitable physical resource so that patrons without smartphones or computers could access as well. In August 2022, BPL launched two different brands of therapy card decks into our collection, "My Therapy Cards" and "Therapy Toolkit." We are the first public library to provide these types of resources and we think that any library can offer them in their collection. In this session, you will learn about these decks (why they are awesome) and how we program with them. We will also delve into how this initiative is being applied across the system: as one of the largest, and most diverse library systems in the country, BPL currently has a total of 26 locations. Each neighborhood is different and we chose these mental resources with care to meet the needs of our diverse communities.
Help! They're coming for our books!
11:00 a.m. - 12:00 p.m.
Location: McCormick Place, W185a
This panel discussion, led by the Rainbow Round Table, will include: Angela Ocaña, Current Chair of the Intellectual Freedom Round Table, Christine Emeran, Youth Free Expression Program Director with the National Coalition Against Censorship, John Chrastka, EveryLibrary's Founder and Executive Director, and Jonathan Friedman, PEN America's Director of Free Expression and Education Programs. Panelists will discuss legal rights of libraries and librarians, their experiences facing censorship, and effort to resist censorship. The program will also highlight the many resources libraries have to fight against the banning of their materials.
How to Navigate Book Challenges in the Teen Services Space
11:00 a.m. - 12:00 p.m.
Location: McCormick Place, W194a
Join YALSA and Booklist to get tips about how to navigate book challenges in the teen services space. We'll hear from a panel of teen service librarians who have experienced book challenges first-hand and who can offer resources and advice about how others can find support and assistance against community push-back and censorship attempts.
Telehealth in Libraries: What You Need to Know
11:00 a.m. - 12:00 p.m.
Location: McCormick Place, W184a
Imagine a patron without broadband access at home going to your library to meet with their healthcare or mental health practitioner. That's what library telehealth is about. This presentation will define and discuss telehealth as it applies to public libraries, outline research on programs currently or recently provided to patrons, and offer information on training and networking opportunities that can empower library staff to assist the public with telehealth needs. Presenters will discuss telehealth with a health equity focus, explaining how it can help address challenges of broadband access, especially although not exclusively in rural areas that are distant from in-person medical services.
News You Can Use—Book Rich Environments: Supporting Collaboration between Housing Authorities and Libraries
1:00 p.m. - 2:00 p.m.
Location: McCormick Place, W180 (Also available to stream as part of Digital Experience)
The National Book Foundation's Book Rich Environments program aims to infuse public housing communities across the country with a vibrant and accessible culture of books. The program is built upon on a multifaceted collaboration among nonprofit organizations, national government agencies, corporate publishers, and 50+ local partner communities. By leveraging library engagement and partnership building efforts, this program will distribute over 320,000 books in 2023, and has distributed over 1.6 million books to-date. After an introduction to the program, library representatives from four different communities will share how the initiative and the collaboration it supports fit into their specific work, before opening it up to a moderated discussion and audience Q&A. Participants will leave the presentation with ideas around action items and approaches they can implement and adapt for their own community.
Autism is Welcome Here: Increase Access and Inclusion For Neurodivergent Youth
2:30 p.m. - 3:30 p.m.
Location: McCormick Place, W185d
Transform your school and public library to support and engage autistic youth! Learn about the unique needs of autistic individuals and listen to feedback gathered from the autism community about their library experiences. Translate this information and input into concrete strategies to create an autism-friendly library climate, develop a collection with authentic and affirming representation of autism, and design programming to engage neurodivergent children and teens.
Designing Community-Responsive Mental Health Programs
2:30 p.m. - 3:30 p.m.
Location: McCormick Place, W176c
Are you responsible for health and wellness programming in your library? Have you ever wondered how to create a mental health program that speaks directly to your community? Learn about two of NYPL's innovative wellness projects: the Community Mental Health Project and the IMLS grant: Building Public Library Capacity for Supporting Young Adult Engagement and Wellbeing. You will leave this session with practical ideas that you can implement at your library, big or small, to support community mental health and wellbeing.
---
Monday, June 26
Creative Aging: Cultivating Healthier Older Adulthood For Library Patrons Through Social and Creative Engagement
9:00 a.m. - 10:00 a.m.
Location: McCormick Place, W185bc
Far from ignoring the difficulties that come with aging, we must put those realities into context by regarding them as just one element of a multifaceted and potentially highly fulfilling stage of life. We should celebrate this wonderful, dynamic, creative stage of life! There is great potential in older adulthood, as it is a time to grow, reflect, and make meaning. Creative and social engagement, and the joy that is found through pursuing such endeavors, fosters a healthy and happy older adulthood. In this session, we will delve more deeply into the "why" and "how" of Creative Aging programs that bring opportunities for artistic expression, learning, and celebration to the older adults we serve. Find out about some of the fantastic things that public libraries can do to make the third stage of life the best stage of them all!
Is Your Library Challenge Ready?
9:00 a.m. - 10:00 a.m.
Location: McCormick Place, W183a
At the height of their strength, library teams (in whatever form they take) move as a fluid, nimble unit to respond to challenges. To achieve this level of functionality, each team member must be familiar with the guidelines and demands of relevant library policies and must have reflected deeply on how they direct the actions of individual librarians as members of that team. Librarians in a solo environment can use these strategies to identify and build affiliations/partnerships with like-minded institutions in their communities and beyond. Attendees implementing the strategies presented in this session will have the opportunity to reduce uncertainty and stress when a challenge is launched. Learn how librarians and community partners with various levels of expertise and abilities can produce assertive rather than reactive responses, thereby preventing library teams from facing internal as well as external strife.
News You Can Use—Leading the Way: Community Engagement in Small & Rural Libraries *
10:30 a.m. - 11:30 a.m.
Location: McCormick Place, W180 (Also available to stream as part of Digital Experience)
Libraries serving small & rural communities are doing incredible work. Learning how they take advantage of opportunities and overcome challenges for community impact can be instructive for libraries of any size. The Libraries Transforming Communities initiative has yielded some fascinating insights by doing in-depth research with small & rural libraries for the past 5 years. Come discover more about what we're finding and hear firsthand accounts of inspiring library practice.
Serving your Patrons with Dementia
2:30 p.m. - 3:30 p.m.
Location: McCormick Place, W475a
Join this open discussion to share information about providing programs and services to those in your community living with dementia. Whether you are an experienced "pro" or just starting out, we can all learn from each other. Come if you have lots of questions or if you have successes, failures, best practices, staff training efforts, etc. that you would like to share! This will be a great networking opportunity to find kindred spirits who are doing vital work with this deserving, but often underserved, population.
News You Can Use—Welcoming Spaces: Creating Welcoming Environments for Immigrant and Refugee Families
4:00 p.m. - 5:00 p.m.
Location: McCormick Place, W180 (Also available to stream as part of Digital Experience)
This session reviews the information gathered from the Welcoming Spaces National Forum, sponsored by IMLS and executed by the Association for Library Service to Children and the Association of Children's Museums, and provides best practices for libraries looking to improve their outreach and service to immigrant and refugee communities. The Welcoming Spaces National Forum brought together members of the library and children's museum communities to document extant efforts, exchange ideas, and cultivate dialogue across two family-oriented services (libraries and children's museums) and ascertain areas for improvement and best practices in community outreach and patron service.
Date / Time
Tuesday, May 23, 2023 - 09:30
Job Functions
Professional Development/Training