Celebrating Deaf Culture and History
Two Deaf librarians share thoughts on how to best celebrate and include the Deaf community at your library.
"ASL (American Sign Language) is becoming hugely popular for hearing people to learn," says Alicia Deal, public services librarian at Dallas (Texas) Public Library. "As great as that is, I worry that it'll end up being a passing fad."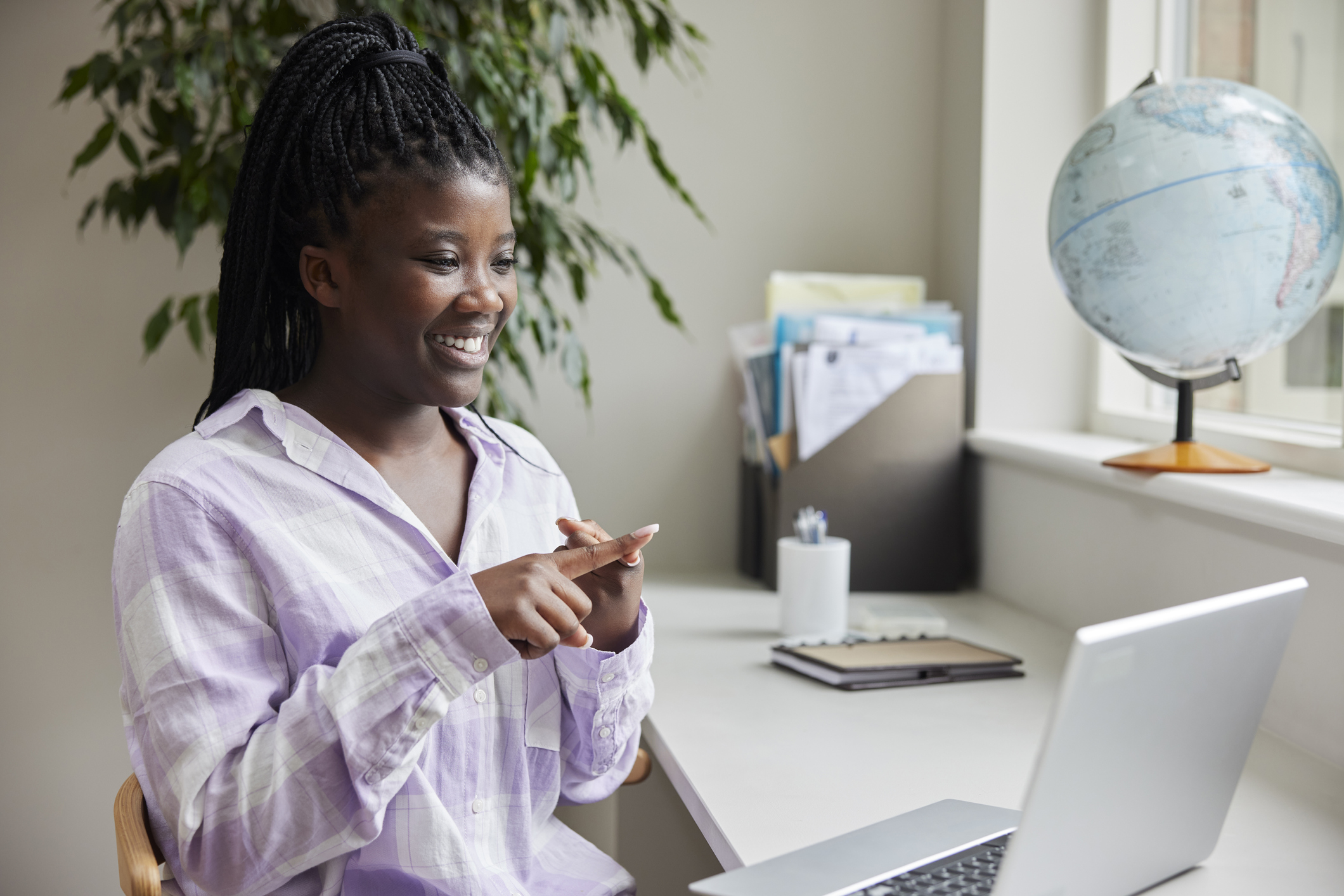 "There are a lot of hearing people who don't educate themselves on Deaf history and culture before learning ASL. This can cause them to co-opt and profit off our language while many Deaf people are not consulted," Deal continues. "We want to mend that."
When Deal arrived at the Dallas Public Library in 2019, she jumped right into planning passive and active programs to include the local Deaf community. While researching program ideas, Deal, together with the manager of Dallas Public Library's Grauwlyer Park branch, KayCee Choi, came up with the idea of teaching Deaf history and Deaf culture through a display and a series of short videos. However, due to the pandemic, the videos were unable to get made. Fast forward to 2021, the original idea turned into a month-long series of programs presented during March and April for National Deaf History Month (March 13 – April 15).
I spoke with Choi and Deal about their programs for National Deaf History Month, the significance of library outreach to the Deaf community and the importance of hiring Deaf librarians and staff.
What programming does Dallas Public Library offer for the Deaf community?
Choi: The Dallas Public Library, as a system, has had outreach to the Deaf community for over 10 years. We have the local Deaf preschool come for library visits and story times. I also teach a Beginning ASL class at the library that incorporates Deaf awareness, history and culture into each lesson.
We also provide texting devices at the library for Deaf and hard-of-hearing people to communicate with staff members.
Deal: I've hosted programs with Disability Rights Texas, which provided information regarding the legal rights of those who are disabled. I ensure that with all these programs, captions and/or ASL interpretation is provided. It is important to be accessible when hosting programs, especially if they are geared toward the Deaf or disabled community.
Tell me about your National Deaf History Month programs.
Deal: Before the pandemic, we had planned to put up a passive display for the month, but the library closure gave us time to put a lot of planning into an active program series that would appeal to different age groups.
We did a story time for elementary-aged children using the picture book "The William Hoy Story" by Nancy Churnin. William Hoy was the most accomplished Deaf player in the history of Major League Baseball. Churnin came to the library and read her book and we also brought in a guest, Steve Sandy, a Deaf man from Ohio who owns a lot of William Hoy memorabilia. It was a combined story time and history lesson that the kids really enjoyed.
For teens, we created a quiz about Helen Keller. At the time, there was a viral conspiracy theory on Tik Tok centered around people expressing their doubt about her existence. The videos discussed how it seemed impossible for a DeafBlind person to be as successful as Keller was. To combat this harmful misinformation, we created an interactive quiz to engage and teach teens about Deaf history and culture. We also did a family program with someone from the Texas School for the Deaf to talk about the school and its significance to Texas Deaf history.
What are your future hopes for the library field when it comes to providing programs for the Deaf community?
Choi: I hope for more awareness and service. Our library provides a broad range of services. We serve the Latinx community, the LGBTQ community, the elderly community and more. Here in Dallas, we have Deaf schools and the Deaf Action Center which houses 300 low-income Deaf people. It seems only natural to also have Deaf services and programming. Ultimately, the hope is for all libraries to be safe and welcoming places for everyone.
Deal: Hire Deaf librarians. Having Deaf and hard-of-hearing people on staff will increase those who can fluently communicate in ASL and plan appropriate programs for this community.
It's important to mention that Deaf people who are born and raised in hearing families within rural, isolated communities have virtually no resources to learn ASL. On a wider scale, I would hope that one day there will be programs on the state or federal level where ASL classes are available for a discount or for free for Deaf people and their friends and families. For now, I would encourage libraries to do more to meet this need. If you can't offer ASL programs, you can easily start discussions about accessibility and compile local resources.
I also hope it becomes easier to make all library programs accessible. A problem we're often confronted with is that the library claims they can't afford to provide caption services or ASL interpretation at all programs unless they are explicitly asked for by a Deaf patron. Even then, there is no guarantee that those services will be available. Deaf people are missing out on so many different programs, including fun programs like arts and crafts. I speak from experience; a lot of Deaf people love to craft!
If a library wants to start an ASL program, what would you advise they do to avoid harm or inaccuracy?
Deal: It's important to know that many Deaf people are discouraged from learning ASL and are instead encouraged to learn how to read lips. I am someone who was in that boat, and I am only learning ASL now. It is important that hearing people know this — especially hearing people that are learning and actively use ASL. Hearing people should not be prioritized over Deaf people when it comes to ASL, and hearing people should never teach or use made-up signs, especially in an ASL-focused program.
For a library that wants to plan ASL programs, please be careful with who you bring on to provide those services. Choose someone who is fluent and always try to prioritize hiring a Deaf person if you can. For example, I encountered a sing and sign program that was hosted by someone who was not Deaf and not fluent in ASL. This can be harmful and discouraging for the Deaf community. The person hosting the sing and sign should have consulted with Deaf library staff to know for sure which resources to use for teaching signs. Or better yet, ask Deaf staff fluent in ASL or ask a fluent Deaf signer to teach the program instead.
Choi: Having ASL programs without someone who is fluent in ASL makes about as much sense as having a Spanish program where the presenter doesn't speak Spanish and only uses Google translate.
What are your recommendations to libraries that want to strengthen their outreach to the Deaf community? Any resources to share?
Choi: Start by reaching out to local Deaf organizations. Create that connection and work with them to plan programs or to bring speakers and educators into the library. Look to see if there are any local Deaf schools in your area or your state as they can be great resources for education on ASL and Deaf history and culture. They also make a good partner or reference when you're planning programs.
If you don't have any Deaf or hard-of-hearing people on your staff, use credible resources and reach out to people in the Deaf community for support before planning and promoting anything — especially if ASL is used. My YouTube channel is also a good place to start learning ASL!
Deal: Gallaudet University's website has so many resources. You can contact them to point you in the right direction for whatever you're looking for. They have quality resources that won't harm the Deaf community. There are a lot of resources out there that I wouldn't recommend because they oppose the use of ASL — stay away from those. The blog series that KayCee and I wrote for National Deaf History Month also has a ton of great resources.
If I had to recommend a book for librarians to read about Deaf history, check out "Never The Twain Shall Meet: Bell, Gallaudet, and the Communications Debate" by Richard Winefield. It covers the history I referred to earlier about why many Deaf people are encouraged not to learn ASL. Alexander Graham Bell was one of, if not, the most ardent supporters of oralism in the U.S. in which they explicitly discourage the use of sign language, even using physical and other kinds of punishment to prevent use among the Deaf.
For more non-fiction reads to inform your knowledge of Deaf history, check out this blog post.
Date / Time
Thursday, August 4, 2022 - 09:00
Job Functions
Resources and Program Starters