Crafting an Adult Hand Skills Program
Arts and crafts have long been a staple library program, but have often been aimed at children. Not anymore.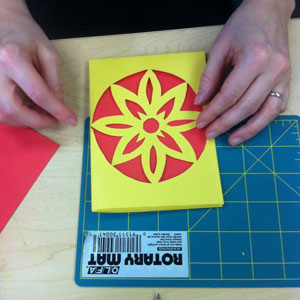 Arts 'n crafts have long been a staple library program, but are typically aimed at children. However, crafting for adults has recently re-emerged as a popular hobby. Image-based bookmarking site Pinterest helps users share ideas and inspire one another's creativity. Meanwhile, Etsy, the online marketplace for buying and selling hand-crafted goods, currently has thousands of shops selling everything from knitted 1940s-style snoods to furniture to chocolates, and claims about fifteen million buyers. Ravelry is an online community for knitters and crocheters to exchange patterns, review yarns, and trade project ideas. Crafters can also be found on Meetup, Facebook Groups, and in local craft/yarn stores.
The Greenpoint branch of the Brooklyn Public Library has spent the last year experimenting with a program aimed at bringing in this community of crafters with a monthly program called Greenpoint Hand Skills. Branch Manager and Program Coordinator Kure Croker originally came up with the idea for a library crafting group. She works in collaboration with Kim Grassie Konen and Julie Schneider to brainstorm craft ideas and to teach the workshops. By day, Kim and Julie work for Etsy, but they are passionate crafters even during their off-hours. The two volunteer their time and run the workshops each month. They frequently teach the workshops themselves, although they do invite other crafters to come guest teach their expertise. As a card-carrying member of the Brooklyn Public Library, I was excited to hear that an adult crafting group would be starting at my local branch. Working as a systems librarian in a special collections library does not present the opportunity to work with my hands often, and I had been searching for a creative outlet. I have very little crafting experience, so the public library was a familiar and comfortable space to give it a try.
Greenpoint Hand Skills has held eleven workshops in the past calendar year that have covered a variety of crafts, including crochet, paper crafts, and zine-making. Some workshops demonstrated how to upcycle used objects into creative projects: one month, the group turned used bicycle tubes into small pouches, drink kooziees, and even a flask cover, and another month they made bracelets from the wire in discarded cables. In the workshop I attended, we crocheted or hand-stitched coffee cup koozies. Since I attended both sessions I was able to make both. Neither turned out pretty, but they were still fun to make, and I use both at home. Future workshops include Knitting 101 and garland making. Each workshop begins with a demonstration of the craft, and then participants spend the rest of the two-hour program chatting and working on their projects. Kure picks a selection of books for patrons to peruse that relate to the theme of that month's workshop. Each workshop's theme is inspired by the current season and its textures.
The Hand Skills program is open to all, but is very popular with twenty- and thirty-somethings. Greenpoint is one of Brooklyn's hippest neighborhoods, and the library is a reflection of the community (they also offer yoga most Saturdays). This age group is one that Kure was hoping to attract. Most patrons in this age group use her library primarily as place to check-out materials, but rarely attend programs unless they have children. A number of the program attendees had never been into the Brooklyn Public Library before; the program has resulted in a number of new library card-holders. Each session typically has around twelve to fifteen attendees. The skill and experience of the program attendees span wide range: some are hardcore crafters, already active in the greater crafting community, while others have never tried it before. Those with previous experience often are eager to help out the novices. The upcoming Knitting 101 workshop has a lot of interest from those wanting to learn, and the group is encouraging seasoned knitters to come out, in true knitting circle style.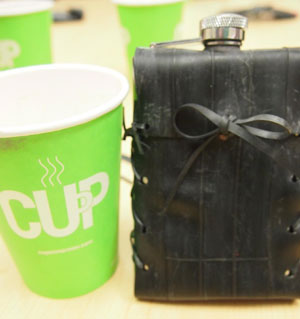 Community is an important aspect of the program; participants enjoy coffee and doughnuts from local businesses and are encouraged to purchase crafting supplies from the yarn store down the street from the library for at-home projects. They play music and strive for a causal environment; crafting is very social activity by nature. The Greenpoint Hand Skills group is an example of the community partnerships that Brooklyn Public Library strives to make. By bringing in outside volunteers to teach, the library can offer programs on skills beyond the knowledge of the library staff. Kure was able to reach out to Julie and Kim because she is constantly reaching out to make connections with other members of the community.
This program is easily adaptable to a library of any size. The vivacious crafting community that already exists is a great resource for finding instructors as well as interested participants. Visit your local craft or yarn store to find people who already have experience teaching crafts. Crafting sites like Etsy and Ravelry have community sections that include location-based groups. Craft fairs have become more numerous and occur frequently. Likewise, these venues are all great opportunities to promote your library's own craft group. Another consideration is the cost of the crafting materials. The Greenpoint branch has a very active Friends of the Library group who donated the funds for materials so that the program can be offered at no cost to patrons.
Greenpoint Hand Skills appears on the library's main programs calendar, but also is promoted via their Facebook group, which they use to send out event invites and share pictures of their finished crafts. Print flyers and word-of-mouth have also been successful promotional tools. Don't forget to share photos of everyone's finished projects (with permission, of course)! Post pictures on your library's social media sites or use in future promotional activities. The Hand Skills group is hoping to start its own tumblr to highlight and share their crafts. Perhaps adults are too old to put their project on Mom's fridge, but that doesn't mean they don't still enjoy showing it off.
Date / Time
Monday, December 3, 2012 - 15:45