Creating Successful Tween Programming
What is a system to do when faced with the task of filling a community need with a skeleton staff and invisible budget?
As we all experience daily, public library systems are doing more with less. So what is a system to do when faced with the task of filling a community need with a skeleton staff and invisible budget? The Manatee County Public Library System in Bradenton, Florida, was faced with this very question after our 2011 long-range planning process. The service area of Manatee County is 743 square miles with a population of 327, 293. We are a six-branch system with a staff of 59.75; our staff was 80.75 pre-budget cuts.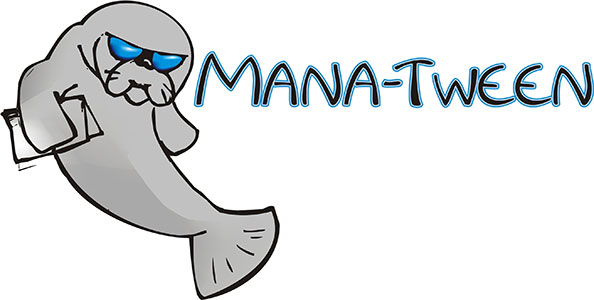 According to the results of our surveys, focus groups, and town hall meetings, our community was satisfied with the school-age programs provided during the summer months, but found the lack of year-round programming for this age group to be troublesome. In order to fill this programming gap, we had to employ some creative problem solving skills quick! So, how could we fulfill the needs of our community with a smaller staff than ever and an even smaller budget? The answer: teamwork.
Why Program to Tweens?
The idea was to create year-round tween craft programs as well as a tween book club. Why should you program to tweens? First of all, they still think the library is a cool place to be! But seriously, it's a great way to promote library services and materials, foster cooperation with the schools, introduce literature and provide readers advisory, and introduce teens and families to homework help databases. On a social and personal development level, programs can help tweens understand themselves and their world, aid their independence and logic development, and work cooperatively. And let's not forget the impact of creative play and its value when it comes to aiding academic achievement. What is it that motivates tweens? They are motivated by fun, freedom, belonging, and a sense of power. We felt that our tween club structure could fulfill these motivations while simultaneously being educational.
Create Your Tween Team!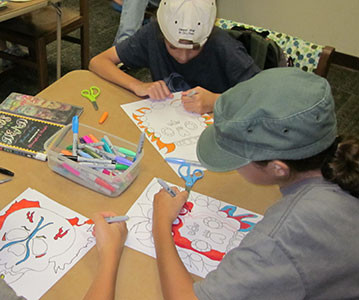 We librarians love a good committee, so that's exactly what we formed. The Mana-Tween committee was created to program to tweens (ages eight to twelve) by sharing the workload. Designating your team members is an important step in this process. You will need a children's librarian at each branch to become a team member. This is a fantastic opportunity for system-wide collaboration among colleagues. For us, six brains were better than one, and six talented team members can create some unique and diverse programs. Everyone will have different strengths and talents, and this makes it fun for the tweens; the programs are as vibrant and as different as the children's librarian who performs each one. Within our team we have a science buff, a musician/dancer, an artist, a detail diva, a retired teacher, and a self-proclaimed non-crafter.
Money? What Money?
Once we had our idea and team in place, it was time to tackle the ever-elusive funding issue. We took all these great reasons to create programs for tweens and created a proposal for our Library Foundation, asking that they support the cause. Specifically, what we were seeking was funding for the tween book club. With an already shrinking acquisitions budget, we didn't want the book purchases to come out of our 2012 book budget. We also wanted to be able to provide our tweens with copies of the books to avoid any cost or difficulty on their part. Through a combination of our proposal and our director's support, the Library Foundation agreed to donate $7,000 to our tween book club purchase. We were on our way! Foundations, boards, Friends of the Library groups, and so on all have their own ideas about what they will spend money on; but it never hurts to ask! You may also seek outside grant sources if allowed by your system. The point is to ask everyone; something might stick.
Our tween programs all included some craft component. We decided to ask our individual Friends' groups to support those programs, which they happily agreed to. If this does not happen for you, there are plenty of craft ideas that are no-cost, low-cost, and/or use recycled elements. Editor's note: Check out Coffee and Crochet Hooks: Crafting an Adult Hand Skills Program or Recycled Craft Day for some crafting ideas that can easily be used with tweens.
The Mana-Tween Book Club Structure
Each of our six locations has its own monthly book club. Attendance is limited to fifteen tweens per location, per month, and preregistration is required by a parent or legal guardian. Adults are asked not to attend the book club, but are welcome to stay in the library. If they are planning to leave our property, we make sure we have a cell phone number in case of an emergency.
Each month the same book is read by three of our libraries, while the other three libraries read another book; the next month we swap books. We purchase forty-five copies of each book, sending fifteen copies to each branch. If we notice that there are holds on a particular title, and we have extra copies at our branch, we simply fill the hold and send the book in transit to the correct location.
Each team member is responsible for developing the book club questions and activity for two of our book club titles; this eliminates re-inventing the wheel and is a time saver for our already taxed staff. We have a shared folder that we use to share documents, and we usually have planning meetings bi-monthly. As for the actual book club meeting, we keep the monthly schedule consistent at every branch, and the book club is facilitated by the branch children's librarian (aka Tween committee member). Here is an example of our book club schedule:
Central Library—third Thursday of the month from 3:30–4:45pm
Braden River—first Thursday of the month from 6–7:30pm
South County—first Thursday of the month from 6–7:30pm
Palmetto—second Wednesday of the month from 3:30–4:45pm
Rocky Bluff—second Wednesday of the month from 6–7:30pm
Island—first Wednesday of the month from 6–7:30pm
As you can see, there is some overlap of days and times, but it is of no concern for us. The tweens almost universally attend programs only at their own branch. Creating a schedule and selecting the books is time consuming during the planning process, but once it's down, you have a repetitive, easily maintained schedule with a round-robin workload share.
The Mana-Tween Program Structure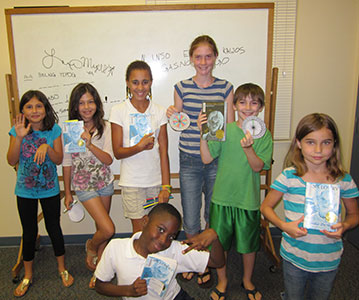 We wanted our programs to reflect varying tween interests; be multicultural; appeal to both genders; touch upon different artistic mediums, technologies, and educational skills; and be fun. Press releases and in-house posters/flyers were created by our information coordinator. As these programs were done by our librarians, costs were minimum. Each librarian was responsible for creating a program, securing the funds from their respective Friends' of the Library group, and facilitating the program at each of our six locations. An added benefit of this "roving librarian" format is that tweens and their families get to connect to a children's specialist at each location. If they are visiting a different branch, they will see a familiar face they feel comfortable approaching for help. It also benefits the librarians in that it is an opportunity to visit other branches, learn about that unique community, connect with other tweens, and (let's face it) get out of their home branches!
With this structure, we had six tween programs, one every other month. The programs offered were candy science, making burrito books, wrapping paper wallets, Day of the Dead masks, recycled paper bead bracelets, and Sumi Ink painting. A majority of these programs are no-cost, low-cost, or used recycled materials. Left over wrapping paper scraps transform into cool wallets! Glossy pages of old magazines are turned into recycled wrist couture! Colorful paper is cut and folded into your very own burrito book that holds all your secrets! And with this structure, each team member is responsible for ONE program, but gets to offer their tween patrons six programs that are specially designed for them. This round-robin model is easily reproducible and allows for quick implementation of programs. Here is a look at our Mana-Tween Program Schedule:
Central Library—first Wednesday of the month from 3:30–4:45 p.m.
Braden River—third Thursday of the month from 6–7:30 p.m.
South County—fourth Thursday of the month from 6–7:30 p.m.
Palmetto—last Wednesday of the month from 3:30–4:45 p.m.
Rocky Bluff—last Wednesday of the month from 6–7:30 p.m.
Island—third Wednesday of the month from 6–7:30 p.m.
Marketing and Social Media
When creating this model, we were desirous of a club-like atmosphere for the tweens to encourage unity and help market the program. Luckily, one of our librarians is also an artist, and she designed a Mana-Tween logo that we use on all our promotional materials. It's fun, simple, and identifiable by the tweens. This logo is also used when we market our programs on Facebook, again creating a visual that makes it easy for the tweens and their parents to find under our events page.
Social media is a very effective tool for us when promoting these programs and recruiting new attendees. Posting a picture of our tweens enjoying a craft creates interest from library patrons while generating traffic for our Facebook page. Adding this tool to your calendar of events, outdoor/indoor signage, press releases, and flyers will promote the tween clubs at all levels. Of course, nothing beats word of mouth, and the tweens will spread the word to their friends for you!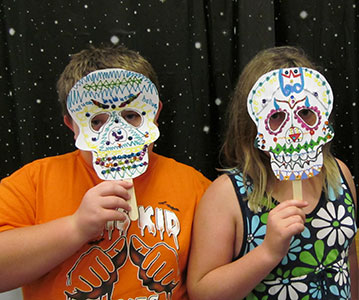 2012 Results and 2013 Additions
We started our Mana-Tween adventure in March 2012, and had one of our branches closed for renovations, resulting in no programming there for six months. Our final programming statistic for this new venture was 501 tweens in attendance. Not bad! In addition, we have built solid relationships with our Mana-Tween "regular" tweens and their families, performed readers advisory, promoted library materials and databases, and facilitated events in which our tweens could explore their world, gain some independence, and work cooperatively with each other. As librarians, our professional lives have been enriched by watching these tweens blossom, but also by collaborating with colleague's system wide. Programming at other libraries has afforded each of us a deeper understanding of the uniqueness of each library location, aiding in a more comprehensive view of our system.
Building upon this same model, we are adding a Mana-Tween Culture Club in 2013. This will include six programs throughout the year, occurring in alternating months with the Mana-Tween Programs. The Culture Club will be open to tweens and their families—a new venture for us! Our hope is to appeal to home school families, and families with children of varying ages. Each program will focus on the food, culture, history, music, and geography of a different country. We are very excited to see where this programming leads and the unexpected benefits that will arise.
Collaborating and sharing the workload system wide in order to fulfill patron requests or a system need is an effective way to create results. Plan a structure and schedule, share the programming and promoting, and then build on your success.
Date / Time
Tuesday, July 9, 2013 - 11:45
Audience
Children / Family
Young Adult