Crossroads Juvenile Center: Great Stories CLUB
A library media specialist talks about the impact the Great Stories CLUB had on students at Crossroads Juvenile Center.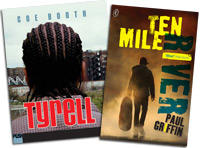 Passages Academy Libraries and Brooklyn Public Library (BPL) have collaborated to bring Rounds I and II of the Great Stories CLUB to the students at Crossroads Juvenile Center. During both rounds we sought to provide library services to the female students, a minority population at Crossroads. Initially, Lisa Goldstein and Vani Natarajan of BPL and I faced a number of challenges in implementing this program. First, the population is extremely transient. If I hand out a book on Monday, the same students will not be there on Friday to discuss it. Second, the students are reading at varied levels. I've had a student ready to discuss the book with me after burning through it in a single night, while another student works with a reading teacher to sound out words.
While more traditional book clubs read along at the same pace and have regular meetings to discuss the book at various points in the reading or all together at the end, this wasn't going to be a reality for our students. I decided we needed to revise our goals. Instead of getting together a group of students to discuss a book that we had all completed, the revised goal of the discussions was to motivate the students to continue reading the books independently. Three activities were then created for each session. First, a contest on the content of the first few chapters. If you had read only the first chapter during the last week, you could still find yourself successful by getting a question right. These contest questions often led students immediately into a discussion of the book without ruining the ending for those that didn't get very far. Second, an activity that focused on a larger social issue raised in the book. Students were asked to guess whether various shocking statements regarding juvenile detention, sexual slavery, or LGBTQI teens were true or false based on nothing but their own experiences. Much of the information revealed during this activity was surprising to the students and created a lot of discussion, allowing students to draw on prior knowledge and connect a book that may have seemed to have had little to do with their lives to a personal experience. Lastly, discussion questions were used to guide conversation back to the book or issues that the book raised. These discussion questions were crucial in getting the students to connect personally with the books and fostering thoughtful conversation.
With this revision in goals, our sessions began to feel more successful, especially when the students were asked if they planned to continue reading and the majority offered a resounding "YES!" Getting the opportunity to keep these books as personal property when all other personal items have been stripped away was a very powerful motivator for these young women. During these sessions the students have written the following comments on surveys (edited for clarity):
•   "I thought it was very helpful."
•   "This is the best program I have ever been in and I love it."
•   "I would like to learn more about the jail population or violence."
•   "It was very good and excellent. I would like to have more."
•   "I was very good, I loved it."
•   "It was just perfect. I was really interested and I liked it."
•   "The program is good & fair! And the book was very good! And I would love to be in this type of program again!"
•   "I like this program. It's fun and real good. Keep bringing in books for us to read…"
Our most successful sessions were by far those attended by extra special guests Coe Booth, author of Tyrell, and Paul Griffin, author of Ten Mile River. These visits would not have been as successful as they were if not for the collaboration with classroom teachers. In September, the students started off the school year reading Tyrell with teachers Geoffrey Schmidt and Chrystal Stewart. These teachers supported our students' reading, helping them to prepare questions for Coe Booth's visit. The students were so excited, especially to have their books personally signed! Allowing them the opportunity to get a behind-the-scenes look at how a book that spoke to many of their own personal experiences was created offered students hope regarding making writing a career. One tiny student who was writing his own book and had been talking about Tyrell with me non-stop in the week approaching Coe Booth's visit was too excited to even speak during the visit. He sat in that classroom beaming at her, hanging onto every word of advice she offered our budding authors. Despite his shyness, he came away more excited to continue working on his new novel than I had ever seen him, quoting back to me advice direct from the mouth of the first author he ever met. Luckily our district had just sent over classroom libraries that included additional copies of Tyrell, because it was the new hot commodity. Ever since that visit, I have been unable to get many of the copies returned to the library because the students have continued to pass them around to each other in class and on their halls. A circulation failure, maybe; but a definite reading success.
Just last week Paul Griffin led a truly inspiring session with our students. Classroom teachers LaTasha Webb and Delia Newson had prepared a group of very excited middle school young men and a second group of freshmen and sophomores for his visit. Paul Griffin's previous work with incarcerated youth was very evident in his comfortable manner leading students in a story slam activity. In fact, Juan, a student author and one of the most active participants in Paul's session, was so comfortable with Paul that he asked for me to forward him a letter in which he stated that he would like a sequel to Ten Mile River because he didn't like the ending and even suggested an alternate ending. At least he gave Paul the green light to write another in which he could make all of Juan's suggestions happen. When I found Juan on his hall zonked out in front of a movie to give him Paul's response, he leapt from his chair and pored over the letter. He just couldn't believe that Paul actually wrote back that he thought Juan was a genius, liked his ending better, and that Juan needed to finish his book because he was sure it was going to be amazing. Nervously, he handed me back the letter for safekeeping. Last Friday I had the pleasure of meeting Juan's grandmother, sister, and infant nephew at our family BBQ. I handed them Juan's signed copy of Ten Mile River that contained Paul's letter so they could bring it home. Juan proudly read the letter aloud, translating it into Spanish for his teary-eyed grandmother.
These are just two examples of how particular students were touched by author visits. But I know they were not the only ones putting pen to paper later those nights. These visits could not have happened without interagency collaboration, led by Sydney Blair, Principal, and Carolyn Peterson, Assistant Principal of Passages of Academy; Migdalia Aldea, Executive Director, Crossroads; and Andre Mullings, Deputy Director of Programming of New York City's Department of Juvenile Justice. I would also like to thank ALA's Public Programs Office, YALSA, and Oprah's Angel Network for making the Great Stories CLUB a reality for us. Thank you to Emily Heddleson of Penguin Publishing and Lainie Castle of ALA for coordinating Paul Griffin's visit. And finally, I cannot thank Coe Booth and Paul Griffin enough for making the Great Stories CLUB a lifelong memory for the young men and women at Crossroads Juvenile Center.
Date / Time
Tuesday, June 23, 2009 - 12:00