Promoting Community with Archives
These libraries are using archives and special collections to create outstanding programs, and so can you.
Social archives, photovoice projects, community albums and citizen cartography are a few of the program formats that public library archivists and special collections librarians are experimenting with today. From Bangor, Maine, and La Crosse, Wis., to Seattle, Wash., and Memphis, Tenn., there are new programming initiatives that encourage public engagement with primary sources and special collections. This trend is not only changing public use of archives but also strengthening recognition of special collections and archives as key library assets in the 21st century.
"In the Age of Information, archives have become increasingly important as repositories of memory," said Steven G. Fullwood, assistant curator of the Manuscripts, Archives and Rare Books Division of the Schomburg Center for Research on Black Culture at the New York Public Library. "We are engaged in a dialogue about why culture and history matter, and public programming helps to facilitate that conversation."
With a longstanding interest in public library programming, I have been especially intrigued by the new programs being carried out by special collections departments and archives. (I have also been frustrated by the relative lack of professional literature or research on the subject.) During 2013-14, I carried out a survey of more than 150 public libraries with the goal of creating a report to the field that would identify programming trends and showcase program models. Based on this survey, it is clear that public library archival programming is undergoing profound change.
Some current program experiments involve re-thinking of traditional programs to make them more accessible and interactive, such as the Edgar Allen Poe Experiential Tour of the Enoch Pratt Free Library in Baltimore. Others emphasize outreach and participatory collection development, such as the Community Archivists Program of the Austin Public Library's Austin History Center. Some engage audiences in building knowledge about special collections, including What's On The Menu? or Map Warper, two New York Public Library crowdsourcing initiatives. Others involve application of new technologies to augment typical programs and to enable participation beyond local residents, such as Houston Public Library's Exhibition Snapshot. And still others involve new program formats, such as the Hartford Public Library's Keney Park History App for teens.
Together, the experiments happening in public library archives and special collections departments reflect a dynamic landscape with implications for how libraries, and their archives, are perceived and used in the 21st century. The following examples reflect the variety of current programs and the insights of public library staff who are building new connections between members of the public and local collections.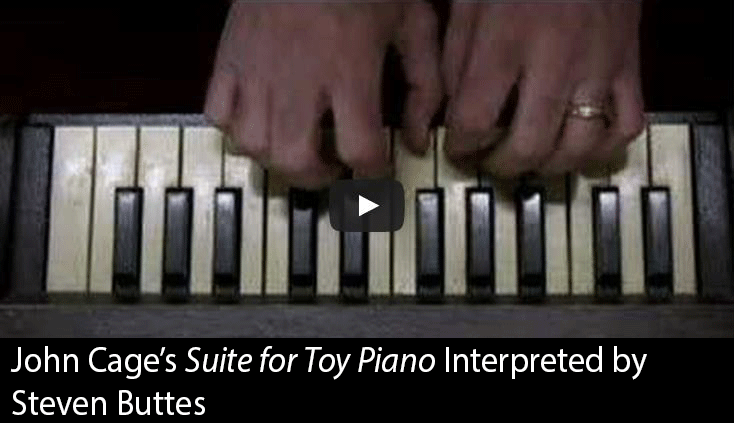 John Cage Unbound: A Living Archive is an experimental archive developed by the Music Division of the New York Public Library for the Performing Arts to "allow the world to experience" its John Cage Music Manuscript Collection. The site reflects the inclusive philosophy of avant-garde composer John Cage, featuring crowdsourced videos of performances narrated by musicians, students and others working to interpret Cage's music. As an interpretive forum, a stimulus for new compositions, and a research resource, John Cage Unbound exemplifies a "living archive." Jonathan Hiam, curator of American music at the Rodgers and Hammerstein Archives of Recorded Sound, states, "We want to inspire and engage with John Cage's unique vision of music and its role in the world. In doing so, we hope to advance our knowledge of Cage and his work by sparking a global conversation among musicians, artists and creative thinkers." (Watch the video here.)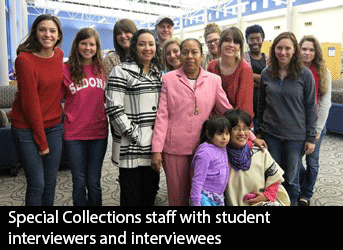 Nashville's New Faces is an oral history project carried out by the Special Collections Division of the Nashville (Tenn.) Public Library during 2013-14 in conjunction with StoryCorps. The project was part of the American Library Association's StoryCorps @ your library initiative and was carried out with the assistance of trained volunteers. Nashville has long been recognized as a leader in oral history through its national Civil Rights Oral History Project. With Nashville's New Faces, special collections began recording and preserving the oral narratives of Nashville's newest residents, including individuals from more than 25 countries such as Laos, Vietnam, Sudan, Cuba, Lithuania, Turkey, Mexico and Somalia. In organizing the project, Andrea Blackman, special collections division manager, aimed to build new understanding of Nashville as being "more than white, black and country music." She also aimed to demonstrate that "oral history provides a venue for public discourse about the meaning of certain events or experiences. Interviewees go beyond nostalgia to reflect on the larger significance of their experiences, and the people who listen to them connect more readily than if the reports were far away and abstract."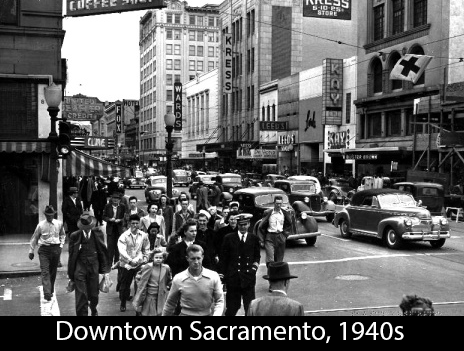 Capital Decades is an annual monthlong program that explores the social and cultural landscape of Sacramento during successive decades in the 20th century. Created and produced by Sacramento Public Library's (SPL) special collections staff, the program includes lectures, displays, films and special events, some carried out with partner organizations. The 2013 program, Capital Decades: 1940s, offered programs highlighting Sacramento's social life, entertainment, fashion, education, World War II industry work, Japanese internment and development of area suburbs during the 1940s. By engaging diverse local partners in the programming and attracting new audiences, Capital Decades has helped to attract new audiences for history programming and to re-brand local history and the library's Sacramento Room. "Events have to be fun and instructive," said Library Archivist Amanda Graham. "They have to surprise people and tease them with interesting activities, images, objects and ideas that connect with their interests and lives."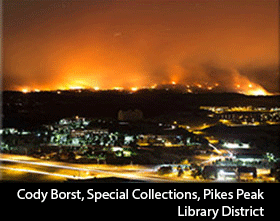 Waldo Canyon Fire Collection Project of the Pikes Peak (Colo.) Library District's Special Collections Division captured responses to a devastating fire in 2012 that took two lives and destroyed 347 Colorado Springs area homes. Through collection of personal stories, photographs and videos, official reports and press releases and through exhibitions, video-recorded interviews with homeowners, creation of a digital archive, and production of an award-winning documentary film — "In Our Backyard: Reflections on the Waldo Canyon Fire" — library staff captured both ephemeral evidence and personal testimonies of the destructive event. "The goal of the Waldo Canyon Fire Collection project was to acquire and preserve information for future research on the fire and the recovery," said Division Head Tim Blevins. "The unanticipated impact of the project was the near immediate sharing of stories and documentary evidence that positively contributed to the healing of a community that loudly declared, 'Community does not burn.'"

Old SF and History Mysteries are two of the crowdsourcing projects carried out by the San Francisco Public Library's History Center/Book Arts and Special Collections that have added vital descriptive information to the library's collections of historical photographs and maps. With the assistance of expert volunteers, the library designed tools for soliciting and integrating citizens' knowledge of the city and its neighborhoods. These tools, combined with outreach through hackathons and social media, have engaged many residents as citizen archivists. According to Christina Moretta, curator of photographic collections, "We are getting enormous and helpful feedback from community members who can identify the content and locations of photographs in the collection. By using social media tools we are expanding community engagement with the photo collections and deepening understanding of San Francisco history."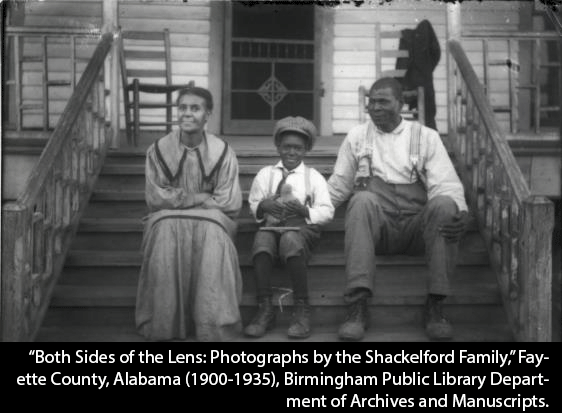 "Both Sides of the Lens" was an exhibition of photographs by the Shackelford family of photographers mounted by the Birmingham (Ala.) Public Library's Department of Archives and Manuscripts in 2013. Drawn from the library's collection of Shackelford photographs, the exhibition provided a view of Alabama in the early 20th century from the perspective of its rural residents, many of them African-American farmers. The exhibition was the basis for public programs and for traveling exhibits to other cultural institutions and public settings. According to Archivist Jim Baggett, exhibitions are an important form of education and outreach. "We've had great success with exhibits drawn from the collections," Baggett said. "They remind people about the unusual and valuable items in our collections, they stimulate new research and donations, and they provide the basis for all kinds of educational programs that draw people to our downtown and into the library."
Diantha Dow Schull, founder and principal of DDSchull Associates, provides advisory services on public programming for museums and libraries, and is an author of books and articles about cultural heritage institutions. Her most recent book is "Archives Alive: Expanding Engagement with Public Library Archives and Special Collections" (ALA Editions, 2015).
Date / Time
Thursday, July 23, 2015 - 12:00