Continuing ESL in a Pandemic
Two libraries discuss initiatives taken during the pandemic to reconnect with immigrants and New Americans.
When the COVID-19 pandemic hit in early 2020, many public libraries had to find a way to reconnect with immigrants and new Americans who relied on their ESL classes, citizenship preparation and other resources.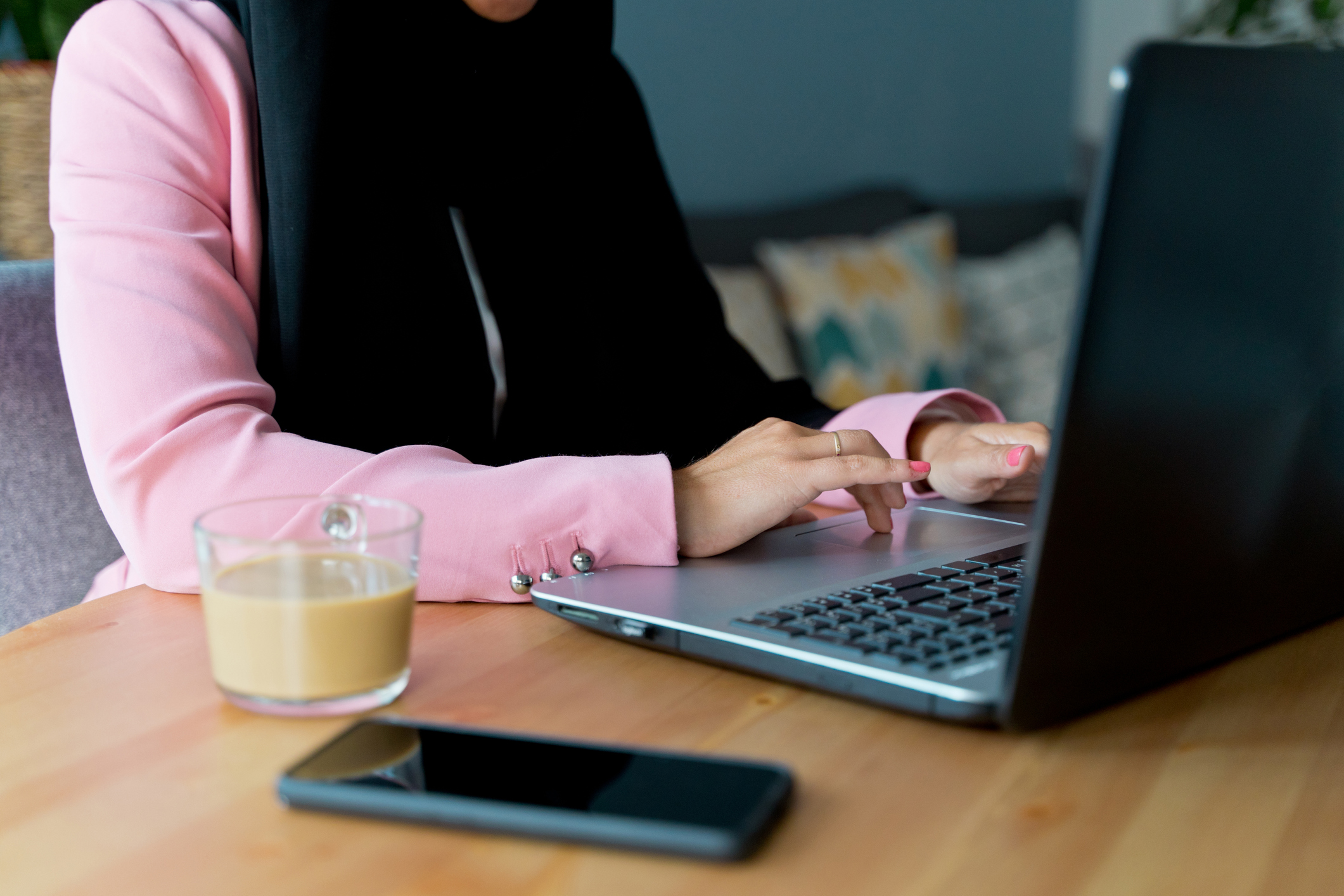 Through ALA and the Dollar General Literacy Foundation's American Dream Literacy Initiative, two libraries, on opposite sides of the country, ensured their patrons were able to stay connected and get the resources they needed throughout the pandemic. Despite the stresses of the pandemic, both libraries saw the grant as the perfect opportunity to connect with their bilingual patrons in innovative and transformative ways.
Laptops and Wi-Fi checkout for ESL students
North Bergen Library in New Jersey noticed a strong need from the community to continue their ESL programming virtually. With a large immigrant population, 80 percent of North Bergen's residents speak a language other than English at home. This makes ESL programming an important and popular part of the library's everyday work. Along with ESL classes for all levels and age groups, the library offers citizenship classes and one-on-one conversation opportunities with ESL-trained library staff and volunteers. Since the pandemic, eight new library staff members have trained to be ESL instructors.
"We saw an immediate interest from people that wanted to continue taking our ESL programs but had no tech or unreliable internet at home," says Chelsea Neary, head of adult services. The library purchased 10 Chromebooks and 10 accompanying Wi-Fi hotspots specifically for ESL students who had no other way to connect from home.
"Because of the switch to virtual, we've widened the reach of our ESL courses," says Sai Rao, library director. "A single mom with childcare needs can log on and take the classes from home, or someone with transportation issues who couldn't come into the library before can participate for the first time." Offering the laptops and hotspots for checkout has allowed more people in the community to access the opportunity.
The library's Chromebooks and accompanying Wi-Fi hotspots can be checked out for three months, the entirety of a semester of ESL classes. The $25 deposit can be waived if need be; when collected, the money is returned once the laptop is returned undamaged. Neary and Rao say that there are now waitlists for their virtual ESL classes and quite the large uptick in participation from seniors.
North Bergen partners heavily with local schools, particularly one school that caters to Spanish language speakers. "The best tools for getting the word out about our virtual ESL programs and the fact that we have these Chromebooks and hotspots for ESL student has been word of mouth," says Neary. "People who take the program then tell their friends and neighbors about it. Partnering with the schools is also very important because students can tell their parents about the classes."
Although it is harder to connect with people without direct face-to-face contact, North Bergen has seen a new confidence in their ESL students. "We've had people call in who want to speak one-on-one with our staff to prepare for job interviews," says Rao. "It's fantastic to know we're really reaching people even in these times."
Bringing the library to virtual ESL classes
On the other side of the country, Springfield Public Library in Oregon used their existing connection with local community organizations to virtually promote the library's ESL and bilingual resources. An estimated 18 percent of Springfield's 60,000 residents identify as Latinx. Kristen Curé, Latino liaison and marketing librarian, says that formal education levels among Spanish-speaking residents can be low. "This means that literacy levels in quite a few folks' native language is not very high," she says. "My goal for this grant was to show that the library can improve comfort and literacy in their native language of Spanish and thus improve the ability to confidently learn English."
Springfield Public Library's impetus for applying for the American Dream grant was when the pandemic cut off connections between the library and the patrons who relied on the in-person experience of the library space. "For instance," says Curé, "many of our Spanish-speaking patrons use the library primarily as a gathering space so, naturally, when we shut our doors that physical space was gone. This group didn't interact with us virtually or place holds, so there was quite a drastic drop in services and interactions with this segment of our community." With this disconnect in mind, Curé set out to bring the library into local virtual ESL classes with the hopes of increasing library usage.
Downtown Languages, a local organization that has worked with the library since 2004, allows Curé to come into their virtual ESL classes to promote the library's resources. "Prior to the pandemic, I'd go in just a few times a year, which was great, but it just wasn't enough to get the point across," says Curé. The circulation of the library's Spanish books for children was high, but what Curé really wanted was for the adults to start checking out books for themselves and attending programs on a regular basis.
With grant funds, Curé was able to start attending virtual ESL classes with Downtown Languages every other week. "Attending these classes regularly instead of just a few times a year is really meaningful," says Curé. "I bring in some of our Spanish books and showcase the different resources and programs that are available at the library." Curé even offers virtual library tours so the ESL students can get acquainted and feel comfortable with the space and know where things located.
For Curé, one of the most rewarding outcomes of visiting the ESL classes regularly was seeing a jump in program registration numbers from the Latinx community, specifically the Spanish language book club. "Spanish book clubs are expensive to sustain," says Curé. "It's harder to find inexpensive books in Spanish and to keep enough copies for the book club. With the grant, we had funds to purchase additional copies of books, which was very much needed!" The book club's latest meeting had 26 registrants, a jump from 8 registrants before Curé began regularly promoting during the ESL classes. Making this personal connection with the students made them feel comfortable to join the book club. 
Having active and enthusiastic participants in the Spanish book club was what the library was hoping for. Keeping patrons engaged during the pandemic is a meaningful experience for Curé, who plans to keep attending the ESL courses regularly. "This book club is so important because it speaks to my larger goal of spreading literacy. When folks feel more comfortable reading books and discussing them in their language, it will help them in all areas of their education and learning their second language."
Date / Time
Monday, January 24, 2022 - 12:00
Popular Topics
Social-distancing programs
Virtual
Community Engagement
New Americans