Finals Week, Inspired by Students
Roesch Library at the University of Dayton strives to make our spaces and services conducive to studying but also memorable.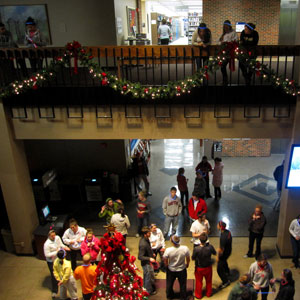 When it comes to finals week, not much else is on a student's mind besides finishing a paper on time, acing that test, or finding ways to reenergize. At Roesch Library at the University of Dayton (UD) in Dayton, Ohio, we strive to make our spaces and services conducive to studying but also memorable. For the past three semesters, the Libraries Marketing and Outreach Team has designed themes around finals week in the hopes of alleviating stress while providing some outlets for fun and relaxation.
Every finals week UD's Alumni Association and a local pizzeria sponsor free pizza, while the provost's office sponsors free coffee, taxi rides, and chair massages. Recently, student feedback and chatter on Twitter has inspired our Finals Week themes and perks. Mentions of our library on Twitter are tracked daily, and as Communications and Outreach Librarian I respond and retweet many of them. I use Twitter to gather positive and negative feedback about the library and to design services with an impact.
In spring 2011, a student tweet about having bad breath at the library inspired our "Stay Fresh at Roesch" theme. Two students tweeted about #RoeschBreath which they explained was the way your breath smells after spending too much time in the library (smells like musty books!) We ordered 4,000 mint candies with the "Stay Fresh at Roesch" slogan printed on the wrapper and had them around study spaces. We also hoped this might help with the common mispronunciation of our name (Roesch rhymes with fresh). One of the first students to notice the theme was the student who originally tweeted about Roesch Breath:
Love that #ClubRoesch offers mints to prevent #RoeschBreath #StayfreshatRoesch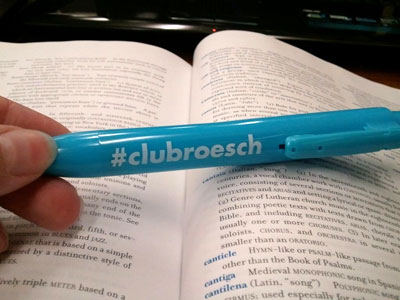 #ClubRoesch is another Twitter trend that has existed for almost three years. A student study group started using this nickname for themselves and it caught on. Now students typically use the nickname or hashtag to refer to the library itself. We had the popular hashtag printed on blue highlighters and gave those out as prizes for Foursquare check-ins. In fall 2011, with the help of the Student Government Association, we launched the "Become a Club Roesch V.I.P." program, where one student could win their own study room for finals by checking in to the library on Foursquare. Our winner received a key to a large study room complete with gift cards from her favorite restaurants, sparkling cider, and champagne glasses. The Sunday before finals we had a midnight dance party, "Rock Around the Christmas Tree," with more than one hundred students in attendance. Students tweeted song requests beforehand to make it truly theirs. We handed out glowsticks, and an eight-minute dance party ensued.
In a couple of weeks we're launching "Stress Less at Roesch" with fresh fruit and extended chair massage hours. The Club Roesch V.I.P program is back, and the excitement is building. Now students enter to win by liking our Facebook status, retweeting us, or checking in Foursquare on Monday, April 23. A dining hall and the student-run coffee shop are donating gift certificates to create a V.I.P prize package for the winner, complete with library swag.
My daily interactions on Twitter via the library's account show students that someone is listening. We're also able to make an impact by making some of their comments, suggestions, and ideas into realities. I think a lot of students are really clever and have funny and important things to say. Twitter is a great way to see what students are saying and an outlet for finding creative programming ideas by students.
Date / Time
Thursday, May 3, 2012 - 13:15