Free 'Great American Read' Guide
Download this 60-page guide for ideas and resources for programming around the PBS series.
Is your library participating in THE GREAT AMERICAN READ? Whether you have a full slate of programs planned for the series, or you're still wavering on what to offer, a new GREAT AMERICAN READ Programming Guide for Libraries from PBS and the American Library Association (ALA) has ideas and resources that can help.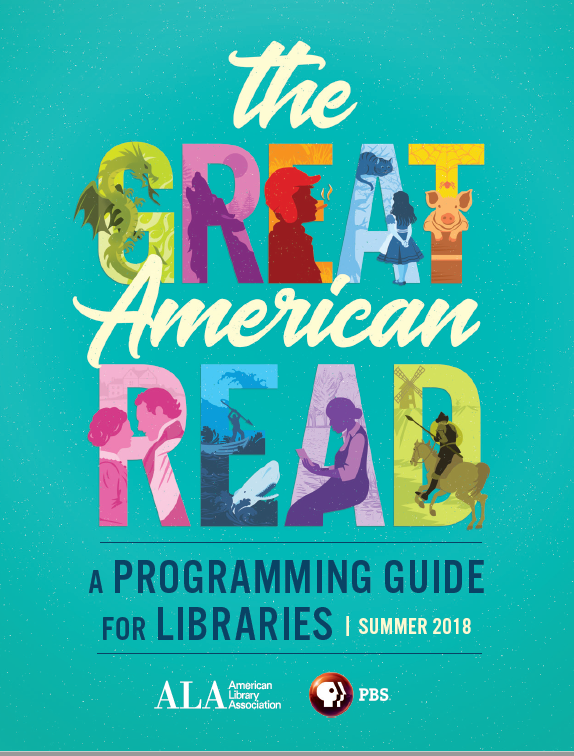 The free, downloadable 60-page guide includes:
Episode summaries, air dates, and lists of books to be discussed in each of the GREAT AMERICAN READ Fall 2018 episodes
Suggested discussion questions for each episode
Ideas for lecture topics, hands-on and crafting activities, and multigenerational programs
Recommendations for related film screenings
Easy book displays to create for each episode 
Ways to integrate GREAT AMERICAN READ titles into your library's event calendar
And much more
Download the GREAT AMERICAN READ Programming Guide for Libraries.
THE GREAT AMERICAN READ is an eight-part PBS series that explores and celebrates the power of reading, told through the prism of America's 100 best-loved novels. It investigates how and why writers create their fictional worlds, how we as readers are affected by these stories, and what these 100 different books have to say about our diverse nation and our shared human experience.  
The series began with a two-hour launch hosted by Meredith Viera on May 22 (now available on the PBS website), which announced the list of America's most-loved books, as determined by a national survey. After a summer of reading and voting, episodes will begin airing again in September, culminating in a live finale on Oct. 23 where Viera will announce America's best-loved novel.
Learn more about THE GREAT AMERICAN READ.
The GREAT AMERICAN READ Programming Guide for Libraries would not have been possible without the efforts of the following librarian advisors: Jennifer Amling, Erin Dummeyer, Janie Hermann, Jennifer Massa and Lesley Williams. 
Date / Time
Thursday, August 16, 2018 - 11:30
Library Type
Academic / College
Public
Rural
School (K-12)
Special
Popular Topics
Books and Authors
Coloring, Crafts & Hands-on
Passive Programming
Audience
Adult
Children / Family
College Students
Community Members
Older Adults / Seniors
Rural
Urban