Join a Reading of 'It Can't Happen Here'
For one night only, libraries are invited to hold a staged reading of this important work, royalty-free.
For one night during the week of Monday, Oct. 24, 2016, theaters, universities and libraries across the country will imagine the rise of fascism in America with staged readings of Sinclair Lewis' semi-satirical "It Can't Happen Here."
More than 20 sites have already signed on to participate. (View a list of participating organizations.) Join in and hold your own staged reading, royalty-free.
About "It Can't Happen Here"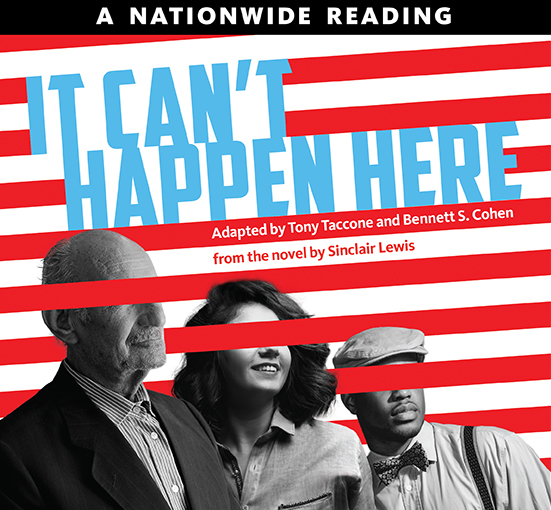 Published in 1935, "It Can't Happen Here" tells how the fictional Senator Buzz Windrip, a charismatic and power-hungry politician, is elected president after promising to restore his country to greatness and restore traditional values. Windrip easily defeats his opponents, including President Franklin Delano Roosevelt, then quickly becomes a dictator, enacting martial law and throwing dissenters into labor camps.
Shortly after it was published, the novel was recreated as a play and opened in 21 cities nationwide on October 27, 1936.
Now, for one night only, the Sinclair Lewis estate is allowing libraries, universities, theaters and other institutions to hold staged readings of "It Can't Happen Here" royalty-free. The readings coincide with the opening of the play at Berkeley Repertory Theater in Berkeley, Calif.
Download a free copy of the script, courtesy of Berkeley Repertory Theater.
How can your library get involved?
Here is how your library can take part on Oct. 24 (or during the following week):
Invite your staff, patrons, faculty or others to take part in a staged reading. Berkeley Rep is staging the play with 14 actors, with some playing multiple roles, but you can do it with more or fewer. Since this is a staged reading, little to no rehearsal is needed.
Invite your community — whether that is a city, town, school or other — to listen. (Admission must be free.)
Promote your reading locally. Berkeley Rep has a pre-designed flyer, digital artwork and template press release to help. (See below for contact information to get access to these materials.)
Record some portion of your staged reading and share it on social media. (Please tag @berkeleyrep and #ItCantHappenHere.)]
If you are interested in participating, or if you would like more info, contact Sarah McArthur at smcarthur@berkeleyrep.org.
Read more about Berkeley Rep's Nationwide Reading of "It Can't Happen Here."
Date / Time
Tuesday, October 4, 2016 - 14:00