Just Breathe: Kids and Meditation
Adults aren't the only ones who get stressed. Help kids be more mindful with tips from Mallika Chopra.
Kids encounter stressful situations on a daily basis. Between growing academic demands, the pressures of social media, and various other physical, emotional and environmental stressors, young people need rest and relaxation just like the rest of us.
In her upcoming book, "Just Breathe: Meditation, Mindfulness, Movement, and More," Mallika Chopra provides a guide to mediation and mindfulness for kids ages 8 to 12. The book contains program ideas and exercises for librarians who are looking for ways to help young patrons create a quiet space in a complicated world.
Before you can get started implementing meditation programs in your library, however, it is important to dispel some of the common misconceptions about meditation. Chopra shared the following thoughts at "Just Breathe: Mindfulness Exercises for Your Children's Programming" at the 2018 ALA Annual Conference in New Orleans.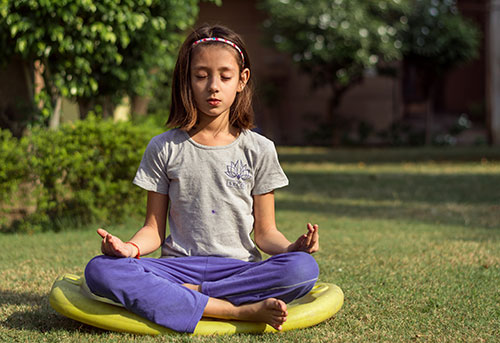 You can't stop thinking, but you can slow down your thoughts
First, meditation is more about settling the mind than clearing it completely. It is impossible to stop thinking altogether, Chopra says, so the goal of meditating should simply be to slow down our thoughts. This begins by using sound to distract ourselves from extraneous patterns of thought.
Repeating a phrase like "I am" in your head, in conjunction with closed eyes and controlled breathing, has the power to immediately create a calm state of mind. Exercises like this can take just minutes to conduct but have a lasting effect.
Meditation is for everyone
The practice of meditation is for individuals of all ages. Under the direction of her father, bestselling author and world-renowned meditation guru Deepak Chopra, Mallika Chopra began meditating at the age of 9 and believes that daily practice, using a basic toolkit of simple, universal techniques, can be usefulfor adults and kids alike. By trusting young patrons to engage in meditation in a personal way, they can begin to take responsibility for their physical and mental health and improve their quality of life from an early age.
In an exercise entitled "Blow Those Butterflies Away," Chopra offers a simple meditation that can help kids identify and respond to feelings of nervousness. When you start to feel butterflies in your stomach, focus on one area and visualize a kaleidoscope of butterflies swarming in front of you. Take a deep breath through your nose and then blow the butterflies away. Push your breath out until all the butterflies have flown away.
Meditation is more than quiet self-reflection
Of course, meditation involves an inward focus on the self, but it also includes being mindful of your surroundings. The act of mindful listening can seamlessly be incorporated into storytime sessions by facilitating paired discussions in which one person talks while the other listens.
By utilizing active listening activities as a part of established library programs, the mindful librarian can encourage mutual understanding and collaboration among young patrons without even having to create a new program.
Chopra's "A Routine Walk in a New Way" exercise illustrates the concept of mindfulness. Have your young patrons take a walk as they would normally, except this time, ask them to pay close attention to their posture, the sounds and smells, the temperature, even the light. Ask them, does it feel different taking a walk while you are quiet and noticing your surroundings?
To teach meditation, you first have to learn to meditate
Finally, in order to teach kids how to meditate, you have to learn how to meditate yourself. This includes asking yourself some important questions: Who am I? What do I want? How can I serve? What am I grateful for today?
By recognizing the value of establishing the intent to be happy, loved, inspired, valued and heard, we can easily lead young patrons in meaningful meditation programs that guide them into a quiet, safe space that promotes self-confidence, personal connection and some much-needed R&R.
Date / Time
Wednesday, August 15, 2018 - 13:30
Audience
Children / Family
Tweens and Teens