Hosting Public Policy Discussion
The Choices Program seeks to engage communities in public policy discussions that lead to informed decision making.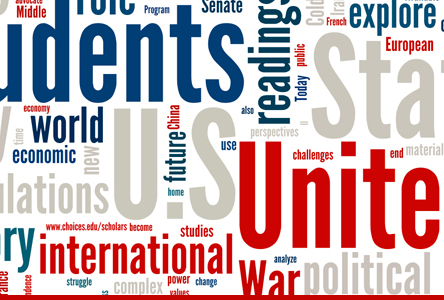 De Tocqueville's assertion — that democracy succeeds through the democratic outlook of individual citizens — is the prerequisite condition for enlightened citizenship. It is the condition under which citizens make informed, value-based choices, and then share them with their government so that wiser and more democratic policies will be enacted.
In our world today, there is an increasing tendency in people to avoid issues they feel powerless to affect, or to ignore debates about problems they feel have no connection to their lives. We tend to think of complex policy issues as the domain of experts and policy makers.
This tendency to retreat from difficult public issues is unfortunate because, as issues grow in number and complexity, the need for more enlightened and involved citizens increases. Justice Louis Brandeis once said, "The only title in our democracy superior to that of president is the title of citizen." In a democracy, the public has an important role to play. The government of the United States is elected by and answerable to its citizens. An attentive and thoughtful public can (and should) set the broad parameters within which policy is made. Conversely, a public that is not attentive and not thoughtful can be a detriment to stable and constructive policy. As citizens we have a unique responsibility to engage in informed discussion about issues, and to share our views with elected officials.
One way to contribute to the effort to preserve our democracy today is to engage citizens in programs that support responsible public dialogue, expand the circle of democratic participation, and encourage citizens to provide guidance to elected officials so that they make the best choices.
More than a decade ago, the Choices Program at Brown University collaborated with the American Library Association and others to bring discussion of public policy issues to local libraries across the country. In this article, I explain that program, describe the resources the Choices Program has available today, and invite programming librarians to build on that experience and the resources available from the Choices Program to offer discussion programs on some of today's most challenging public policy issues.
Public Policy Discussions in Your Local Library
At the library discussion programs we sponsored from 1994–2001, participants discussed such issues as the role of the U.S. in the Middle East, our policies concerning the environmental challenges we faced, and our approach to immigration. The issues ultimately boiled down to some central themes: How should we conduct ourselves in the world? What role should we play in international affairs? What costs are we willing to incur to promote or protect our national values? And what are those values? How should we balance our foreign priorities with our domestic needs? These questions go to the heart of who we believe we are as a nation and ultimately reframe the foreign policy debate to ask the essential question: "What is America, and what do we want it to be?"
This was a humanities-based, multi-session discussion program that engaged more than 9,000 citizens of all ages, all walks of life, and all political persuasions in sometimes heated but always respectful discussion of differing perspectives on contested policy issues. The program drew on a methodology that we developed for use in secondary schools to engage young people in informed consideration of contested international issues as part of their social studies curriculum. As applied to public discussion, the Choices methodology served to bridge the gap between the experts and the public, and to foster discussion and debate on the goals and purposes of national policy rather than on details of strategy or implementation. In doing so, the process placed the values that drive policy choices at the center of public consideration.
Public Policy Discussions Today
The issues discussed more than a decade ago are, alas, alive and well today. And more are cropping up to challenge us all the time.
•   How great is the threat from terrorist groups today?
•   Why do we use drones, and what are the ethical and legal questions surrounding their use?
•   What role should human rights play in foreign policy?
•   How is China's recent transformation changing international relations, and what values should guide our policies toward China today?
•   Why did the United States go to war in Afghanistan and Iraq? What were our goals, and what have been the consequences? What have we learned from these choices, and how should we apply these lessons in the future?
•   What is Iran's role in the Middle East? How does it see the West? Why might it want nuclear weapons? Why do we worry about this, and what should we do about it?
•   How does immigration impact us today? How much immigration should we accept, and how should we reconcile our national security concerns with our historic tradition of immigration?
•   Do our policies at home and abroad protect the United States, or do they harm it by eroding its constitutional foundation?
These questions and others like them lead us to the same core questions we were debating a decade ago, questions we have wrestled with throughout our history. Who are we as a nation? What do we believe about ourselves? What are our core values, and are we living them? And how do these values and beliefs shape our policies and, ultimately, ourselves? These are timeless questions deserving of public discussion. Whether this discussion is fostered through our public institutions or embedded in our schools, is it a discussion that is at the heart of maintaining a vibrant democracy.
Choices Library-Based Discussion Programs
The Choices Program has a wide range of resources, designed for use in secondary schools but very adaptable to use in public discussions. Some topics, addressed by Choices in full-length units, that might work particularly well as the basis for library-based discussions include:
•   The Middle East in Transition: Questions for U.S. Policy
•   China on the World Stage: Weighing the U.S. Response
•   The Challenge of Nuclear Weapons
•   Dilemmas of Foreign Aid: Debating U.S. Policies
•   Confronting Genocide: Never Again?
•   Competing Visions of Human Rights: Questions for U.S. Policy
•   U.S. Immigration Policy in an Unsettled World
•   The U.S. Role in a Changing World
See http://www.choices.edu/current for the complete list of titles focused on current issues.
In addition to these published titles, resources developed as part of our Teaching with the News online series can also provide a framework for very timely public discussion. For example, Debating the U.S. Response to Syria would have been very useful for rapidly organized discussions in early September, but inappropriate now that a process is in place for the dismantling of Syria's chemical weapons stockpile. All Teaching with the News resources are available from our website at http://www.choices.edu/twtn. One can check our site for timely topics or join our email list (see http://www.choices.edu) and receive notification when new resources are posted.
Public Policy Discussions in the Classroom
In our increasingly interconnected world, America's next generation must become engaged citizens who understand this world, attain the skills necessary to collaborate and problem-solve with others across borders, and engage in thoughtful public discourse and informed decision-making on critical policy issues at home. The Choices Program was established at Brown University's Watson Institute for International Studies in order to answer this need.
Today the Choices Program is broadly acknowledged as a leader in bringing contested international policy issues into the classroom at the secondary level. Using Choices resources, students draw connections between historical and contemporary issues and think about the relationship of history to fundamental problems in the world today. We repeatedly hear from teachers that they look to Choices to bring critical world issues from the front page of the newspaper into their classrooms in a way that promotes critical thinking and actively engages students in the complexity of policy development. The Choices Program has more than forty titles currently in use in classrooms across the country. See http://www.choices.edu. A series of short video clips featuring leading scholars and policymakers addressing issues raised in these units is also available at http://www.choices.edu/scholars.
In addition to its published curriculum units, the Choices Program also provides online resources designed to connect the classroom with world events and engage students in responsible deliberation on the news of the day. These resources are considerably shorter and typically include a single lesson plan, short videos featuring scholars and policy experts, and links to vetted online sources for additional background. These online teaching materials are develop to respond to very current issues, and posted to the "Teaching with the News" section of the Choices website, where teachers can download them at no charge for use in classrooms. They are designed to go beyond the front page of newspapers and contextualize discussion of current events with more substantive content and balanced presentation. Egypt's Uprising (focused on the revolution in Egypt in spring 2011 and used in more than 20,000 classrooms) and Debating the U.S. Response to Syria (used in 4,000 classrooms on September 4–6, 2013 and almost 7,000 prior to the beginning of U.S.–Russian diplomatic efforts) are good examples. See http://www.choices.edu/twtn for access to these and other free lessons.
Additional Resources
There are a range of other organizations that provide resources, guides, and support for public discussion. Some places to start include:
• National Coalition for Dialogue & Deliberation
Susan Graseck is the founding director of the Choices Program at Brown University and a senior fellow at the Watson Institute for International Studies.
Date / Time
Friday, April 4, 2014 - 16:45
Library Type
Academic / College
Public
School (K-12)
Job Functions
Resources and Program Starters
Audience
Adult
Older Adults / Seniors
Young Adult