Free Health Resources for Public Libraries
The Public Library Association shares free health tools and resources in the spirit of Health Literacy Month.
Health care can be confusing for everyone. More than 90 million U.S. adults have low health literacy, which provides a framework to guide both health care professionals and community members to use health information and make informed decisions about their own, their family's and their community's health and wellbeing. Libraries play an essential role in making quality health information accessible to all.
In the spirit of Health Literacy Month in October, the Public Library Association (PLA) is highlighting a suite of free tools and resources to public libraries to start or increase efforts to educate and build awareness of health issues.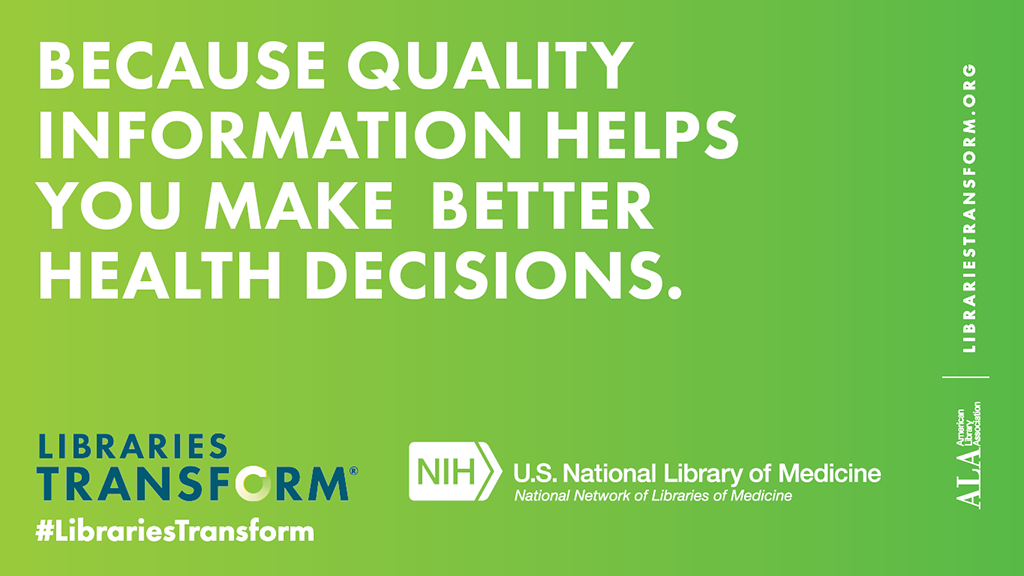 Libraries Connecting You to Coverage
In preparation for the next Open Enrollment period of the Affordable Care Act (ACA) November 1 to December 15, all public libraries are encouraged to take advantage of PLA's free materials for educating and assisting consumers with health insurance matters. Through Libraries Connecting You to Coverage, libraries can start or increase their efforts to educate and build awareness of year-round coverage options. These efforts will help reach the uninsured, many of whom are people of color; health insurance is an important first step in reducing health disparities.
Also during the month of October, public libraries may order a limited quantity of free health literacy stickers from the National Network of Libraries of Medicine (NNLM). The stickers feature literacy statements developed by NNLM for ALA and its Libraries Transform campaign. ALA and NNLM have updated a promotional Health Literacy Toolkit with brand-new resources to help library professionals raise awareness of how libraries provide trusted health information to their communities. 
The free toolkit includes key messages, program ideas, and downloadable marketing materials (such as bookmarks and social media graphics) for libraries to use in promoting consumer health information and health reference services. The newly expanded toolkit covers a wide array of health topics including aging, nutrition, chronic illnesses, genetics, family history, and student well-being. Access the toolkit here. (Libraries Transform campaign registration required.) 
Healthy Community Tools for Public Libraries
Did you know the number of measles cases has hit a new high in the U.S. or that one in nine women reportedly drink alcohol during pregnancy? Visit PLA's Healthy Community Tools for Public Libraries website for these and other daily health news stories from reliable sources. This website, a project of PLA and the NNLM, was created to help public libraries better serve their patrons' health needs. The site, located at publiclibrary.health, features a wide variety of resources including health news, data sources, glossaries of terms, training materials and information on funding opportunities.
Check out the Program Ideas section for health-related program suggestions and success stories from public libraries across the nation. For example, to reduce profound health inequalities for migrant and seasonal farmworkers, East Carolina University (ECU) led an outreach program to help future leaders and college students from rural farmworker families access health information. The project was a partnership between ECU's Joyner Library and Student Action with Farmworkers (SAF). Learn more.
DigitalLearn.org
Have you visited PLA's website, DigitalLearn.org recently? DigitalLearn.org offers a collection of narrated, video-based learning modules developed to help learners practice basic digital literacy skills. All course material is written plain language and most courses are also available in Spanish. The most recent course additions focus on finding reliable health information and applying for jobs online. It also offers an extensive selection of tools and resources for digital literacy trainers. Check out DigitalLearn.org today and stay tuned for our next addition, "Using Healthcare.gov to Enroll in Health Insurance" due out in early November!
Access to current and reliable health information is imperative for the well-being of everyone, and public libraries are frequently a go-to resource as people navigate complex issues related to health care, insurance, and aging. In addition to offering appropriate information, libraries improve access in practical ways for people who need technology or communication enhancements, such as plain language documentation, assistive devices, or multilingual materials. 
Health literacy can help improve health outcomes and reduce medical costs when patients and their caregivers seek healthy habits, understand a new diagnosis, and develop a self-care plan and emergency instructions. Many communities and special populations rely on libraries to help them access programs that require computer use to gain services and information. Great potential can be realized only with increased training for library staff and effective partnerships that leverage library assets.
Become a champion for health literacy today!
For more information about PLA's health literacy tools and resources, please reach out to Leighann Wood, PLA Program Manager, lwood@ala.org.  
Date / Time
Friday, October 18, 2019 - 09:45