Our Top Ten Picks for ALA Annual 2021
Need some recommendations for ALA Annual 2021? We got you covered with ten sessions for programming librarians. 
The 2021 ALA Annual Conference (June 23 — 29) is coming up! The online conference will offer educational programs, special author events and social networking opportunities. Headliners include Nikole Hannah-Jones, Isabel Wilkerson and President Barack Obama. Register now!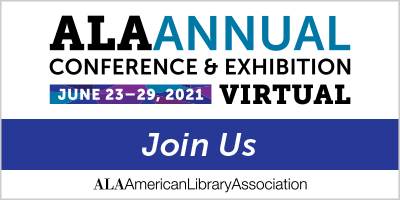 Below are our ten picks for programming librarians. What's on your schedule this year?
Wednesday, June 23
The Library Marketplace Opening Featured Speakers Amanda Gorman and Loren Long
9:00 AM – 9:30 AM CT
Amanda Gorman is the youngest presidential inaugural poet in US history. She is a committed advocate for the environment, racial equality, and gender justice. Gorman's activism and poetry have been featured on The Today Show, PBS Kids, CBS This Morning, and in the New York Times, Vogue, Essence, and O, The Oprah Magazine. In 2017, Urban Word named her the first-ever National Youth Poet Laureate of the United States. After graduating cum laude from Harvard University, she now lives in her hometown of Los Angeles. The special edition of her inaugural poem, The Hill We Climb was published in March 2021 and debuted at #1 on the New York Times, USA Today, and Wall Street Journal bestsellers list.
Loren Long is the author and illustrator of the New York Times bestselling Otis series, which is in development as an animated television series. He's also the illustrator of the #1 New York Times bestsellers Of Thee I Sing by Barack Obama, Love by Matt de la Pena, and The Little Engine That Could by Watty Piper. He recently illustrated a modern edition of the Clement C. Moore classic, The Night Before Christmas.
This session will be moderated by Dr. Carla Hayden.
Carla Hayden was sworn in as the 14th Librarian of Congress in September 2016. She is the first woman and the first African American to lead the national library. She was nominated to the position by President Barack Obama in February 2016 and her nomination was confirmed by the U.S. Senate, July 2016.
Thursday, June 24
What just happened?! What now?! Programming Post-COVID (Day 1)
9:00 AM – 10:00 AM CT
Grab your beverage of choice and join your fellow programming librarians for small-group chats about programming during and after the pandemic. We will share the woes, hardships, and re-imagining of the past year as well as what we see for the future of library programming in a post-COVID world.
These chats will take place on Thursday, Friday, and Saturday morning. Note that each session will cover the same discussion topics. Since there is so much to discuss, you are welcome to join us for one or all three days of this "librarian group therapy" session.
This will be a social and educational space. Breakout rooms will be utilized to make the conversations engaging for all participants.
Take Up the Challenge: An Actionable and Accountable Racial Justice Program
11:00 AM – 12:00 PM CT
2020 awakened the United States to widespread police brutality, systemic racism, and white supremacy. As the world witnessed numerous police killings of Black, Indigenous, and People of Color (BIPOC), including George Floyd, Breonna Taylor, Tony McDade, and Rayshard Brooks, unprecedented numbers of people, from all walks of life, joined the Black Lives Matter movement and other longstanding efforts by BIPOC to address and dismantle structural racism and white supremacy culture. Seeking to contribute to this work, a graduate student, a librarian, and a diversity officer designed a weeklong program aimed at jumpstarting a commitment to meaningful change regarding racist policies and practices. The result: The Racial Justice Challenge.
Each day, for five days, participants received an email with several tasks designed to learn, unlearn, listen, share ideas, and take action around issues of race and racism. We explored what Dr. Ibram X Kendi describes as how to be antiracist (versus "not racist"), approaches to moving beyond what Chimamanda Ngozi Adichie calls "the danger of a single story," and ways in which news outlets and social media shape perceptions of race. Participants contributed daily insights and ideas to open discussion board questions, in an effort to learn from one another and have a diverse set of actions to draw upon, and by the end of the week, participants created an individualized antiracist action plan based on what each participant wanted to commit to changing, tackling, or dismantling.
Join the designers of this program for a tour of the challenge, a discussion of why and how we sequenced each day, and ways we made this remote learning opportunity interactive. We will invite the audience to brainstorm approaches to adapting this type of program to their institution or position, and ways to build on this program going forward.
Small & Rural Libraries Navigating Post-Covid Times: a candid discussion
12:15 PM – 1:15 PM CT
Join active members of the Association for Small & Rural Libraries in a facilitated discussion of what our libraries are facing now and are likely to face in the future as a result of the pandemic. Learn how other library professionals and advocates are coping, triaging, innovating, and otherwise serving their communities, and share your own challenges and successes. All are welcome at this session.
Friday, June 25
What just happened?! What now?! Programming Post-COVID (Day 2)
9:00 AM – 10:00 AM CT
Community Voices: Libraries Involved in the Multimedia Gathering, Sharing or Preservation of Stories Lived in their own Neighborhoods, Towns, Cities and Counties
1:00 PM – 2:00 PM CT
Library shelves are full of commercially published stories. However, the communities that libraries serve also contain stories – rich tapestries of feelings, impressions, images, activities, memories, and personal histories that are part of the everyday life of a community. Many of these voices have not been traditionally well represented in library collections – especially the stories of people of color, the LGBTQ community, people with disabilities, immigrants and refugees. This program will look at ways libraries have developed multimedia projects or digital archiving services to help ensure these stories are not lost.
Libraries are for Everyone: In-Person and Virtual Programming for Adults with Disabilities
2:15 PM – 3:15 PM CT
Whether in cyberspace or a brick and mortar building libraries are places of community. They are places where people of all backgrounds can find information and a good book and can celebrate individual cultures and the larger community. They ought to be places where everyone feels welcome. Yet many adults with disabilities do not see libraries as a positive destination even when there are no physical barriers. They may come to our libraries in groups and not engage. If students, they may avoid libraries to the detriment of their grades. Or they may not think of us at all.
We all can create library environments that welcome everyone, and programs are our invitations. Join us to learn how from other librarians who are currently serving the adults with disabilities in their communities. Drop in on a virtual program from the Bloomfield Township Public Library. Hear JJ Pionke, Health Sciences Librarian at the University of Illinois Urbana library, describe how sensory tools can make libraries more welcoming for people with sensory and developmental disabilities or mental health issues. Celebrate diverse, inclusive arts programs in the library and explore working with partners to increase intersectional representations and participation with Carrie Banks from Brooklyn Public Library's Inclusive Services. Explore the role of virtual and in-person programs in our hybrid futures. You'll leave this session informed and inspired. Sponsored by the Accessibility Assembly.
Saturday, June 26
What just happened?! What now?! Programming Post-COVID (Day 3)
9:00 AM – 10:00 AM CT
Celebrating Welcoming Week: Libraries Fostering Immigrant Integration and Inclusion
2:45 PM – 3:45 PM CT
Join the ALA Serving Refugees, Immigrants, and Displaced Persons (SRIDP) committee for an interactive workshop on celebrating Welcoming Week, an annual event hosted by Welcoming America to bring together immigrant and non-immigrant neighbors. In 2020, Welcoming Week inspired 2,000 events and fostered connections among 80,000 people in 400 communities across the U.S. Participants will learn recommendations from the "Celebrating Welcoming Week" toolkit for libraries. As trusted institutions, libraries remain important sites for empowerment and public trust. Immigrant integration is essential given ongoing division and unrest. By hosting Welcoming Week events, libraries can harness the full potential of all residents and leverage ethnic diversity to connect communities.
Tuesday, June 29
Closing General Session featuring President Barack Obama
12:00 PM – 1:00 PM CT
President Barack Obama will close the Annual Conference & Exhibition when he sits down with Lonnie G. Bunch III, the 14th secretary of the Smithsonian and first African American appointed to the role. They will discuss Mr. Obama's memoir A Promised Land, the current political climate, and the role libraries and museums play in supporting democracy.
Few presidents have walked a more improbable path to the White House. Born in Hawaii to a mother from Kansas and a father from Kenya, Barack Obama was raised with help from his grandparents, whose generosity of spirit reflected their Midwestern roots.
After working his way through college with the help of scholarships and student loans, Obama moved to Chicago, where he worked with a group of churches to help rebuild communities devastated by the closure of local steel plants.
On Nov. 4, 2008, Obama was elected the 44th President of the United States, winning more votes than any candidate in history. He took office at a moment of crisis unlike any America had seen in decades – a nation at war, a planet in peril, the American Dream itself threatened by the worst economic calamity since the Great Depression. And yet, despite all manner of political obstruction, Obama's leadership helped rescue the economy, revitalize the American auto industry, reform the health care system to cover another 20 million Americans, and put the country on a firm course to a clean energy future – all while overseeing the longest stretch of job creation in American history.
In times of great challenge and change, President Obama's leadership ushered in a stronger economy, a more equal society, a nation more secure at home and more respected around the world. The Obama years were ones in which more people not only began to see themselves in the changing face of America but to see America the way he always has – as the only place on Earth where so many of our stories could even be possible.

Obama and his wife, Former First Lady Michelle Obama, are the proud parents of two daughters, Malia and Sasha.
Date / Time
Thursday, June 17, 2021 - 11:15