Civil War Programming in a Rural Library
Laurel County (Ken.) Public Library discusses the "Let's Talk About It: Making Sense of the American Civil War" program.
While the Civil War was all about conflict, as programming librarians we're all on the same side now—facing the challenge of getting more patrons into our libraries to enjoy the diverse, quality programming we offer. Rural libraries, though, may face a few additional challenges in programming—limited resources, increased travel expenses in bringing in speakers or programs—but there's a silver lining, too. Your library can become the cultural center of the community or region without having a lot of competition from other venues.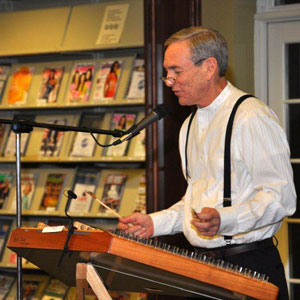 Our library, Laurel County Public Library, is located at the foothills of the Appalachian Mountains in southeastern Kentucky. We moved into our new library facility nearly nine years ago, and immediately began offering adult programming, starting out with just a couple of programs each month, and eventually growing into a schedule offering as many as twenty per month. Through the years, we've found that our community has a craving for both the entertaining and the intellectually focused programs we offer here at our library. Living in a small town doesn't mean that people's interests are limited—we have every bit the breadth of curiosity that urbanites do. We've also noticed that the community is anxious to show support of the library's programs so they can continue, and they're very willing to give new things a try because they trust that we work hard to offer quality opportunities.
We're in the midst of our reading and discussion series as part of the "Let's Talk About It: Making Sense of the American Civil War" program, so we're offering several of the programs listed below during the five months of the series. To be honest, the biggest challenge we've faced so far with our Civil War programming is a greater than anticipated interest in the topic—a nice problem to have. Even if your library isn't located in an area rich with Civil War sites, you'll still be able to offer valuable, creative programs to commemorate the 150th anniversary of this historic event. Wherever you are, there are sure to be patrons interested in Civil War-related programs, and likely there are also resources nearby to help you pull them off.
But before you start planning your own events, I'd first suggest keeping these points in mind:
1  Remember that your contacts have other contacts. Make a quick phone call or send a short email to speakers and presenters you've previously worked with asking if they know of anyone who can help you with a Civil War commemorative program—either in general or a specific program you have in mind.
2  Adapt a successful program you've already offered. You'll see below a program that we originally used as a Women's History Month event, but could easily be adapted for a Civil War-related program. Just be sure you don't wear a good thing out by repeating it too often.
3  Keep your eyes and ears open for new program ideas. We skim area newspapers and visit other libraries' websites for ideas we can adapt. During casual conversations with patrons, you might pick up on new ideas they're interested in learning more about.
And now … some ideas that might get you started on your own offerings in commemoration of the 150th anniversary of the Civil War:
•   Civil War film series—Make your public performance license work even more for you by offering a multi-part film series. We're currently offering a four-part, monthly series enhanced by introductory and closing comments by professors from our local community college, who add context to what is being shown and set the record straight about what might have been fictionalized for the film. An added bonus—so far, I've noticed that the films are attracting a whole new set of patrons from those attending either our Civil War reading series or our regular monthly feature films.
•   Exhibits—We're borrowing a Lincoln-themed freestanding exhibit from a nearby university and using that along with a display of a local patron's Lincoln memorabilia. In exchange for nominal shipping costs, the community will enjoy an informative and enlightening exhibit. You might work with your local historical society to borrow or arrange a special display for your library. Or ask around—chances are that you'll find a collector of Civil War items that might be willing to work with you on an exhibit.
•   Continual readings—We did this last March for Women's History Month and had continuous readings of writings by women from 11 a.m. until 7 p.m. Why not adapt it for a Civil War commemorative event? Arrange for continual readings of Civil War writings by asking college students, patrons, community leaders, and library staff to choose short read-alouds (ten to fifteen minutes each) one right after the other for several continuous hours. A great resource to start with is America's War: Talking About the Civil War and Emancipation on their 150th Anniversaries, edited by Edward L. Ayers, an anthology of original Civil War source documents. Yes, it takes some scheduling, but you'll be rewarded with a memorable and impactful event at your library.
•   Reader's theater—We all know that reader's theater is a great tool for improving the reading skills of young students, but it can also be an interesting and enjoyable experience for families and community members. Without costumes, lighting, memorization, and other stressful factors to worry about, performers can focus on bringing their characters alive through the emotion in their voices. Just pick a script and start casting! Scholastic's website has a script available on the life of Harriet Tubman, and there are lots more Civil War-related scripts to be found through a simple Internet search.
•   Atypical lectures—Entice your patrons with a lecture (or lecture series) that goes beyond the usual topics. Think of subjects relating to the Civil War but a little outside the box, such as medical practices, female spies, the role of women, or advances in weaponry. This would be perfect for a breakfast series or a brown bag lunch series.
•   Touring children's theater productions—This one is a little tougher to come across, but has big rewards when it works out. Check children's theater companies within a two- or three-hour radius to see if any of their upcoming touring performances will have a connection to the Civil War. Since they're primarily aimed at children, Abraham Lincoln and Harriet Tubman might be likely offerings. But just because they're children's theater performances, don't be surprised when the grownups come, too. Since our town doesn't have a professional or community theater, we have many adults who enjoy the programs and happily attend without a child or grandchild in tow. Even if you don't have a theater or stage area in your library (we don't), these touring groups are usually very willing to adapt their performances to your venue. Just discuss the arrangements well in advance so no one is caught off-guard on performance night.
•   Cooking demonstrations or programs—Everyone loves food programs, so why not offer one related to the Civil War? Work with a reenactment group to offer an outdoor cast iron cooking demonstration, or with a local historian or professor to present a program on food costs, availability, or recipes. There are several vintage cookery books available online to use in programs, too. Your local cooperative extension service might also be a good resource in this area.
•   Bus trip—Working with our local community college and our Friends of the Library organization, we've been fortunate to arrange a couple of day trips during the past year to regional attractions. Our next one is coming up in March with a trip to Ashland (the Henry Clay estate) and the Mary Todd Lincoln House, both an hour away in Lexington, Kentucky. With Friends sponsoring the bus transportation, students and patrons only have to pay for admission and lunch—a great bargain! College students like the trips because they've usually not had the opportunity to visit these attractions before, and patrons like them because they don't have to worry about driving, parking, or other issues.
•   Dance performance—We have several couples from a regional vintage dance troupe scheduled in May to perform dances from the Civil War era. They even plan to teach a few steps to anyone interested in learning! Don't have a vintage dance troupe in your area? Try nearby dance studios or colleges with dance programs for performers willing to demonstrate a quadrille or waltz at your library.
•   Musical performances—Most of our libraries probably can't accommodate an entire Civil War brass band, but luckily there are other options to choose from. Piano and string music were also popular during the Civil War, so an area musician might work with you to provide appropriate music from the era. If a nearby college or university has a music department, check with them to see if a faculty member or student ensemble would be interested in performing, or you might have some talented high school musicians who'd like to showcase their musical skills. Other valuable resources are your state humanities council, local and state historical societies, and area museums.
•   Debate—When we host the "Lincoln: The Constitution and the Civil War" traveling exhibition, we're planning a debate between panels of students from an area university's speech and debate team on the topic of union versus succession, moderated by a local judge. A similar idea might be arranged with high school history students.
•   Quilt exhibit—Quilting is such a popular art form these days that you can probably find quilters in your community without looking too hard. Ask if the local group would be willing to exhibit Civil War–era reproduction quilts they've made. For our last quilt show, it only took a few well-directed emails to come up with an area quilter who was also qualified to date and appraise historic quilts. If you're near a college or university, see if a textile historian might be willing to present a program on the subject of Civil War or Underground Railroad quilts.
•   Civil War tea—If you have a reenactment group in your area, chances are the ladies of the group might share their knowledge of Civil War tea etiquette with your patrons. Ask them to dress in their period costumes and you'll have the added bonus of a Civil War fashion show, too.
•   Genealogy workshop—While experienced genealogists may already know how to research their ancestors during the Civil War, those new to family research may not. Partner with your local historical society to offer a Civil War genealogy workshop. End the workshop with a visit to a local cemetery for gravestone rubbings from the era.
•   Historic walking tour—If your town has nineteenth-century buildings, try arranging a historic walking tour offering information about the role these structures played during the wartime. Again, local historical societies would be logical partners for this undertaking.
•   Living history performers—Combine education and entertainment by offering a program featuring a living history performer. The best place to start is through your state humanities council, but an Internet search will also uncover more possibilities. Don't forget about historical sites and museums, too—even if they don't offer performances on-site, they may have ideas or contact information they'd be willing to share with you.
Now that you've got some ideas, you're probably wondering how to pay for them. Here, too, there are a number of different options for consideration.
Several of the above ideas cost little to nothing to implement. Programs like the film series, continual readings, and reader's theater take advantage of materials you either probably already have in your library or that can be accessed online. Don't forget to consider copyright restrictions when planning your programs.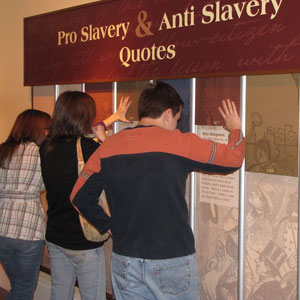 Local partnerships can result in win-win situations for both your library and the organization you're working with—and they can cost little to no money. By partnering with a local reenactment group, for example, the library can offer an appealing program such as a Civil War tea or an atypical lecture. In turn the reenactors are able to share their interest with a new audience, maybe even resulting in new volunteers or members for them. Or you and a partner may each have resources the other needs to meet a common goal. When our local hospital was no longer able to hold their annual quilt show because of space restrictions, we became partners. We have a beautiful quilt display each year at the library, and the hospital's volunteer group provides prizes and refreshments—everyone wins.
Granted, some programs, like professional theater or musicians, do cost a good chunk of money, but may become more attainable when carefully balanced with free or lower-cost programs to remain within your programming budget. While you may initially resist the idea of paying a good deal more for one of these programs, you might reconsider when you realize the larger potential audience you'll attract and the impact that such a program might have on your local community. You might give thought, too, whether a local corporate sponsorship might be obtained for a more costly program.
Of course, don't overlook your local Friends of the Library organization for special funding requests. I mentioned above that our Friends group covers the transportation costs for our bus trips, and they've funded special performances, too, from time to time. Check into the appropriate way to request funding from your own Friends of the Library.
A little research may uncover some grant funding, too. We've used mini-grants from our state humanities council to help fund special reading series. If you have any local facilities of major corporations in your area, check to see if they offer any grant opportunities that might be open to your library. A few years ago, we received a community grant from one such corporation that helped pay for some special performances for our annual International Day festivities. You can also subscribe to Programming Librarian's newsletter to receive grant announcements.
Of course, we publicize in all the usual ways—newsletters, flyers, press releases, etc.—and if we offer a program where there's a way of getting information directly to those it would appeal to, we do that, too. For example, we drop off flyers for programs appealing to men at a local outdoors store, and our quilt show information is included in the county extension homemaker newsletter. And these days, we're especially conscious of using social media.
The best supplement, though, to all of these media outlets is something you can't buy—word of mouth. When patrons see a program that might be of interest to a neighbor or co-worker, they happily share the details. They encourage newcomers to use the library as a way of getting to know people. In fact, at the first session of a special reading series last fall, five of the twenty people in attendance mentioned during introductions that they were new to the community and wanted to meet others who enjoyed good literature, too.
As I hope you see by now, there is a wide breadth of programming ideas (and ways to pay for them) adaptable to Civil War commemorations in public libraries, especially those serving rural communities. And these, I'm sure, are just the tip of the iceberg. You know your community—its needs, its interests, its resources. Keep in mind that just because you're in a rural library doesn't mean you can't get creative with programs or find quality resources. It might take a little sleuthing, but you'll be rewarded with appreciative patrons and programs you can be proud of offering to your community.
Selected Online Resources
•   State humanities council listing, provided by the National Endowment for the Humanities.
•   The Civil War Trust, dedicated to preserving Civil War battlefields and educating the public about the war.
•   The Civil War Discovery Trail, includes more than six hundred Civil War-related sites in thirty-two states.
•   America's War: Talking About the Civil War and Emancipation on their 150th Anniversaries, edited by Edward L. Ayers.
•   Scholastic's Harriet Tubman Reader's Theater script.
Mrs. Goodfellow's Cookery As It Should Be: A New Manual of the Dining Room and Kitchen, an online version of the 1865 cookbook.
Date / Time
Tuesday, January 31, 2012 - 16:00
Job Functions
Resources and Program Starters