Collaborative Library Program Success Stories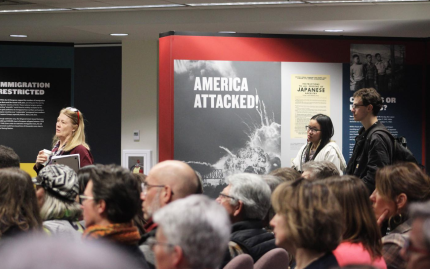 Partnering with civic groups, and artists are just a few ways to create lasting community connections.
A one-mile walk in Boise, Idaho, on April 18 took an unusually long 90 minutes. The 103 walkers weren't merely out for an evening stroll on this Yom HaShoah (Holocaust Remembrance Day). They were participating in a Holocaust Remembrance Walk that visited three key sites, hosted by multiple community partners who collaborated to make the event happen.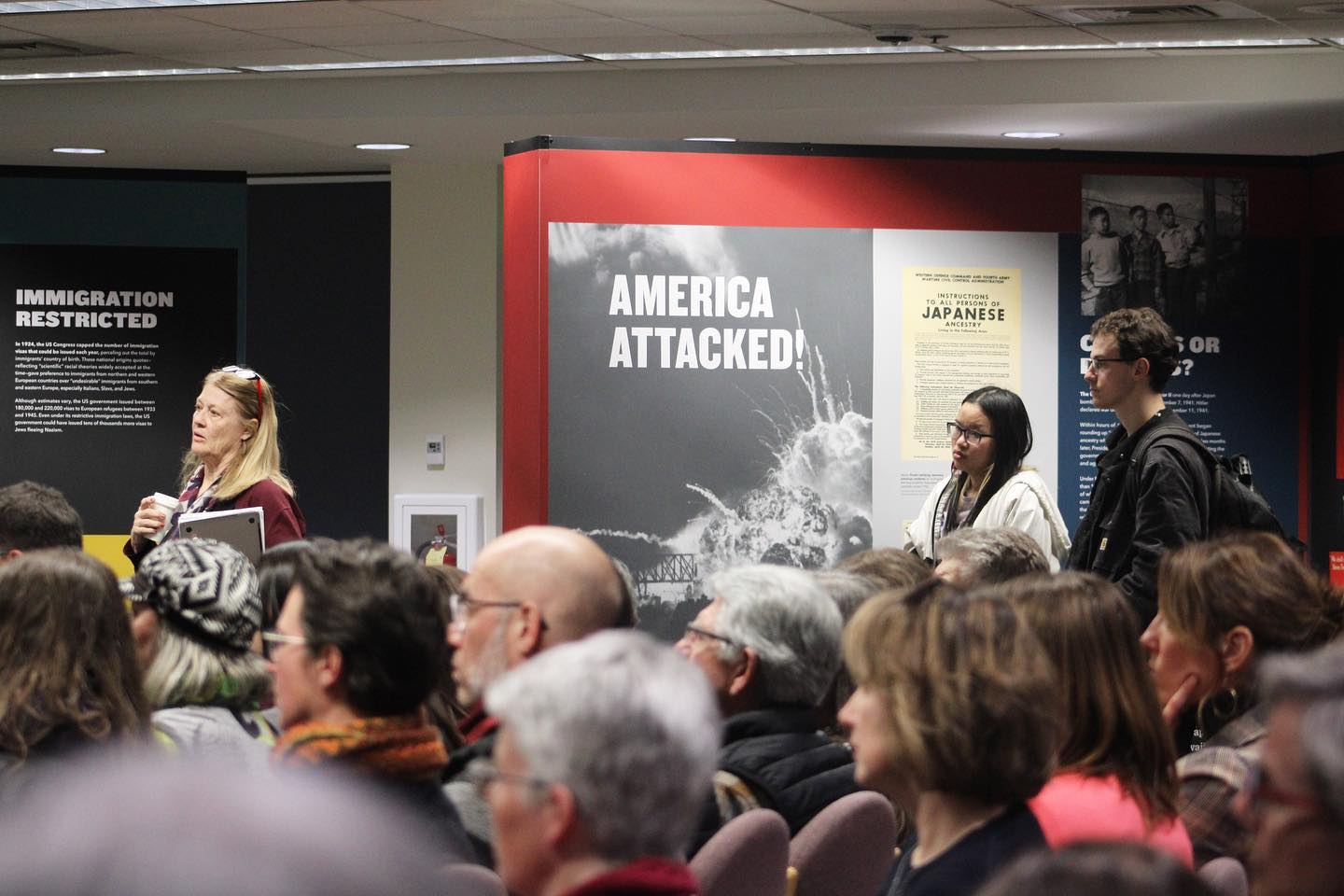 The walk began at Boise State University's Albertsons Library to see Americans and the Holocaust, a traveling exhibition presented by the United States Holocaust Memorial Museum in Washington, D.C., and the American Library Association (ALA). The group then walked to Boise State's Center for the Visual Arts to experience Museum videos and interactive displays in an all-digital gallery. They ended their journey at the Idaho Anne Frank Human Rights Memorial, where Rabbi Daniel Fink of Boise's Congregation Ahavath Beth Israel led a somber yet hopeful reflection on the past and future.
Gwyn Hervochon, an archivist and librarian at Albertsons Library, steered a team that organized the exhibition. Although the library was responsible for hosting Americans and the Holocaust and planning related events, local outside partners–including schools, nonprofits, Jewish groups, civic organizations and businesses–were key to the exhibition's success.
"It was a community partnership from the very beginning," Hervochon said.
Americans and the Holocaust examines the motives, pressures and fears that shaped Americans' responses to Nazism, war and genocide in Europe during the 1930s and 1940s. The exhibit is traveling to 50 U.S. public and academic libraries from 2021 to 2023, and the tour has been extended to 50 more libraries from 2024 to 2026.
Two of the libraries that have hosted the exhibition so far, Boise State's Albertsons Library and the Chattanooga Public Library in Tennessee, built particularly strong relationships with outside partners.
Hervochon and Sheldon Owens, operations manager for the Chattanooga Public Library, shared some of the partners they worked with and the approaches they took to building successful coalitions that aided and expanded the programming their institutions could offer. Their successes can serve as inspiration for libraries that are preparing applications to be part of the upcoming tour.
Jewish congregations and organizations
To plan exhibit-related community programming, simply reaching out to representatives from what seem to be the most obvious partners was a key first step.
Hervochon said she initially heard about Americans and the Holocaust from a member of Congregation Ahavath Beth Israel, Boise's local synagogue, whom she'd met through a previous ALA touring exhibition. The congregation member asked if she thought the library would be interested in applying to host the exhibition. Although Albertsons Library is an academic library that serves a university, "we were really convinced that we could work not just on our campus, but also reach out to the community," Hervochon said. "It's part of our mission as the largest university in the state to invite the community to experiences like this that they wouldn't be able to access otherwise."
Rabbi Fink participated in several programs as a speaker or panelist, and other synagogue members helped with exhibition promotion and program planning. Members of the synagogue attended most of the programming and volunteered to serve as exhibition docents.
Owens, of the Chattanooga Public Library, said the first organization he reached out to for advice, even before applying, was the Jewish Federation of Greater Chattanooga, which has a reading room that can be considered a library. "We wanted to make sure we weren't stepping on their toes if they were applying to host the exhibition," Owens said. The organization's director of programming, Ann Treadwell, ended up on the exhibition steering committee and guided Owens to other partners and program participants.
A member of the Tennessee Holocaust Commission was also on the steering community, and that organization provided support for program planning. A historian from the organization spoke as part of an "Americans and the Holocaust: A Scholars Panel" program.
When first meeting with potential partners, Hervochon suggested doing some homework about the organization's mission and programming, to "see how what you are doing might tie in with what they already do."
Nonprofit and historical organizations
Nonprofit and historical groups with interest in or connections to the exhibition's themes are also natural potential partners. Hervochon, for example, reached out to the Idaho Anne Frank Human Rights Memorial. Dedicated in 2002, it was built by the Wassmuth Center for Human Rights in Boise as "an educational park designed to actively engage visitors to think, to talk with one another, and to respond to the human rights issues we face in our community." (The center is named for the late Bill Wassmuth, a former Roman Catholic priest who spoke out against white supremacist hate groups in northern Idaho.)
In addition to taking part in the Holocaust Remembrance Walk, staff at the center wrote letters of support for the library's application to host the exhibition, and suggested programming ideas.
Another natural partner was the Minidoka National Historic Site in Jerome, Idaho, southeast of Boise, where more than 13,000 Japanese Americans were incarcerated during World War II.
Hervochon said Albertsons Library already had an existing relationship with the site, which "allowed us to do new programming and strengthened the partnership we already had." The Friends of Minidoka came up with the idea to show a documentary they had produced, Minidoka, Betrayed, featuring the voices of people who were imprisoned there. The film was followed by a panel conversation with former Minidoka internees and representatives from the site.
Civic groups
Sometimes potential partners will hear about the exhibition and reach out themselves. For example, as word of mouth about Americans and the Holocaust spread, Hervochon heard from the City Club of Boise, a civic organization that hosts speaker programs. The group wanted to promote the exhibition and sponsored an event titled "Germany Calling: What Americans Heard Over the Airwaves," about German radio broadcasts to the U.S. during World War II, presented by David Walker, a Boise State history professor and Holocaust scholar.
"That was hugely successful in terms of numbers — 130 people attended — and the partnership made it happen," Hervochon said. "We wouldn't have gotten those numbers on our own."
Government officials
Collaboration and brainstorming with one partner can lead to another. Hervochon, for example, learned from the executive director of the Wassmuth Center that Joshua D. Hurwit, U.S. attorney for the District of Idaho, was co-sponsoring a United Against Hate initiative launched by the U.S. Department of Justice to combat hate crimes. Hurwit was "incredibly enthusiastic about seeing how this exhibit might connect with the initiative," Hervochon said.
For its final program, the library hosted "From History to Today: Shared Legacies, Shared Aspirations," featuring Hurwit as a speaker talking about hate crimes, along with leaders from the Jewish, Black and Japanese American communities. The Anti-Defamation League (ADL) of the Pacific Northwest and Congregation Ahavath Beth Israel were also involved in finding speakers and organizing and promoting the event, attended by 180 people.
"Holding this event in conjunction with the Americans and Holocaust exhibit is a great way to explore how difficult history can inspire a hopeful future," Hurwit said in a statement at the time.
Schools
In Tennessee, Owens said that of the 4,641 people who visited the Chattanooga Library exhibition, 1,743 were students. The library's youth services staff worked with the county department of education to bring students in middle and high schools to visit the exhibition. Reaching youth audiences is one of the goals of the exhibit tour.
One of the most poignant events for students, Owens said, was a speaker presentation by Michael Bornstein, a Holocaust survivor who was at Auschwitz as a young boy, and his daughter, Debbie Bornstein-Holinstat. The duo spoke once in the morning for student groups, then later for the general public. Nearly 3,000 people attended altogether.
"You could have heard a pin drop," Owens said. "And I'm talking about 1,500 middle and high school students, who are not known for being quiet in big groups. They were on the edge of their seats, and so respectful."
Michael Bornstein especially made an impression, Owens said, when he told the students they would probably be the last generation with the opportunity to meet a survivor like himself.
Businesses
Before the exhibition arrived, Chattanooga Library was fortunate to have hired a development director with strong ties to the local community. He was instrumental in developing partnerships and securing additional funding thanks to his existing network of business, government and nonprofit contacts.
For example, an insurance corporation and an arts nonprofit, teamed up to provide free transportation for students from rural and inner-city schools to visit the exhibition.
Artists
Both libraries offered concerts featuring Jewish music. Albertsons Library presented "Sustaining Jewish Culture through Music" with the Moody Jews, a local klezmer band. The program traced the roots and development of klezmer and Yiddish song and culture.
The Chattanooga Library hosted "The Shoah Songbook" with the Likht Ensemble, featuring a soprano and pianist who performed music created by Jews during the Holocaust accompanied by a chamber group from the Chattanooga Symphony.
Lasting connections
A guestbook at the Chattanooga Library exhibition invited visitors to share thoughts about their experience. A comment from one visitor recognized the many people involved: "Thanks to all who organized this. Very moving."
Both Hervochon and Owens said the partnerships they formed during the exhibition have continued.
Owens said he still communicates with his partners from the Tennessee Holocaust Commission and the Jewish Federation: "They invite us to their events. And now we're on their radar; they are getting our newsletter and we are watching what they're doing."
Hervochon agreed: "The overwhelming sense after everything was wrapping up was, we've got to find more ways to work together like this."
Apply now, through Oct. 14, 2023, for the second round of grants for libraries to host the Americans and the Holocaust traveling exhibition from 2024 to 2026.
Date / Time
Monday, July 31, 2023 - 16:15
Job Functions
Resources and Program Starters