The Post-Election Library
Libraries are making their communities feel safe and welcome this week after a tumultuous election.
It's been a hard week for many Americans, as Tuesday's election amplified divisions within communities and flamed feelings of isolation, anger and fear among much of the population. As the dust settles, libraries across the country are coming up with ways, large and small, to make all people feel safe and welcome, regardless of who they are or which candidates they supported. Here are some of those ways.
Bringing neighbors together
On Thursday, Nov. 10, more than 200 people showed up for a post-election conversation with community leaders at Princeton (N.J.) Public Library. The library had announced the event just 24 hours earlier, inviting people to come together, partake of coffee, tea and mulled cider, and bring a dessert to share with their neighbors.
As always, we are here for our community. @lizlemp @PtonHumanSrvs @pps_super and other local leaders will be on handhttps://t.co/byn1qjg6tI pic.twitter.com/Mq7O7uK43C

— Princeton Library (@PrincetonPL) November 10, 2016
The event was attended by the mayor and leaders of local nonprofits, churches and human services organizations, said Programming Librarian Janie Hermann.
Creating displays
Many libraries have set up displays to capture some of the themes and moods prevalent in this post-election time:
Librarians at the University of Washington's Odegaard Undergraduate Library set up an election display, called "Election Escape," with fiction and non-fiction books on U.S. politics. Next week, they plan to display books that support a university initiative on race and equity.
Capturing the mood of the community, a D.C. public library put up a display about protest and activism highlighting the Martin Luther King, Jr., quote, "Somewhere I read that the greatness of America is the right to protest for right."
Princeton Public Library's Youth Services department set up a display of multi-cultural picture books and books on kindness.
If you're looking for selections on the theme of unity and peace, check out the Association for Library Service to Children (ALSC)'s "Unity. Kindness. Peace. Booklist."
Whichever topic you choose, pay attention to the book covers. 
"Representation matters," said Library as Incubator Project co-founder and editor Erinn Batykefer. "A book display that includes and celebrates many people — queer, Muslim, African American, Asian, Latino, etc. — and shows them on the cover may be the most comforting and necessary thing for folks in your community to see. It reminds them that they matter and are welcomed and respected in the library space."
Telling people the library is a safe space
Another way to make people see the library as a safe space is to tell them it is one.
When Ferguson, Mo., erupted into protests following the killing of unarmed teenager Michael Brown in 2014, the local public library did a great job of showing residents that it was a safe harbor. Library Director Scott Bonner posted a seemingly simple sign in the library: "During difficult times, the library is a quiet oasis where we can catch our breath, learn and think about what to do next. Please help keep our oasis peaceful and serene."
In times of uncertainty and doubt, we need knowledge and understanding. What do libraries offer? Knowledge and understanding. Time to learn.

— Ferguson Library (@fergusonlibrary) November 9, 2016
Bonner shared a similar sentiment when tensions flared this week.
Making a "Subway Therapy" wall for expression
You may have read that New Yorkers are sharing their post-election feelings on the wall at the Sixth Avenue L train subway underpass. The art installation, called Subway Therapy, has grown to more than 1,500 notes.
New Yorkers post their thoughts and feelings onto New York's wall. #SubwayTherapy #Election2016 #madewithglimpse pic.twitter.com/ZB3GJQUex9

— Eugene (@eugkuo) November 11, 2016
Princeton Public Library created their own wall; all it requires is some Post-its and a blank wall space. (As always, be sure to monitor the wall for notes that aren't in the right spirit.)
Reminding people they matter
Kyna Stys, teen library associate at the William F. Laman Public Library in North Little Rock, Ark., created these tear-off posters to hang in her teen department last summer, but she hung them up again this week. Since hanging them up two days ago, she has gone through five sheets.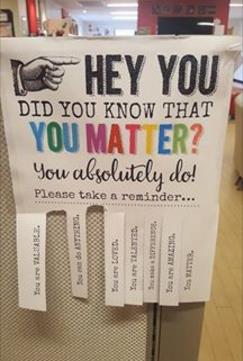 "Most teens shyly took a tab, some asked if they could have one, and a few thanked us," Stys said. "There has been no excitement or loud exclamations like other displays we have. I feel that this was something they needed but are not ready to admit they need."
Stys encourages other libraries to print and hang the sign; you can download it here. 
Starting a dialogue
Libraries are neutral, apolitical spaces that are open for everyone, so it makes sense that the library would be a natural place for dialogue. There are numerous free resources on the web for libraries to bring communities together in conversation. (See ALA's Libraries Transforming Communities resources, for example).
Is now the right time to jump into a dialogue? "I think in the coming days dialogue is critical, and so libraries should be encouraged to consider providing a space for it," said Courtney Breese, program director for the National Coalition of Dialogue and Deliberation.
Breese recommended that newcomers to the community engagement/deliberation arena check out Conversation Cafe; its simple process is outlined on its website.
Keeping people busy 
Hands-on or DIY activities can be healing; sometimes people just want to turn off their brains for a bit. Possible activities include a drop-in stress relief program, meditation class, adult coloring program, or a more involved DIY project.
Doing what libraries do best
It may not be fancy, but perhaps the most powerful thing libraries can do this week is to do what we do every week. "The biggest thing we can all do right now is what we do best: service," said Mallory Arents, head of adult programming at Darien (Conn.) Library. "Welcome every single patron who walks in your door."
How is your library responding to the election? Tell us in the comments.
Date / Time
Friday, November 11, 2016 - 09:30