Q&A with the Curator of John Adams Unbound
An ALA exhibition curator discusses one of America's Founding Fathers.
Editor's note: This is part of an ongoing series of Q&A features highlighting contributors to ALA Public Programs Office traveling exhibitions.
If you are searching for first-hand insight into our nation's history, try exploring a book once owned by our nation's second President. John Adams dedicated much of his life to amassing a remarkable 3,500 volume personal library. He firmly believed an "ample and well chosen Assortment of Books" would serve many personal, political, and spiritual ends. Adams was devoted to the printed word, and Beth Prindle, curator of the John Adams Library at the Boston Public Library, intends to share Adams' passion for books and learning with audiences across the country.
Prindle worked with the American Library Association's (ALA) Public Programs Office to develop "John Adams Unbound," a National Endowment for the Humanities-funded traveling exhibition about John Adams' collection of books. Twenty libraries were selected to host the 1,000-square-foot panel exhibition and present free public humanities programs about exhibition themes. The traveling version is based on a major gallery exhibition of the same name, also curated by Prindle, on display at the Boston Public Library in 2006–07.
Prindle has graciously agreed to share her thoughts on John Adams, his books, and the exhibition process. This is the first in an ongoing series of Q&A features highlighting contributors to ALA Public Programs Office traveling exhibitions.
Programming Librarian: What do you find most intriguing about John Adams?
Beth Prindle: I find John Adams much more personally relatable than many of the patrician Founding Fathers. He's down to earth, candid, funny, certainly crabby at times; there's something intensely human about him, and his passionate relationship with Abigail is one of the greatest romances in history. Adams is really the embodiment of the quintessential American dream: the poor kid who grew up on a New England farm without many advantages and yet through education and perseverance becomes a noted lawyer, leading advocate for independence, ambassador, and first Vice President and second President of the United States. That's pretty incredible, given his modest background. I love that with the exception of his wife and children, his books are what he misses most when he travels. There's something wonderfully poignant about that attachment to his collection. It's very significant that his books are in a public library now; it was always his intention that his library—which did so much to further his own success—be put in the service of the larger community.
PL: What is your favorite book in the John Adams Library?
BP: That's a little unfair—it's sort of like being asked which is your favorite child. I like them all for different reasons, but there are ones that I feel very personally tied to. Adams's copy of Plutarch is near and dear to my heart, not because of its printed content (although Adams read the six-volume set with son John Quincy) but because there were pressed tree leaves between the back pages that had been there for two centuries. It's very personal and something that I think we all can relate to; using a book as repository for our "stuff" (and then forgetting about it). I am very fond of his copy of Discourses on Davila, a compilation of articles he wrote for a newspaper in 1790. Davila has close to 10,000 words of Adams's handwritten annotation in the margin: he rereads the whole thing in 1812, so you have seventy-seven-year-old Adams commenting on himself and the world when he was fifty-five (and a lot had happened in the intervening time).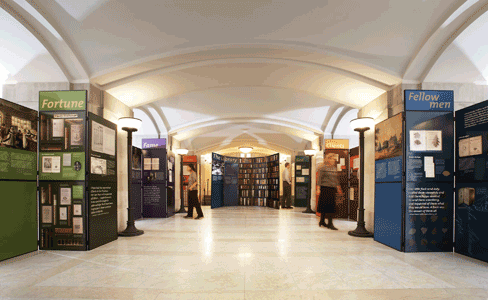 PL: The "John Adams Unbound" traveling exhibition is based upon the gallery exhibition of the same name that was originally on display at the Boston Public Library. As curator for both versions of "John Adams," what was your vision for adapting the gallery exhibition into a traveling panel format for libraries?
BP: It came about because we saw how popular the exhibition had been at the BPL … more than 55,000 visited "John Adams" during its six-month gallery run. We wanted to give more people the opportunity to see the exhibit, because there was such a strong audience response: they loved being with Adams's books and seeing his interactions with his library. However, it would have been prohibitively expensive and too risky from a preservation and security standpoint to crate up 3,500 fragile, rare books and ship them to twenty sites. So we did the next best thing and created a traveling exhibition, with the support of the National Endowment for the Humanities, that drew on the same themes but focused on fewer key pieces. The nice thing about a facsimile show is we used it to develop different avenues for telling the story that we didn't use when showing the real object: displaying multiple pages in a book at once, blowing things up really large so people could see details, using fun elements like lenticulars—plastic lenses like you find in Cracker Jack boxes that show two pictures at different angles. It's a way to add movement and wow to what is essentially a static show and I really credit our exhibition designers, C&G Partners, who also created the gallery exhibition, for thinking of playful and new things to show in this format.
PL: I know you have given presentations at several libraries hosting "John Adams Unbound." From your experience, how do you think libraries benefit from hosting the traveling exhibition and related programs for the public? Have audiences asked you any surprising questions about Adams?
BP: There's been such a wave of interest in Adams with the David McCullough book and the recent HBO miniseries that people nationwide are really hungering to learn more about him and his family. The audiences I've met are much more knowledgeable coming in than I would have expected about his particular story; Adams would have loved that because he always felt he never got a fair shake in the telling of America's founding. The story of the creation and use of Adams's library for personal, professional, and civic reasons is one that speaks to a lot of people, and audiences talk about their own books and book collecting a great deal. There are a few questions that get asked quite often: Where did he store all these books? (In a lot of places; he traveled so much that he never had the full library at his disposal until he retired in 1801.) Did he read every book? (No; there are uncut pages in quite a few volumes that show that he never opened it. However, he read a vast majority of them, at least in part.) Are there any books of Abigail's? (Only two have her signature, but she read from this library a great deal and quotes from many of the books in her letters.)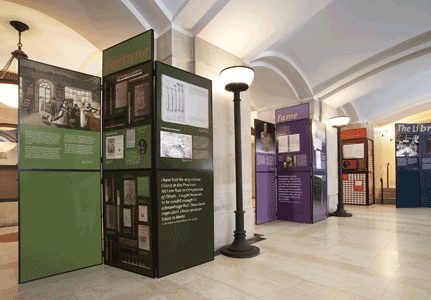 PL: I noticed that Adams has his own blog, "Where in the World is John Adams?" Has John Adams made any recent unexpected appearances?
BP: He has been a busy traveler over the past year, and people are having a ton of fun with the bookmarks from the exhibition. It was a spontaneous development: we didn't expect that people would take him around and snap pictures of him. He's been to China, Thailand, the Caribbean, England, all over the US … look for shots of him visiting George Washington at Mount Vernon and on safari in South Africa, coming soon!
Date / Time
Wednesday, April 7, 2010 - 16:00
Audience
Adult
Older Adults / Seniors
Young Adult