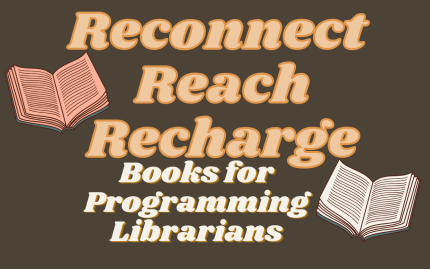 Feeling burnt out or less creative with your programs? This list of suggested books might be able to help. 
Although many libraries re-opened their doors this year, the pandemic still greatly affects the daily tasks of library workers everywhere. Whether you're still asking yourself "what the heck is a hybrid program?" or you're just facing general burnout as another year wraps up – there's a book for that.
Hopefully, the following list can provide you with some good reads to guide you and reaffirm your strengths as a programming librarian. Have a book to add? Comment the title below! We'd love to grow the list. Happy reading!
Reconnect
It seems like the pandemic made many libraries closer to the community than ever before. But for others, some connections may have drifted apart as things went virtual. If you're having trouble reconnecting to your community or to certain segments of the community, these reads are for you.

"'Library Collaborations and Community Partnerships' illustrates the value of libraries and their resources through an array of alliances to improve health and enhance people's lives. It is unique in its illustration of key principles of collaboration, partner engagement, shared leadership, project development and outcomes measurement, as well as the challenges inherent in collaborations among diverse partners."

"Sharing numerous examples of successful change, dialogue and deliberation, and collaborative efforts, this book offers a comprehensive look at community engagement work that can help all libraries reinforce their roles as champions of lifelong learning."

"The book showcases good practice and outlines the challenges to community development work. With public libraries facing budget cuts, this book offers an alternative way forward based on a community led approach to developing needs based library services. "

"While libraries deliver a vital public service within diverse communities, they are often invisible in the community development process initiated by civic planners, activists, and local government officials. Award-winning librarian, educator, author, and activist, Kathleen de la Pena McCook challenges librarians everywhere to get involved early by demanding a place at the community planning and development table."

"This uplifting book takes a fresh look at the essentials of how to nurture the best within ourselves and our colleagues in order to create lasting partnerships that will continue to thrive. Its breezy tone encourages reflection and discovery while giving practical suggestions on how to plan for short-term gains and long-term results."
Reach
If you're looking to widen your programming reach and the diversity of program types your library offers, get inspired by these titles.

"Experts Glen and Leslie Holt, with decades of service to inner city communities between them, challenge librarians to do more for poor people. While recognizing the financial crunch libraries are under, the authors offer concrete advice about programs and support for this unique group."
"From garden plots to cooking classes to StoryWalks to free yoga, more and more libraries are developing innovative programs and partnerships to encourage healthy living. Libraries increasingly provide health and wellness programs for all ages and abilities, and Healthy Living at the Library is intended for library staff of all types who want to offer programs and services that foster healthy living, particularly in the domains of food and physical activity."
"Since the first edition of this landmark guide was published, there has been increased interest in services for library patrons on the autism spectrum; indeed, more people of all ages now self-identify as autistic. Those who understand the unique characteristics of autistic young people know that ordinary library programming guides are not up to the task of effectively serving these library users.  This second edition provides key information, updated program ideas, and practical tips that will help library workers feel more prepared to serve members of this prevalent population."
"Programming staff, library administrators, and LIS instructors will find this an easy-to-read handbook for understanding the needs of adults with developmental disabilities and the principles that undergird the best practices the authors describe."
"Drawing from the expertise of business librarians and ALA's Public Programs Office (PPO), this book is a ready-to-use guide for offering financial literacy initiatives at your own library. Presenting 16 model programs from a variety of institutions, complete with budgets and funding sources."
"'Supporting Trans People in Libraries' is relevant for library workers of any background and position. People with little knowledge about trans identities can start with the opening introductory chapters, while those looking for guidance on a specific situation—such as adding all-gender restrooms, interacting respectfully with trans coworkers, deciding what information to require on library card applications, writing inclusive job postings, making collection development decisions, and more—can jump to a particular chapter."
"The creative programs shared in this book vividly demonstrate the ways in which library programming can make communities stronger and more resilient by creating lifelong learners, fostering conversation, and forging connections."
"Not only does this book offer insights into how to better serve all seniors, but it also provides complete step-by-step instructions for dozens of exciting and engaging programs that can be held both onsite and offsite."
"This important guide will help LIS instructors, educators, librarians, students, and scholars better understand Asian American children's and young adult literature in a historical, geographical, and political context."
"In seeking to make our programs and services inclusive and equitable for these growing populations, librarians may court controversy and face community backlash from patrons who feel queer-inclusive content is inappropriate for young children. This book codifies a set of best practices for librarians as they rise to this challenge, defining queer-inclusive programs, identifying potential barriers to implementation, and offering strategies and resources to overcome them."
Recharge
And finally, maybe you've been feeling more burnt out than usual, or that creative spark when you first started planning programs is hard to find these days. Here are some book recommendations to help with that.
"The American claim that we should love and be passionate about our job may sound uplifting, or at least, harmless, but 'Do What You Love' exposes the tangible damages such rhetoric has leveled upon contemporary society."
"A candid guidebook about art-making in the midst of oppression."
Date / Time
Friday, November 5, 2021 - 11:45