Red Hook Makes: From Borrowed Van to Mobile Maker Lab
Red Hook (N.Y.) Public Library takes their programming to the people with a mobile maker lab. 
Red Hook (N.Y.) Public Library is one of 10 libraries taking part in an intensive 18-month training in the "turning outward" approach through ALA's Libraries Transforming Communities initiative. Here, Library Director Erica Freudenberger describes how her library's work with the Harwood Institute is helping them step outside their normal routine and bring services to those who need them. (Photos by Sara Dunn, River Chronicle.)
What happens when you stop waiting for people to come to the library, and go to where they are? That was the question we found ourselves asking at Red Hook Public Library in the spring of 2015.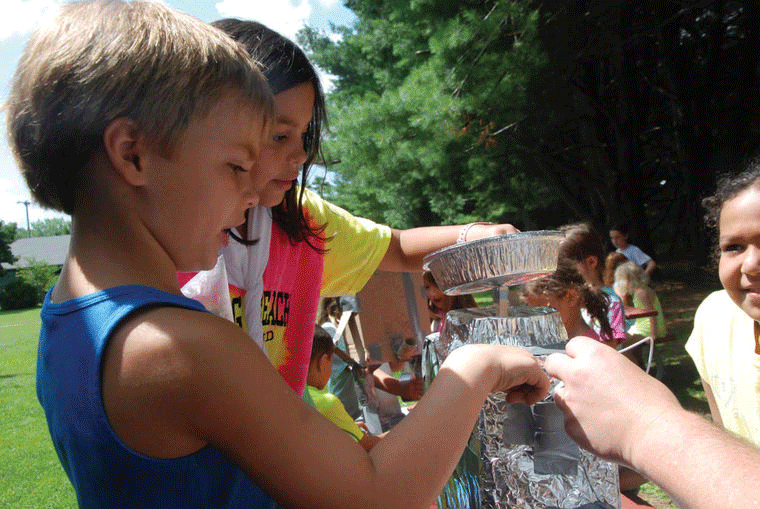 It wasn't that people weren't coming to the library — we had more than 11,500 people attend 653 programs in 2014. But when we began to engage our community using the Ask, Aspirations and Community Conversations tools from the Harwood Institute, it became apparent that while we were busier than ever, not everyone could get to where the fun was happening.
And not everyone was engaged in what was going on. We had lots of stuff for kids, toddlers and adults, but not as much for teens and 20-somethings, a group that seemed to be having a hard time finding a place to plug into the community. As we talked with people, we kept hearing the same thing: we need to find a way to create leadership and volunteer opportunities that use the time and talent of youth in their teens and 20s.
Although Red Hook Public Library is chartered to serve the village of Red Hook, we serve the entire town of more than 11,000 people, spread out over 40 square miles. Because we are a rural community 45 minutes away from the city of Poughkeepsie (where most of the services are based), people without independent means of transportation are limited by the public transportation available, which only runs a couple of times each day. People without regular, reliable transportation are isolated and unable to get to programs and services.
We began to rethink what we were doing, how we were providing services and where everything was taking place. And we realized it was time to hit the road.
There was just one minor fly in the ointment: we didn't have the resources to create a mobile tech hub/makerspace/programming machine. We do, however, have a lot of great relationships with other organizations, and began talking to Red Hook High School, Bard College's Center for Civic Engagement, and the college's Stevenson Library about joining forces and bringing information and opportunities to where people congregate. We decided to apply for an ILEAD USA grant, which provided us with the time and expertise to plan and pilot what a mobile program would look like for our community.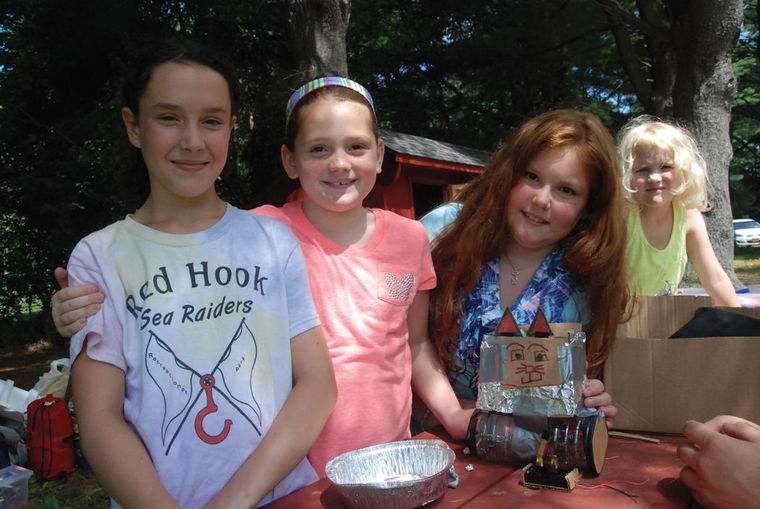 In June 2015, we began holding teen maker programs at Red Hook High School during the lunch hour. The popularity of those programs led to our collaboration with the high school librarian to plan an after-school program for the fall of 2015 for teens. During the summer of 2015, we hired two Bard students as interns and another local student to run a film camp. Bard College's Center for Civic Engagement lent us a van, so we approached our local rec park camp to see if we could bring our maker programs there; after the first week of working with the rec park (see photos), the head of the program told us she had extra money in her budget and would like to put it toward funding the program for the rest of the summer. (Read an article about the Red Hook rec camp.)
And when we returned to ILEAD in June, I presented on what we've been learning as part of the Libraries Transforming Communities cohort and managed to convince (almost) everyone that community engagement will shape the future of libraries. Our colleagues were clamoring for resources, so I pointed them to the Libraries Transforming Communities website -- and a few lucky people got thumb drives loaded with the LTC resources.
And then, before our time at ILEAD was over, one of the organizers told me she may have a lead on a box truck for us to use in the future, which will help grow our Red Hook Makes program. Coming soon, to a parking lot, trailer park, church, school or ice cream shop near you … Red Hook Makes.
** Join ALA and The Harwood Institute for Public Innovation for the 2015 Public Innovators Lab for Libraries, an in-depth, 2.5-day training about the "turning outward" approach. This year's training will be held Oct. 14 to 16 in Detroit. Learn more. **
Date / Time
Thursday, August 6, 2015 - 11:15
Job Functions
Grants and Awards
Resources and Program Starters
Collaborations