Don't plan tech programming with only younger crowds in mind! Get seniors involved with easy STEM robots.
Though fun STEM tech programming is often reserved for the younger crowd, many libraries are hosting successful programs that introduce retirees to robots, VR headsets and other trendy tech.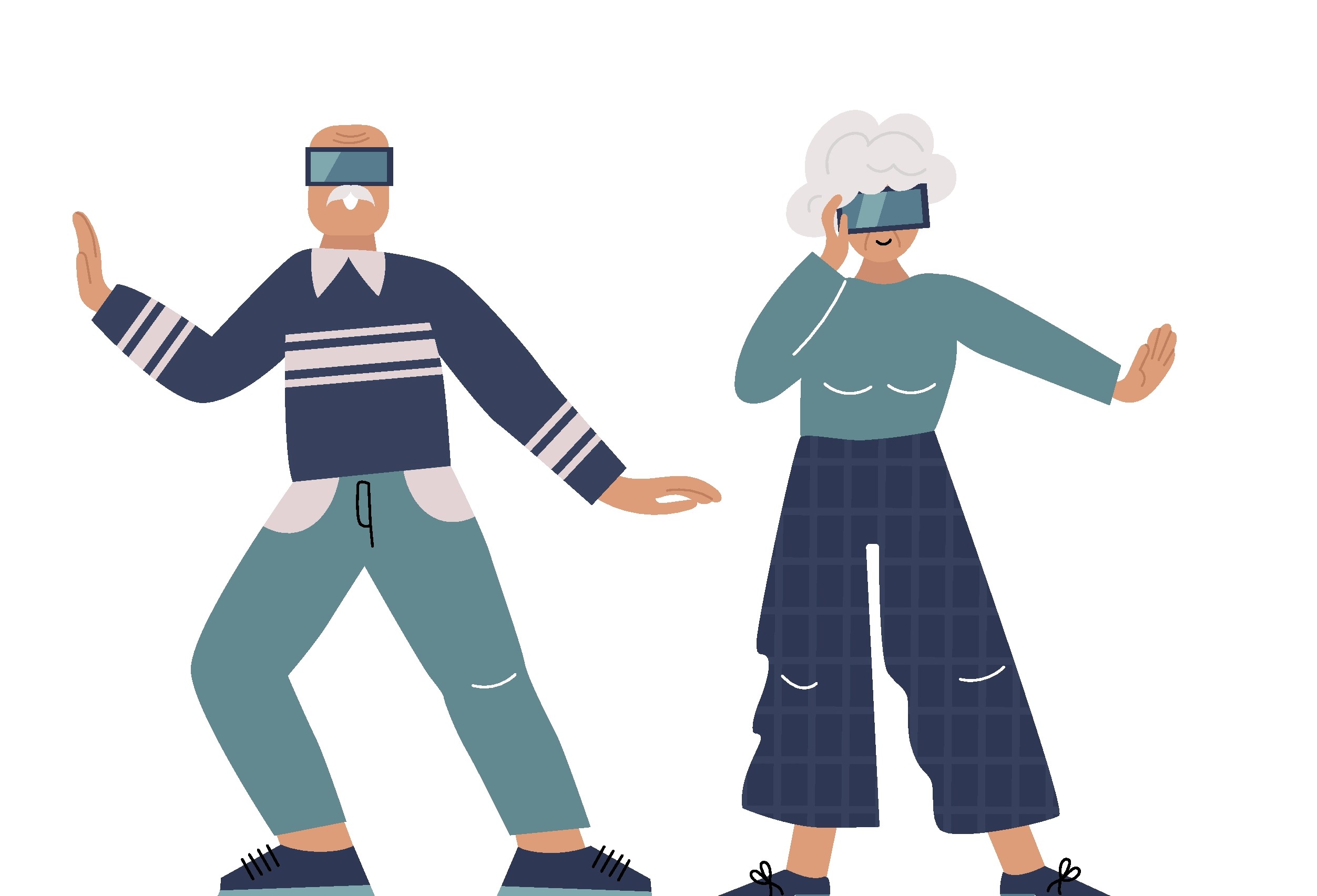 Traditional tech programs, such as how-to smartphone classes, are often catered to older adults, but this audience can benefit from interacting with "out of the norm" technology even if they don't plan to use it in their everyday lives. One benefit of attendance is gaining a sense of connection with societal trends. Catrina Klassen, outreach services coordinator for Pekin (Ill.) Public Library, notes that attendees of her tech demos often "talk about how they would love to get this technology for their grandkids."
Rather than putting pressure on themselves to learn everything, as many people do in traditional tech classes, attendees of a tech demo can relax into the fun side of goofing around with a gadget. A tech demo can be seen as the equivalent of process art that's focused on discovery instead of specific outcomes. As Jill Miatech, the former outreach coordinator for Kenosha (Wis.) Public Library, writes, "Experiencing success with unfamiliar technology is often a surprise to the participants, and it boosts their overall confidence." The confidence they build can translate into an interest in learning more practical technology.
What to demo
Deciding what tech to demo can be as simple as raiding your existing makerspace or youth services department to see what is available. Libraries have had success with user-friendly STEM-learning robots such as Spheros and Cubelets.
Ozobots are especially great to demo for seniors since they can simply draw lines or use printed mazes to guide the bots. Miatech found that playing with Ozobots encouraged seniors to interact with each other and that socializing over tech can help ease loneliness for many seniors.
Plenty of simple STEM kits are available at affordable rates, and though most are marketed for kids, many can be enjoyed by all ages. For example, seniors can go from knowing nothing about robots to being a robotics engineer in less than 20 minutes with a $5 kit from Brown Dog Gadgets. The kit shows how to transform the unassuming top of a toothbrush into an adorable "bristlebot" that seniors can take home. It can be empowering and exciting to not only learn about new technology but also be able to create something whimsical from it.
Libraries have also had success with showing seniors Makey Makey banana pianos (a USB plug-in that you connect to bananas to turn the fruit into piano keys), littleBits STEAM kits from Sphero, and virtual reality (VR) headsets. Klassen notes that VR is the most requested tech during her programs, and she has had success with the Wander app, which is available for $10 on the Oculus Quest VR headset.
Wander uses Google Street View data — including historical data from years ago — to allow users to visit almost any place in the world and view it either as it is today or as it was in the past. Klassen said many seniors have used the app to virtually travel back to their childhood homes and revel in nostalgia. One senior was able to visit her home country of England, a place she hadn't been to since she was 18 years old. Seniors can also travel to famous indoor sites, such as the Louvre Museum, for a virtual tour. With travel still difficult for many people, wandering around in virtual reality can be a great way to experience other places.
Prior to the pandemic, Molly Saunders, teen service librarian at the Braden River Branch of Manatee Libraries in Florida, hosted a virtual tour of the Anne Frank House using VR. About half of Saunders' attendees were interested in the technology aspect of the program, while the other half were interested in the historical aspect. Programs such as this can attract seniors who may not have otherwise attended a technology program. Even if they do not want to directly interact with an unknown gizmo, they'll still benefit from being introduced to the technology. For the first 30 minutes of the program, a staff member wore the Oculus Quest headset and went through the tour in storytelling mode while it was simultaneously cast to the large TV in the library's meeting room so participants could watch. After the tour, participants took turns wearing the headset to view the house in explore mode. To maximize safety, Saunders explained the limitations and risks of using the headset; for example, people may experience dizziness, and those with certain medical devices such as pacemakers should not use VR headsets without approval from a doctor. She also taped off a portion of the room so those wearing the headset wouldn't bump into other people or objects.
Where to demo
Trendy tech can be demoed in the library, at community locations, or virtually. Demos pair very well with library outreach services, since a lot of the fun technology is small and portable. Klassen's demos have taken place at assisted living facilities and nursing homes since mid-2021.
When multiple activity directors at assisted living facilities asked to have library staff visit, Klassen and her team decided to bring activities the residents would usually never get to do. This has proven to be very successful and fun, not only for the residents but also for the library staff. In addition to assisted living facilities, locations such as senior apartment complexes, mobile home communities, and senior day centers are great spots for outreach. Miatech encourages library staff to bring their own Wi-Fi hotspots and extension cords and to get all connections set up early.
In-house demos at the library can also be successful, especially for contraptions that are difficult to transport, such as 3D printers, laser engravers or Cricut machines. Though most of the Braden River Branch's makerspace programming is geared towards youth, they have adult drop-in hours every Wednesday morning. The adults are most interested in the 3D printers and the Cricut. Saunders notes, "It's been a joy to see the variety of ideas that they come up with," from 3D printed shoes for vintage dolls, cake toppers, and a Pink Floyd medallion. Seniors have used the Cricut to make lettering for model airplanes and custom wine labels, as well as other projects. One older adult was thrilled to make labels to attach to the custom pickleball rackets he makes from fiberglass. "He's come back so many times that he's started unofficially helping other seniors learn how to use the software, and he keeps bringing his friends," Saunders says.
If dedicated tech demos are not an option, consider incorporating robots and other unconventional tech into existing programs. Libraries with traditional tech classes can start each class with a brief demo of fun technology to break the ice or incorporate an unexpected device into the middle of the program to keep attendees engaged. For example, connecting a Dancebot speaker to a laptop is a great way to keep attendees engaged while they learn about their laptop's Bluetooth settings.
Non-technology-based programs can also benefit from a dose of tech fun to interest older adults. For example, a paper crafting program can be jazzed up with circuit stickers such as Draw Circuits or Chibi Lights, or a sewing class get more interesting by adding conductive thread. A knitting group may be delighted to see how their needles can be transformed into a piano with a Makey Makey, or an armchair travel book club may enjoy a VR tour.
Robots of the near future
Technology is being relied upon to keep people — especially older adults — safe and happy. People can use technology to video call their family when they feel lonely, or their smartwatches can call EMS for them if they fall. Many bleeding-edge robots provide people with both safety and comfort, and as the population continues to age, these robots will become more commonplace. For example, in the early shutdown stage of the COVID-19 pandemic, the Association on Aging in New York sent over 1,000 seniors a robot pet, such as the Joy For All Companion Pup, to help mitigate the stress and loneliness of isolation. At the start of the pandemic, a handful of senior communities employed household robots to help care for residents. For example, the Maplewood Senior Living facility, based in Connecticut, bought a swanky-looking Temi personal robot for 15 of their communities in five different states. Temi robots can detect falls, encourage seniors to exercise and make video calls. With so much functionality, it's easy to see why seniors and caregivers will be interested in techy household companions of their own one day.
Though the intersection of libraries and household robots has so far focused on pondering how automatons can inventory books or conduct basic reference interviews, libraries should consider showrooming various carebots to patrons, much like libraries used to let patrons attend e-reader "petting zoos." When e-readers were still relatively new, many patrons turned to libraries to learn about the devices. E-reader petting zoos gave patrons a safe place to try the technology with zero pressure to buy anything. Because of this, libraries were able to disseminate not only information about readers, but also the experience of touching an e-reader and seeing it in action, which helped slowly but surely incorporate e-readers and ebooks into society.
Household robots can be demoed in the library or taken to senior communities just like any other device. No matter what robot and trendy tech may be invented in the future, older adults can count on libraries to make learning about technology accessible and enjoyable.
Stephanie Katz is the author of Libraries Publish: How to Start a Magazine, Small Press, Blog, and More (Libraries Unlimited, ABC-CLIO, 2021) and editor-in-chief of 805 Lit + Art. She currently works as a youth services librarian for the Island Branch of Manatee Libraries in Florida.
Date / Time
Friday, February 25, 2022 - 13:30