Cooking Programs for Teens
There is no question that free food brings teenagers to library programs.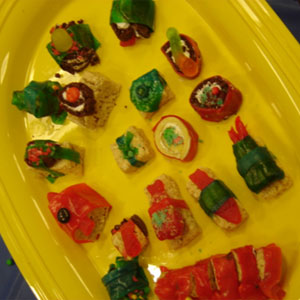 There is no question that free food brings teenagers to library programs. Whether it's a book discussion with free pizza, a teen movie night with buttered popcorn, or chips and pretzels on a gaming night, free food is enough incentive for teens to show up, hang out, and slowly make their way toward the Doritos. At times, we use it to get teens away from their Facebook profiles and into our programs. But with that said, there is nothing wrong with free food. Teens often use public libraries and attend teen programs to socialize with friends. Having snacks at your anime club while watching movies makes it a lot more interesting than referring kids to the water fountain.
Free food means attendance, and attendance means a programming librarian's job (in most cases). Numbers tend to matter more so than ideas or intelligent book discussions. The beautiful thing about free snacks is that food can be tossed, cooked, blended, diced, sprinkled, molded, rolled, and any other number of active verbs that suggests a library program.
Food culture is teen culture. Think of the number of popular television programs devoted to using food creatively and with a twist and tweak of consciousness. There is Iron Chef America, where Bobby Flay wows judges with his coconut chicken. In Diners, Drive-Ins, and Dives, Guy Fieri takes us on a road trip across America to indulge in apple pie and red meat. Elsewhere, who could forget Gordon Ramsay and Hell's Kitchen, where the host screams in your helpless, little face if you boil your water too long? These shows range from pure amusement, to talent, laughter, and glory. I've never seen food cooked with such passion. But that's great. Let's keep it that way. And let's keep it educative and fun.
At the Evansville (Ind.) Vanderburgh Public Library, we created a program that is based on these ideas: imagine, eat, and create. Rather than make free food an incentive for showing up, we made it the program. This summer we launched Ultimate Teen Chef, and it has been a lot of fun. At times we work with chocolate, ice cream, candy, and other things that appeal to teens more so than their parents, but the ingredients are secondary to the process. Blizzards accompany ice sculptures made of clay, candy sushi is rolled and described in colorful combinations on a teen menu, and chocolate molds are the theme for a Willy Wonka/Johnny Depp smackdown. The point is that food is a medium for self-expression. It's just like paint or clay, and it's something teens understand.
When designing a cooking program for teens, think about the popular television programs that pervade teen consciousness. In addition, browse the spines of the Dewey 600s for programming ideas and secret ingredients. Teens associate libraries with dusty classics, but demonstrate to them the range of cookbooks in your collection or books based on these programs. For example, Andrew Zimmern's Bizarre World of Food: Brains, Bugs, and Blood Sausage is a silly title young readers would enjoy. Lastly, remember the active verbs that make food an expressive medium. Teens will show up at your program, while gaining a unique appreciation for food and your library.
Date / Time
Thursday, July 14, 2011 - 12:30