Ideas for Creative StoryWalks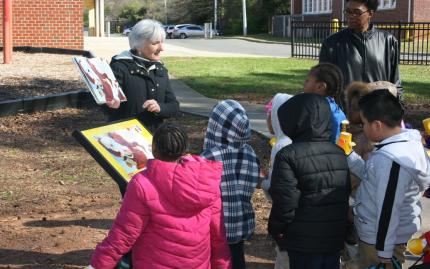 November 2021 will celebrate StoryWalks® in libraries across the nation. Here are some creative StoryWalk tips.
StoryWalks® are a creative way for children and adults to enjoy reading while spending time outdoors. Using laminated pages from a children's book attached to wooden stakes, they are typically installed along trails and sidewalks to create an interactive storytelling experience.
Created by Anne Ferguson of Montpelier, Vermont, and developed with the help of Rachel Senechal, formerly of the Kellogg-Hubbard Library, StoryWalks can be found across the country and have become a librarian favorite.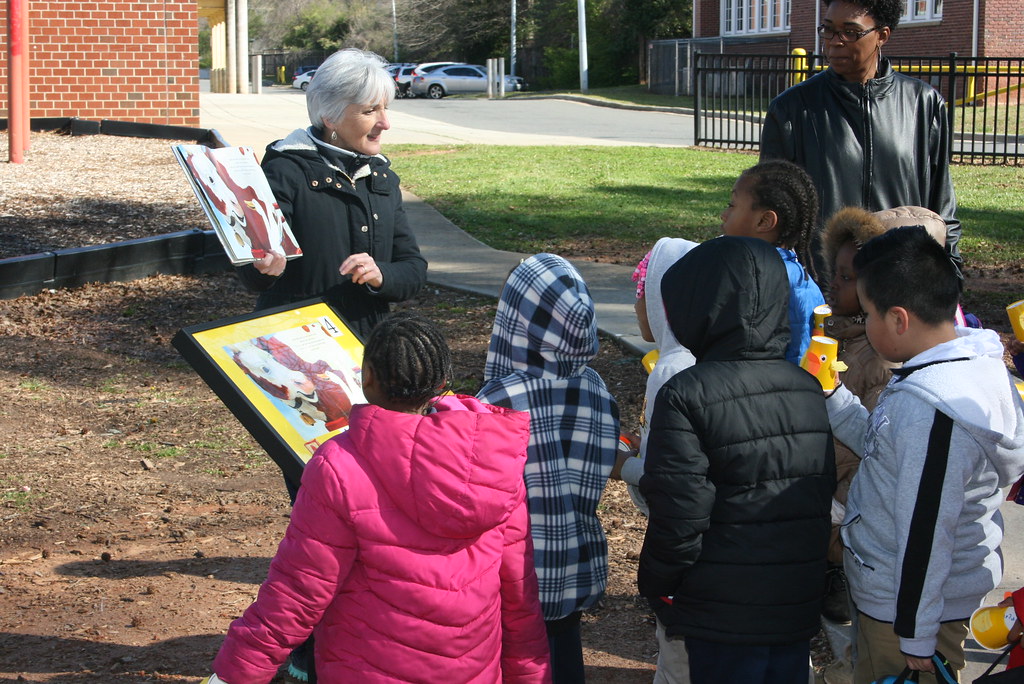 In November 2021, Let's Move in Libraries and the Association of Bookmobile and Outreach Services will celebrate the work of libraries that spearhead StoryWalks in their communities during StoryWalk® Week (November 15 - 19). Submissions will open September 20 and run through October 31, 2021, so get your creativity going and submit your best StoryWalks!
Before I offer some tips and ideas for creating your own innovative StoryWalks, it is important to note that the StoryWalk idea is copyrighted and trademarked but free to use! Be sure to use the StoryWalk name and include the following statement in all promotion of your project: "The StoryWalk® Project was created by Anne Ferguson of Montpelier, VT and developed in collaboration with the Vermont Bicycle & Pedestrian Coalition (VBPC) and the Kellogg Hubbard Library." Learn more about credits, copyright information and other frequently asked questions at the bottom of this page.
Want to submit a StoryWalk for StoryWalk Week? Here are some tips and ideas for a creative program.
Choose an ideal location
As a librarian, you may have a wonderful location right on your property. A great thing about StoryWalks is that you don't need a huge parcel of land to make them happen. Most StoryWalks have a post with one page of the book, but if space is limited, put two pages on one post.
Don't have any land to create a StoryWalk? Use your outdoor building walls to post the story. Families can read as they head to your front door or take a walk around the building.
Have a small downtown area that is walkable? You can work with local businesses to allow a page of the book in their storefront window so families can walk through downtown and read along. You can also partner with your local parks department or extension office to use local parks and land as a space for your story.
Pick your partners
It can be beneficial to have a partner or partners when creating a StoryWalk. Your region likely has organizations, businesses and groups who would be more than happy to partner. They may be willing to provide land, money or even help you put it together.
Your local Boy Scouts, Girl Scouts and other volunteer organizations are always looking for projects to make communities better. It can be a fun volunteer opportunity for kids to spend time outside setting the stories up.
What's the story?
Once you have a location and potential partners secured, it's time to choose your story! But first, a reminder about copyright information. The State of Iowa Library provides a concise answer on copyrights for StoryWalks that can help with these questions.
To make your StoryWalk more unique, you can use stories from local authors or hold a contest for children and teens in your community to get their stories and pictures shown publicly. Poetry can also be used with each post presenting a different poem by a community member.
Come up with program ideas
Now for the fun stuff. You can follow the traditional StoryWalk route and keep it a passive program, or you can make the walk a bit more interactive with these ideas.
1. Nighttime stroll
Bring families together at dusk. Have everyone bring flashlights or provide them. Lead a group through your StoryWalk and read the story out loud, making sure your flashlight is on the page. Kids can wear their pajamas and bring their teddy bears. You can incorporate some star or moon gazing activities.
2. Scavenger hunt
Create a visual scavenger hunt for families to take with them on their walk. You can leave printouts inside the library or in a protected paper container outside. You can use the StoryWalk pages, your building or the surrounding area for your visual hunt.
3. Sensory
Create a list of activities for families to do involving their five senses as they walk. For example, for hearing, keep track of how many birds you hear chirping during your walk. For taste, stick your tongue and taste the wind.
4. Crafts
Create a craft for families to do after they complete the walk. The craft can be related to the story that they just read. Put all materials in a paper bag and they can create outside, take it home, or go into the building to create.
5. Chalk on the walk
Make your StoryWalk more physical by adding activities on the sidewalk for families to do with sidewalk chalk. You can have them hopping, skipping or reaching for the sky in between the story posts.
How are you getting creative with your StoryWalks? Have a fun program idea? Share in the comments below. We would love to hear from you.
Date / Time
Thursday, July 22, 2021 - 08:45
Library Type
Public
Rural
School (K-12)