Who do Libraries Serve? Defining the "Public"
In order to do public programming, libraries first need to have an idea of who "the public" they're serving is. 
At its heart, the National Impact of Library Public Programs Assessment (NILPPA) explores the impact of public programs on the people served by libraries.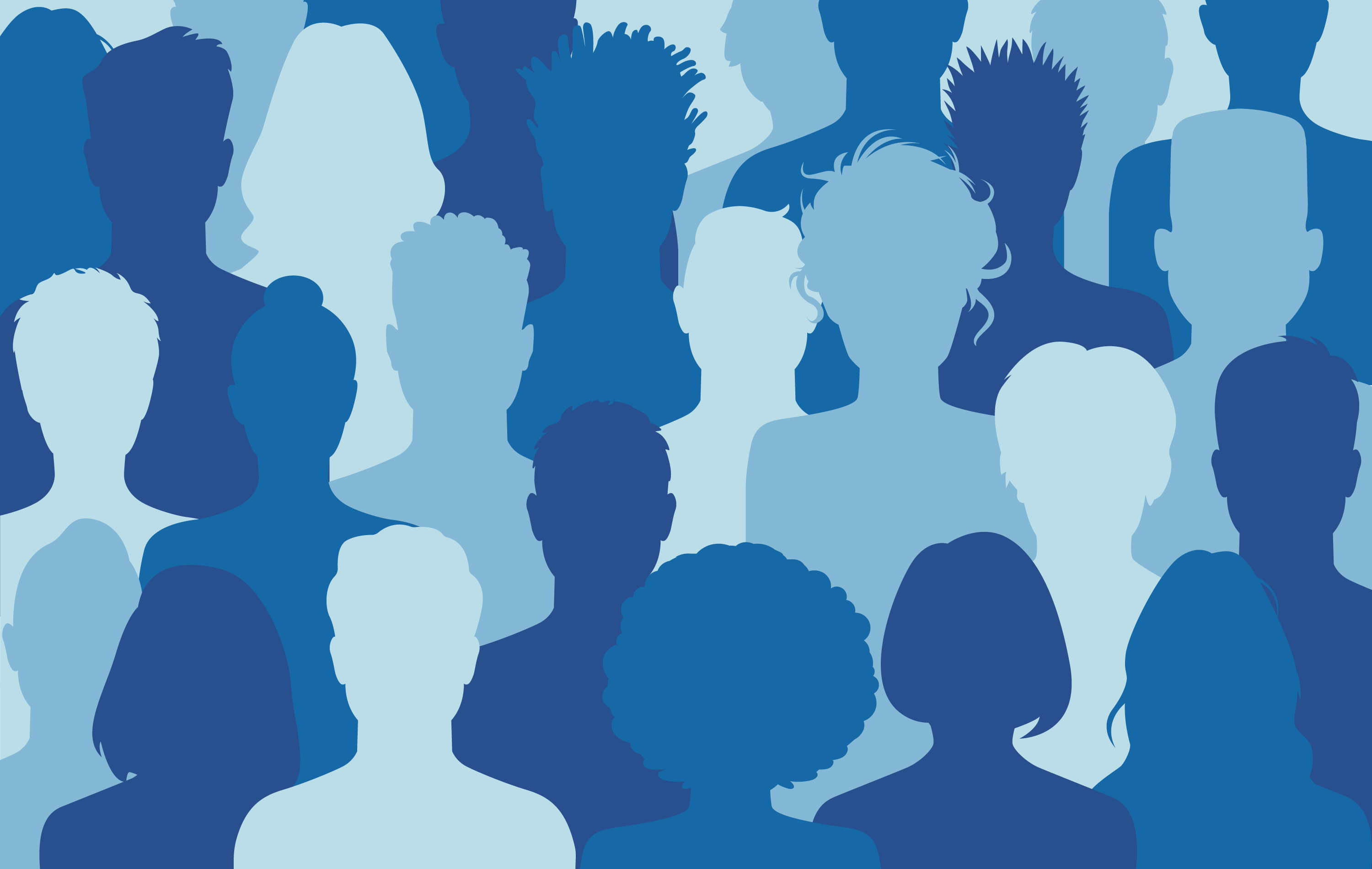 But how do we understand a library's public? For this project, we have previously understood the term to mean "the audiences the library tailors its programs to and the people the library serves." For a recent survey we developed and administered, we wanted to give libraries an opportunity to further define their specific "publics." (In a previous post, we shared information about the libraries who responded to this survey.)
In this post, we begin sharing key findings from our survey, focusing on one key question: Who do you consider your public? A total of 350 libraries responded to this question, and their responses varied significantly. Our results show that libraries are defining their publics in lots of different ways, and that when considering who their programming audience is, they're thinking about both the community on the whole and about specific groups.
What Did Libraries Tell Us?
In order to do public programming, libraries first need to have an idea of who "the public" they're serving is. Who do library workers have in mind when designing and planning programs? Answers to this question might vary on the basis of a library's location, its type (for example, an academic library might focus its programming efforts on university students), and the kinds of people who live in the area.
The word cloud below illustrates responses to our survey question. The larger the word appears, the more common the response was. As you can see, most defined "public" as anyone in the service area, using words like "community" (89 responses), "resident" (82 responses), and "all" to signal an inclusive understanding of this term. While specific place names don't show up in the word cloud, they were also commonly found across responses.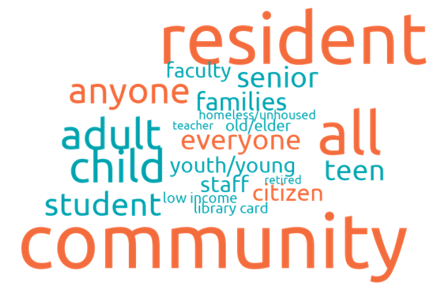 Other respondents went beyond this, specifying some of the particular populations that informed their understanding of "the public." Several specifically responded "children, teens, adults." While these sub-groups could have been described in an all-encompassing manner (for example, as "people of all ages"), the fact that respondents mentioned each of them separately could reflect a belief that they have different needs, and that programs should be designed with these needs in mind. Similarly, some respondents provided answers like "seniors" and "adults," suggesting that public programming needs to target specific age groups within the community.
Libraries typically offer programming that addresses the developmental needs of different age groups, so the above responses were not incredibly surprising. Some went beyond age-based definitions of "public," however, identifying specific segments of the population as audiences for programming. These included seasonal visitors, local business owners/entrepreneurs, immigrants, English language learners, people experiencing homelessness, job seekers, low-income residents, families, and people with disabilities. Each of these groups has its own set of needs (such as assistance signing up for social services or access to native-language materials) in addition to those they share with the community as a whole. By explicitly listing groups such as these, respondents indicated they were aware of their target audiences' specific needs and working to address them through programs.
Let's Put It to Work!
We're confident that our findings are true for a range of libraries, but are curious to learn more about this. How would you define the "public" your library serves? Who are the audiences your programs serve, and how do you tailor these programs to match their needs and interests? Along with this, how would you define terms like "community" or "resident" or "all"? We'd love to know more about these things, so please let us know how our survey results square with your own library's experience. You can do this either by leaving a comment below or by emailing us at programminglibrarian@ala.org.
These materials were produced for National Impact of Library Public Programs Assessment (NILPPA), a project funded by the Institute of Museum and Library Services. The authors are solely responsible for the content on this page.
Written by Knology. This blog has been co-posted on Programming Librarian, NILPPA and the Knology website.
Knology is a nonprofit research organization that produces practical social science for a better world. The organization pursues this goal to help professionals in a variety of sectors build inclusive, informed, and cooperative societies that can thrive together with the natural systems on which we all depend. As a transdisciplinary collective of over 30 social scientists, writers and educators, the organization's work process is built on equity, transparency and deliberation.
Date / Time
Monday, February 27, 2023 - 15:30
Library Type
Academic / College
Public
Rural
School (K-12)
Special