To celebrate the 100th day of school, students make a fun activity out of reading 100 books in one hour.
Every year in late January or early February, children all over the country celebrate the 100th day of school with all sorts of clever projects — bringing 100 items to school, wearing "100th-day" glasses, listing 100 things they love to do. Why not add a reading activity to this list? Ask a group of younger students to read 100 books on the 100th day of school in one hour!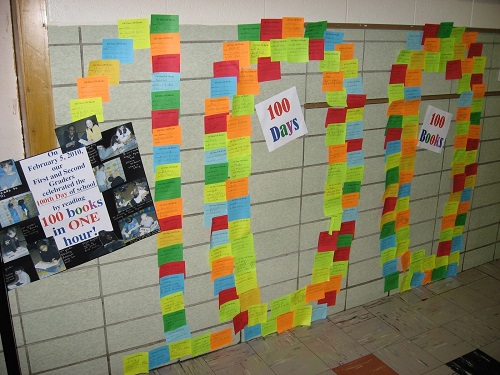 100 books in one hour?!
Though it seems daunting to read 100 books in one hour, it actually is easy to do. The secret to meeting this goal is to make sure to have the right number of children. Only 30 to 50 students are needed, each reading two or three picture books to collectively read 100 books in one hour.
I gear our 100th-day activities to kindergarten through second-grade students, the perfect age for a picture book-reading marathon.
Program execution
On the 99th day of school, invite the participating students to the library to select their two or three books. Chapter books and informational texts are too long, but picture books are just right.
Wrap a rubber band around each child's stack of books and add a sticky note with their name. Explain that the books are not to be opened until the activity countdown begins.
On the 100th day of school, at the predetermined time, each child will be waiting with a stack of books. Excitement will be high in anticipation of beginning the challenge. Have the students count down (10, 9, 8, 7…) until you announce, "ready, set, READ!"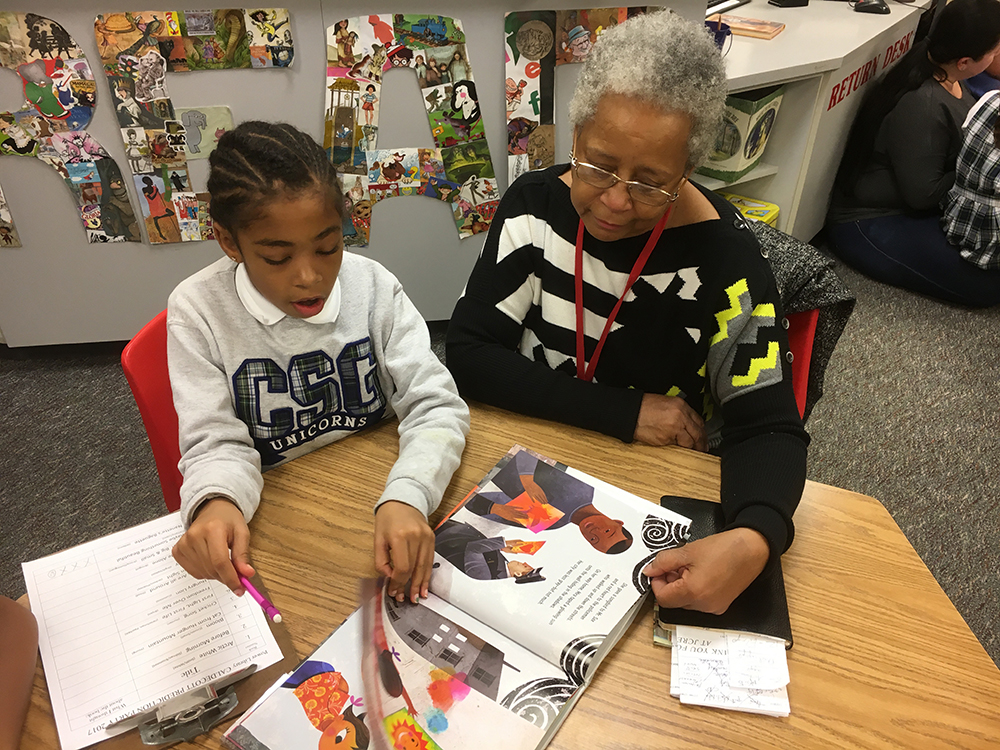 A hush will fall over the students as they begin to read. When a student completes a book, he or she should write down their name and book title on prepared slips of paper used to keep count of how many books have been read (see sample 100th day slips). Assemble the slips of paper on a wall or bulletin board in the shape of a giant "100" so students can see the progress as the minutes tick by. 
If the school community is large, one can adjust this activity so that every class in each grade level is participating at the same time, and keep track of how many books are read in one hour. It will be a staggering number — something the students can brag about!
Increase participation
Reading 100 books in one hour is also a wonderful opportunity to invite older students or parents to pair with the younger children. Older students can model strong reading for a younger student who might struggle with it. Parents will love the invitation to share in this literary event.
Along with attaining a collective goal, reading 100 books in an hour allows for independent as well as paired reading with the collaboration of several classes, older students and parents.
This activity is sure to boost the reading confidence of the students and promote literacy in the school.