Short Title
4 Ways to Make NaNoWriMo Awesome
Encourage library users to write books, as well as read them, with National Novel Writing Month.
Want to participate in a fun event this autumn that promotes literacy, creativity and the use of your library as a community space? Try hosting events for National Novel Writing Month! It's not too early to start planning for November. I'll tell you how.
What is National Novel Writing Month?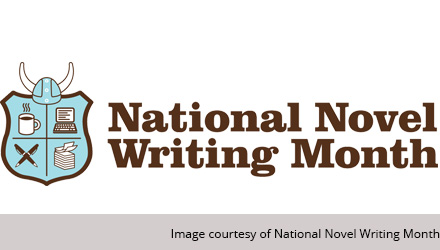 National Novel Writing Month (or NaNoWriMo) is a monthlong event in November in which people all over the world commit to writing a 50,000-word novel in 30 days. There is a website where you can track your progress and a great, supportive group of people to cheer you on along your way. It's a great challenge, a ton of fun and a fantastic way to beat writer's block and get on the path to creating a complete work of fiction. Oh, and it's a perfect event to participate in at your library!
Where do libraries come in?
One of the great things about NaNoWriMo is their Come Write In program, in which coffee shops, book stores and yes, libraries, open their doors to writers and give them a place to work on their novels. Whether you reserve a conference room throughout the month of November for novelists to use or have specific times in which they can come together, the Come Write In program is a great way to participate in NaNoWriMo and give your patrons a chance to not just consume stories, but to create them as well. To sign up to be a Come Write In location, fill out the form located here. 
So what can you do to make this year's NaNoWriMo awesome?
1: Get in Contact with your municipal liaison
Your municipal liaison, or ML, is one of your best resources when it comes to NaNoWriMo. They host a variety of events, serve as a contact and coordinator for those looking to host Write Ins, and oversee the regional message boards. Your first step in planning a NaNoWriMo program should be to find yours and shoot her a message.
To find your municipal liaison, first find your region by going to http://nanowrimo.org/en/regions. Your ML should be displayed on the top right hand side of the page. Clicking her name will bring up her profile, along with the option to send her "NaNoMail." You'll need to create an account to do this, but it's a quick and easy process (and one you'll want to complete anyway), so go for it!
So what can your ML do for your library? Ask her to come and do an informational talk about NaNoWriMo, host a Write-In (or a series of them), or help you with a "Thank God It's Over" party at the end of the month.
A final note: if your area does not have an ML, don't sweat it. It is definitely possible to run a program at your library without their help. And who knows, maybe you'll enjoy NaNoWriMo so much, you'll want to volunteer to be the ML!
2: Get Your Patrons Inspired
I bet a lot of your patrons dream of writing a book, but they're not sure where to start, or don't think it's possible. NaNoWriMo is the perfect time to pursue this dream, as the support of so many people all over the world creates an awesome, creative environment that is very conducive to unleashing your inner muse. A lot of people don't know about NaNoWriMo, however, so before the big month begins, it's a good idea to inform people and get them psyched for the big event!
To do this, you can create a display of books on writing. One that you should definitely have in your collection is "No Plot? No Problem!," written by NaNoWriMo's founder, Chris Baty.
Another thing you can do is create a display of popular novels written during past NaNoWriMos, which include "The Night Circus" by Erin Morgenstern and "Fangirl" by Rainbow Rowell. Check out the official list of published NaNoWriMo books here. 
Finally, ask a local author to come and do a Q&A session about the writing process. It can be great to see how somebody else accomplished the task of writing a complete story. Bonus points if the author participates in NaNoWriMo and can talk about that, too! Make a pot of coffee and offer some baked goods and everyone will be thrilled they came.
3: Give Them Swag
Everyone likes swag, and novelists are no different. Of course, the greatest incentive to write is the satisfaction of having created something, but sometimes we all need a little push. That's where prizes come in.
You can offer pencils, small notebooks or other writing-related goods, or get some of the official swag from the NaNoWriMo website. I'm fond of the buttons (the designs change every year) because they're relatively cheap and look cool, but there's other great stuff there as well.
How to award swag? You can give an award at each event to the person who writes the most words. You can do a random drawing. We do "word sprints," which are short periods of time (usually between 5 and 15 minutes) during which everyone writes as quickly as possible. You could give out a small prize to the person who writes the most words during a word sprint, or uses a certain prompt word in the most interesting way. Be creative and have fun!
4: Get in on the Action!
This is possibly the most important bit of advice I have to give. If you are hosting a NaNoWriMo event, it is best if you participate yourself!
Make an account on the nanowrimo.org website, and check out the forums. The Come Write In board is great for communicating with other librarians and industry professionals. The regional boards are perfect for polling local participants on what they want from you, then advertising your programs to them. Many regional NaNo groups also have Facebook groups. If yours does, join that, too!
If you have any interest in writing, you should give NaNoWriMo a go yourself! It's obviously good to have a stake in the event, but it's also fun for patrons (who always seem to light up when they hear that one of their librarians is writing a novel), and it's fun for you, too!
Audience
Adult
Children / Family
Older Adults / Seniors
Young Adult