Short Title
Five Alternatives to Book Talks
These programs will get your students excited about reading (whether or not you've read the book).
A great book talk can make anyone want to read any book, but sometimes you need an alternative. If you haven't read your new books yet, you only have a couple copies of a book to lend, or — like me — you're just not very comfortable with giving book talks, here are a few programs you can do with your classes to build excitement about reading.
Book Speed Dating
Based on the popular speed-dating model, book speed dating lets students spend a few minutes with each book before they decide whether to check it out. For our program, I designate about five tables to be my speed-dating tables and then put eight to ten books on each table. You could have each table represent a different genre, choose read-a-likes for popular books, or just grab a hodge-podge of different titles and mix them all up.
We play five rounds (one for each table set up), and I give students four minutes for each round.
Minute 1: The students need to find a table and take a quick look at all the books on the table.
Minute 2: Students can pick up the books they're most interested in and read the back covers, the dust jackets and anything else on the outside.
Minutes 3 and 4: Students pick one book and start reading at page one.
Once they've chosen a book to start reading, they must stick with that book until the round is over. If they decide they like the book, they carry it with them for the next round. They can always switch it out if they find something they like better at the next table. When the next round starts, they find a new table and start the process over.
I love book speed dating because it allows students to explore more book options than I would be able to talk about in the same time period. I can also curate the books so that I have a mix of old, new and great-but-somewhat-forgotten books. I can also add to my tables throughout the day as earlier classes check out books, a task that is not as easy when I've only prepared a limited number of book talks.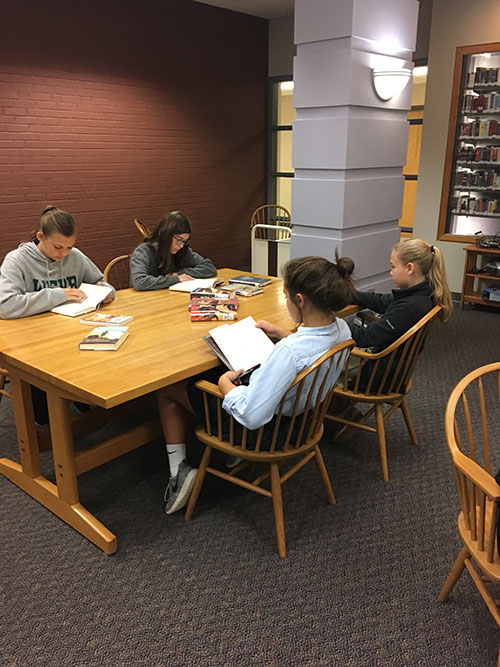 There are many ways to host a successful book speed dating program. Check out these variations from Mrs. Reader Pants, Mighty Little Librarian, Teach ELA with Joy and Mr. Sharp to find the one that best fits your library.
Blind Date with a Book
Book speed dating focuses a lot on initial impressions, so a great cover can be key, but with Blind Date with a Book, you can teach students to look past the bad or outdated cover art. Cover the books with brown paper or put them inside brown paper bags. Write the title on the outside, or be sneaky by just writing some descriptors or a memorable quote. Students choose based on the content, not the cover. 
Book Trailers
I'm one of those people who actually enjoys the previews at the beginning of a movie, so it makes sense that I would love book trailers too. The same things that make movie trailers so entertaining — the mix of music, video and voiceover — make book trailers a great way to get students engaged in books.
Many publishers produce book trailers for their new releases that you can find on YouTube, and many include short Q&As with the author as well. You could even use a maker space or online cartoon creator like PowToon to have students create their own book trailers.
Student Book Reviews
Peer reviews of books are a great way to promote the books in your library. Have students write reviews of the books they've really enjoyed, and post them on your website. Keep a display of student book recommendations near your circulation desk, have older students come recommend books to younger students, or have students do their own book talks for their peers! Regardless of how students get involved, our libraries are always more successful when they do!
Job Functions
Resources and Program Starters
Audience
Children / Family
Tweens and Teens
Young Adult