Short Title
5 'Garnishes' for Adult Booktalk Programs
With just a little extra prep work, you can make your booktalk programs extra memorable.
A lot of work goes into putting together a successful booktalk program — from developing a theme, to paying attention to book trends, to ensuring you're providing diverse options for all readers. The last thing you might want to do is add any extra work, but a few finishing touches will go a long way.
Here are a few ways you can create a memorable program while further immersing your adult patrons into their love of books.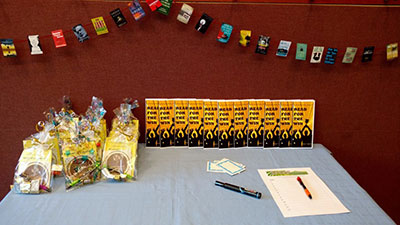 Create a handout
You may be surprised how a simple sheet of paper can keep participants focused. Try creating a handout with all the titles you will be talking about, leaving some room for participants to take notes after each. Having the titles and authors on paper will help keep your patrons paying attention to what you're saying rather than playing catch-up and trying to write everything down.
This handout is also a good spot to put any additional titles that could not fit in your presentation as a "Want more?" feature.
Tag-team your presentation
Adding a second facilitator to your program can make a world of difference. If you have the staff available, take turns facilitating the session. Switching between presenters helps distinguish between books, keeps the momentum going, and allows for the chance for the presenters to play off of one another.

Invite participants to share
Create space at the end of the book program for attendees to share what else they have read recently. Take notes of the books that are mentioned and offer to share the list with all attendees by email after the program. This is a convenience for program attendees, and it is also enables you to gather email addresses so you can invite attendees back for future book programs.
Decorate!
No need to spend all day setting up, either. Even something as small as printing out book covers and attaching them to a piece of string to make a book garland can enhance the bookish environment.
When in doubt, add goodie bags
Wrap up some bits of library swag, throw in some candy, tie it with a ribbon, and voila! You have a little bonus treat for your attendees. If your library regularly receives print advanced reader copies (ARCs), start saving them to distribute at the end of the program. This way, attendees will be exposed to even more titles as they browse through the ARCs.
If you do not already receive ARCs, contact publishers to tell them about your book program and plans for the ARCs. Many will be happy to share a few copies in exchange for the marketing your program would provide.
Job Functions
Resources and Program Starters