Short Title
8 Ways to Save Money on Programming in a Tiny Library (Part 2)
A small programming budget doesn't need to hold you back. Here are more tips for programming on a shoestring.
In last month's post, "8 Ways to Save Money on Programming in a Tiny Library (Part 1)," I offered four strategies that have helped me stretch my small programming budget to its limits. I talked about looking to friends and family for free programming; tapping resources in your community; partnering with other organizations; and turning your own passions into programs.
Without further ado, on to Part 2! Here are four more ways I have learned to save money on programming during my time at the Meservey Public Library.

5.  Just ask
Many of the great deals I've been able to get for our programs came about simply because I asked. It sounds so simple, but we're often afraid to come out and ask for a lower price. Don't be intimidated — the worst they can say is no. 
We wouldn't be able to pull off what is now considered our library's signature event, an annual summer carnival, without getting discounts on rentals. The inflatables rental company we work with gave us nearly a 50-percent discount after we explained that we had a limited budget. Likewise, we were able to get discounts on things like carnival game rentals, food and drinks … all because I came out and asked.
For other programs, we paid much lower costs for performers than we would have had I not inquired about a discount. I've made phone calls or stopped by local florists, bakers and pizza places to ask about donations with great success. 
My proudest moment so far as a library director came about when I randomly decided to email Elizabeth Berg, my favorite author since high school, inviting her to our little library if she was ever in the area. Believe it or not, it worked, and Ms. Berg visited the tiny town of Meservey last August, resulting in one of the biggest and best programs we've ever had. (This particular program will be discussed more in a later post.) And all because — you guessed it — I dared to ask.
6.  Utilize passive programming
Passive programming is often tossed aside in favor of bigger, flashier programs. However, I'm a huge fan of passive programming: it's easy to plan, can be counted into your regular program numbers, is usually inexpensive, and often results in the best social media posts.
We had a Thanksgiving passive program last year with a simple poster board reading "I am thankful for libraries because … ." Patrons wrote their reasons and posed for a photo with them. The photos were later set to music as a slideshow on Facebook. So simple, but very effective. We've also done a similar Valentine's Day program with "I love my library because … ."
There are so many great ideas for children's passive programming. We hide gold coins in the days leading up to St. Patrick's Day (to be turned in to library staff for a small prize), have guessing games at the front desk, and set up many interactive book displays. Easy and fun. 
7.  Replace summer reading prizes with "experience prizes"
We've all been sucked into buying tons of little prizes for summer reading programs, right? From pencils, to plastic toys that break almost immediately, to noisemakers that drive parents up the wall.
I have found that small prizes are often a waste of money. My library has better luck handing out things like passes to a local roller-skating rink (donated), coupons for free McDonald's ice cream cones (also donated), or books and DVDs that have been donated or weeded from our collection. 
One of our bigger prizes each summer is a movie night at the library. The winner gets to invite two friends to the library on an agreed-upon night and choose what candy and juice they'd like to have along with what movie to watch. We have a popcorn maker and a large TV in the back area of the library, so it feels more private and fun for the kids. 
There are many experiences you could make into prizes. Think about having a game night as a prize or letting the winner help you plan an upcoming program. If you're especially dedicated, host a library lock-in or escape room as a prize. The kids will still be excited even if they don't have an actual prize to take home.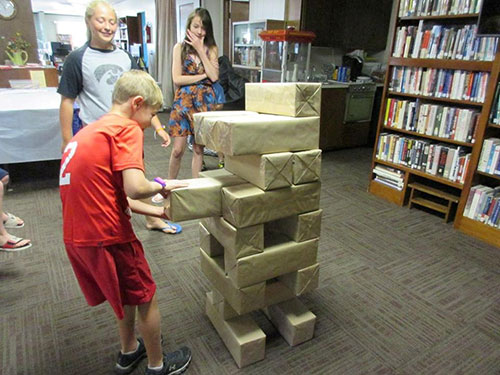 8.  Utilize things you already have
Libraries tend to have offices and storage closets that are just overflowing with crafting and programming supplies — at least mine are! Do a bi-annual closet clean and see what you have collecting dust that could be used for a great program.
For example, slime is still a big deal to older kids/middle-schoolers, and most of us have things like glue and food coloring laying around somewhere. We have a cardboard box in the back of a closet full of various kinds of seashells, and I'm currently planning a program around painting and decorating those. 
I have tons of wrapping paper and ribbons at home to use at one of our more successful adult programs: our annual holiday Wrap & Yap Party. 
Have a lot of boxes? Consider doing a life-sized Lego or Minecraft program. Or, if you're a soda drinker, save those 12-pack boxes, wrap them in paper and make a giant Jenga game. If you have any river rocks, have a family rock-painting program, then go for a neighborhood walk to hide them around town. 
One tactic I often fall back on is scouring Pinterest for ideas. If I find tons of felt inside a desk drawer, I search "felt crafts" on Pinterest and find more ideas than I know what to do with. 
If you're anything like me and you hoard craft supplies, it's guaranteed there's some completely forgotten fun in that hoard, just full of programming potential.
Do you have other tips for programming on a shoestring budget? Share them in the comments.
Job Functions
Budgeting
Resources and Program Starters
Space / Facilities