Short Title
Astronomy Week: STEM for Everyone!
With a total solar eclipse coming soon, now is the time to kickstart your library's STEM offerings.
By now, you've probably heard about the North American Total Solar Eclipse of 2017, which will take place on Aug. 21, 2017. You may be planning a trip to see the eclipse in its totality or, like me, putting together an interesting family eclipse program at your library.
Total solar eclipses are fairly rare. North America hasn't experienced one since 1979, and if you miss it this year, you'll have to wait again until 2024. Interest in the eclipse is growing rapidly as we get closer to August, spawning many events, including a Burning-Man-esque celestial festival.
It's awesome to see the eclipse event spark a renewed interest in astronomy and the timeless beauty of our skies. Now is a great time to harness the excitement of the solar eclipse and provide ongoing astronomy education and STEM opportunities to our library communities.
Astronomy Week
One annual event that has worked well at my library is Astronomy Week, a five-day event in March that celebrates astronomy through a variety of programming, including stargazing, sunspot viewing, interactive children's exhibits, games, movies and educational presentations. Astronomy Week has developed and strengthened regional and national partnerships and has helped establish our library as a center for all ages to access science. It can be adapted to suit a variety of library needs, abilities and budgets.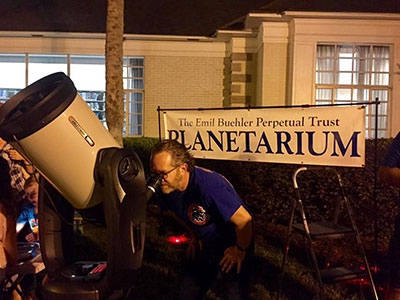 Astronomy Week grew out of the popularity of the library's bi-annual Star Parties, our family-friendly star-gazing events. Available at no cost through an outreach program at neighboring Seminole State College's Emil Buehler Planetarium, the library hosts the star-gazing events at the park across the street. Staff from the planetarium bring a telescope to the park and teach library patrons, neighbors and staff about the night sky. Star parties quickly became so popular that long lines began to form, and library staff realized we are in a position to expand this area of educational programming.
Creating partnerships
Our library director was particularly interested in the potential of our Star Parties, and suggested creating a weeklong event called Astronomy Week.  All of the library staff were involved, brainstorming ideas and making networking suggestions. I quickly became connected to area amateur astronomers from the local Astronomy Society, and to larger institutions such as the Museum of Arts and Sciences in Daytona, which also offers outreach services.
I can't say enough about our local astronomy enthusiasts of Central Florida. They are a passionate and intelligent group who volunteered to share their equipment and expertise to the library so we could offer telescope viewing each evening of Astronomy Week. Additionally, I was able to offer two educational presentations, thanks to area astronomy enthusiasts and staff from the Emil Buehler Planetarium. Outside of decorations and a few games, the largest cost of this weeklong event was to rent a 13-foot indoor portable planetarium, which our Friends of the Library graciously donated funds for. It was, of course, a huge hit with kids and young families, but was not necessary to make the event a success.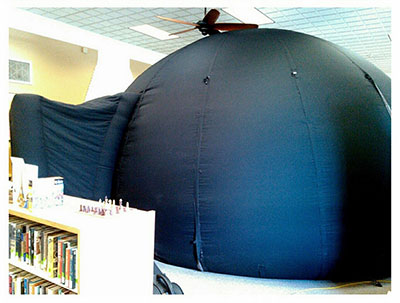 Host your own Astronomy Week
There are plenty of opportunities to make an Astronomy Week program fit into your own library's personal needs and budgets. We spent around $400 altogether the first year, and spent $100 the second year (we didn't rent the indoor planetarium the second year, due to new space restraints). The games and decorations purchased the first year were reused the next year. And the program model can be scaled up or down to suit: Astronomy Week could become Astronomy Weekend, or Astronomy Night, or Telescope Night. You can take it as far as you want with the right partnerships.
As a truly all-ages event, Astronomy Week has been an incredible opportunity for families and community members to re-engage with the library, each other and science. It supports STEM initiatives and creates plenty of low-cost outreach opportunities.
If you are interested in expanding your library's astronomy events, a great place to start is by checking with your city's parks and recreation department, and asking about local parks that may be a great place to host a Star Party. If you are a media specialist or academic librarian, connect with your school's science department. There are plenty of opportunities to create both regional and national partnerships with this type of programming.
Astronomy organizations
Below are some organizations that can help you put together your own astronomy-themed program. (Some are specific to the central Florida area.)
Cornerstones of Science offers lots of library-specific partner resources, including a telescope purchase program, STAR Program.
Space Science Institute offers education resources for the public, families and kids. Check out the Education dropdown for games, links and project ideas.
NASA for Educators has a weekly email to alert you of the latest developments in space and opportunities for astronomy education. 
Central Florida Astronomy Society allows central Floridians to network with their local astronomy enthusiasts and professionals.
Seminole State College of Florida offers planetarium outreach, including their program Telescope Thursdays.
Museum of Arts and Sciences, Daytona provides astronomy-related outreach services, including  their Portable Planetarium.
Star_Net Libraries, a project of the Space Science Institute, provides resources for libraries to promote STEM and science-technology education and activities. Be sure to check out STEM Resource Clearinghouse.  
Lastly, check out your local city parks and recreation department for possible locations and regulations concerning a Star Party in your community!
Star Party accessories and reminders
Finally, here are some accessories and to-do items for your own Astronomy Week or Star Party.
Glow-sticks (for staff identification or handouts)
Red-light flashlights (don't ruin your "night vision")
Bug spray
Name badges for volunteers
Remind patrons that outdoor events are weather permitting — and to call the library before leaving home
Library Type
Academic / College
Public
School (K-12)
Job Functions
Resources and Program Starters
Audience
Adult
Children / Family
College Students
Community Members
Older Adults / Seniors
Young Adult