Short Title
Board Game Night: A Beginner's Guide
Get gaming! Learn how to develop and host a successful board game night for any and all ages.
Interested in starting a game night at your library? You've come to the right place. This basic primer will help you plan and host a successful game night for any target group or age. Whether your focus is on adults, seniors, families or school-aged children, these tips will guide your event to success.
Teach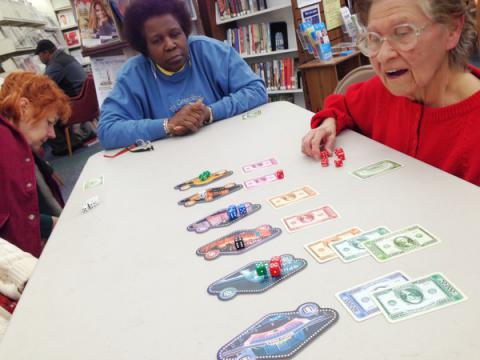 It may be tempting to put out some games and call it a game night. Of course, you could also put out some board books and call it a story time. Or some instruments and call it a band. At the very least, the librarian should act as host. Be prepared to teach at least one game and demo them all. 
Your role can be to guide people into smaller groups, greet newcomers and serve as a social moderator. After dividing people into groups, I generally provide a quick 5-to-10 minute overview for new players and then move on to the next group. Meanwhile, I am always available for quick rule clarifications. Eventually, the group will mature, and some of your regulars will take on the role of teacher. I like providing an opportunity for agency in the group.
Volunteers
My basic recommendation is to have at least one volunteer/staff member for each four or five players. If players are experienced, then one volunteer/staff for each eight to ten players is probably enough. When I feel like a superhero, I'll try to wrangle 12 newcomers, but that is my limit.
The experience can flag if people are left listless and floating about without direction. If you have some community partners, utilize them. You can teach them all the featured game (if you have multiple copies) or have each person able to teach a different game. If you are using experienced gamers, you can probably point them in the direction of a game and they will be able to hit the ground running. As always, not all volunteers are created equal.
Audiences 
Golden Gamers, families, teens and tweens, children (solo), children (with adults), completely intergenerational — it is important to determine the age and expectations of your audience. I prefer to stick with adults or families and feature games that children can play with adult supervision and help. This encourages families to play together and encourages attendees to be open to a variety of ages and a diversity of players.
Concerning game difficulty, if a game says 6+, then it is probably appropriate for children to learn and play solo. If a games says 8+, then children will need adults to teach and moderate. 10+ probably means adults. 14+ means adults with advanced degrees or plenty of gaming experience.
Provide multiple copies
I prefer to only teach one game per event. I pick a gateway game — a game that you would use to introduce an emerging gamer to the hobby of modern board games. Ticket to Ride, Pandemic, Splendor, Carcassonne, King of Tokyo or Codenames all fit this bill. You are guaranteed to provide something that the majority of attendees will find interesting and easy to learn. Providing multiple copies of a gateway game makes it easier to prepare volunteers and teach attendees.
Partner
Check your area for any "friendly local game stores" (FLGS) and inquire about any local gaming groups or if they would be willing to help at an event by providing talent or games. Meetup.com is my go-to; you might start by checking there to see if any groups are close by. The group may let you put up an event on their page and promote to their members. Or, if you do what I do, just make your own Meetup group and start fresh.
Scaffolding structure
If you plan on multiple events throughout the program series, teach a new featured game at each event and have multiple copies of games previously taught available for repeat attendees to play and teach to new attendees. This means less work for you — and for your volunteers — plus, you are providing attendees with a sense of agency by providing for choice and discovery. Providing attendees agency creates a group that is more invested in the programming, the play and the social environment surrounding the games.
I recommend starting with Ticket to Ride. Emerging gamers can learn quickly, and there are enough expansions to accommodate experienced gamers. By the end of the series, you will have a gaming group that can practically run themselves.
Provide the classics
When introducing something new and expansive to people who may be interested but inexperienced, it can be helpful to have some familiar things close by. The solution: provide classic games. They are inexpensive, have very little barrier to entry, and people love them. Chess, checkers, Monopoly, Clue, Backgammon, Parcheesi and a few decks of cards — they don't hurt anyone, and it is nice to see something familiar.
Play in the open
Play in open areas in the library if possible. This encourage spectators, allows for new attendees to easily walk away if they are not interested, and allows for walk-ins to start without the added hurdle of wondering if this is something for them. When closed off in a meeting room, you miss half the social interactions and make it seem like an exclusive club. This can be applied to many programs. A crowd always makes everything better!
Library Type
Academic / College
Public
School (K-12)
Audience
Adult
Children / Family
College Students
Older Adults / Seniors
Young Adult