Short Title
A Whimsical Makeover on a Shoestring
With some creative thinking, Chelsea Price transformed her children's area into a magical spot full of surprises (and a tub).
In our library, the children's space is, by far, the most used. Sure, we'll get an adult wandering in to look at books every so often, and the one teen that lives in town often parks herself beside my desk to chat, but each day after school (and every day in the summer), our children's area is hopping! However, we had had the same décor and donated toys for years, so last year, I decided we needed something new.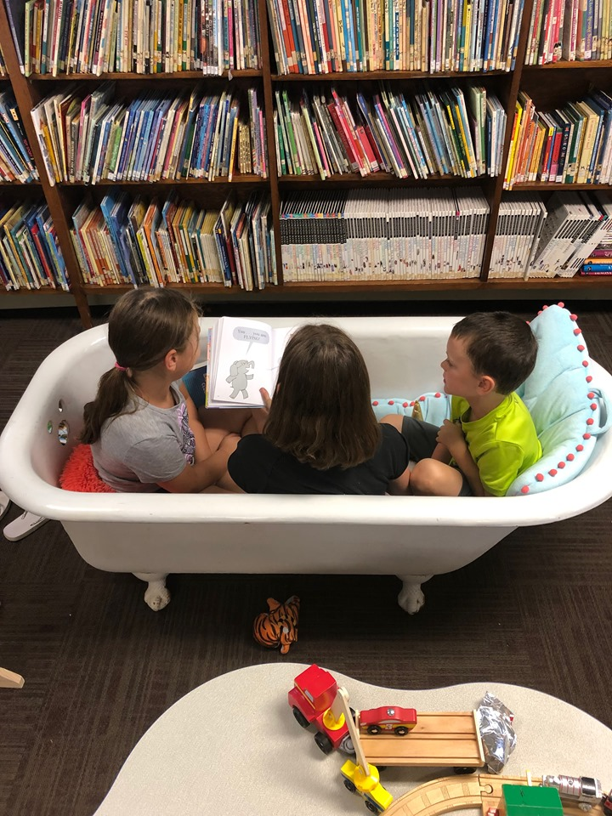 I had recently visited the most amazing children's bookstore (The Story Shop, located in Monroe, Ga.) that was chock full of whimsy and surprise. Children's book references were hidden around every corner: a yellow brick road painted onto the floor, white roses with red paint dripping from a few of them, a topsy-turvy bookshelf holding Dr. Seuss books, a Hobbit hole and even a legit wardrobe through which you could access the story time room. I wanted to bring a bit of that vibe into my own tiny space.
Budget and purchases
We applied for and received a $2,500 grant for new books, toys, furniture and décor for our children's area. As I'm sure you are aware, library furniture is EXPENSIVE, so we had to stretch our dollar as far as it could possibly go. 
A lot of things were homemade, from décor (Pooh's Hunny pot, an Everlasting Gobstopper made of sculpting clay, a directional sign featuring fictional locales) to shelving (a high school friend's brother offered to build a shelf for kids to flip through picture books, and my brother built an adorable house-shaped shelf to hold board books). 
The majority of our money was spent on new toys, some picture books, a tent, a couple of rugs, an 
Imagination Station from Demco
 and a mobile shelf for our graphic novels (ordered from
Iowa Prison Industries
for a good price). The mobile shelf features four sides: two for shelving books, one side a chalkboard and the other side a whiteboard. We have had a lot of fun doing passive programming on that shelf, from interactive felt boards to whiteboard polls. We always have several passive programs set up in the area, including Lego challenges and a mural for kids to color in.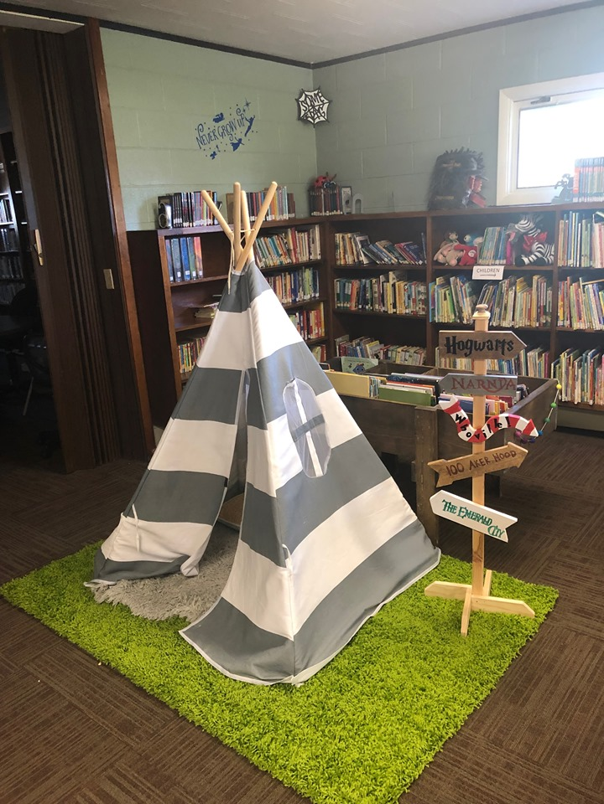 Hidden details
I have found that for kids, it's all in the details. They love noticing something new every time they visit, whether it's the little jar of "Fairy Dust" or the "Some Pig" spiderweb hung up in the corner. (I'll be honest — that idea I stole directly from The Story Shop!)
We also switch toys out periodically. After a few months have gone by, old favorites go in the closet and different ones are brought out; it helps keep the space fresh and exciting.  
And a clawfoot tub
The kids' favorite feature is the clawfoot bathtub — not something you expect to see in a library. When I was in first grade, our wonderful teacher had a bathtub set up in the corner. It was full of blankets and pillows, and a person was chosen each day to read in the bathtub during silent reading time. I have such fond memories of that, and I wanted to include it in my kids' area makeover. 
I scoured the Facebook "for sale" pages for months, and I finally came across one that had never been used. I contacted the seller and explained how it would be used, and he gave it to us for free! We filled it with cushions, and it quickly became the favorite reading spot of every child that visits. (One toddler saw the tub and proceeded to peel her shirt off, thinking it was bath time.)  
With some creative thinking and crafty family members, we managed to stay within our budget and put together a beautiful new space for our young patrons. This goes to show that you don't need a lot of room or money to create a whimsical new look, and you should always keep your eyes open when traveling, because inspiration for your library can be found anywhere.
Popular Topics
Books and Authors
Coloring, Crafts & Hands-on