Short Title
Biking through History at the Library
Move a little, learn a little. Libraries are embracing programs that combine biking and local history. 
Library-led tours can be a highly engaging — and surprising — addition to your programming lineup.
"We surprise people right off the bat, standing in front of this wonderful, family-friendly ice cream shop and saying that it used to be a brothel," Scott Brouwer, archivist at La Crosse (Wis.) Public Library, told ALA's "American Libraries" magazine in 2017. The library's Dark La Crosse Trolley Tour, done in partnership with the local visitors' bureau, takes residents and tourists on rides through the city's seedier past.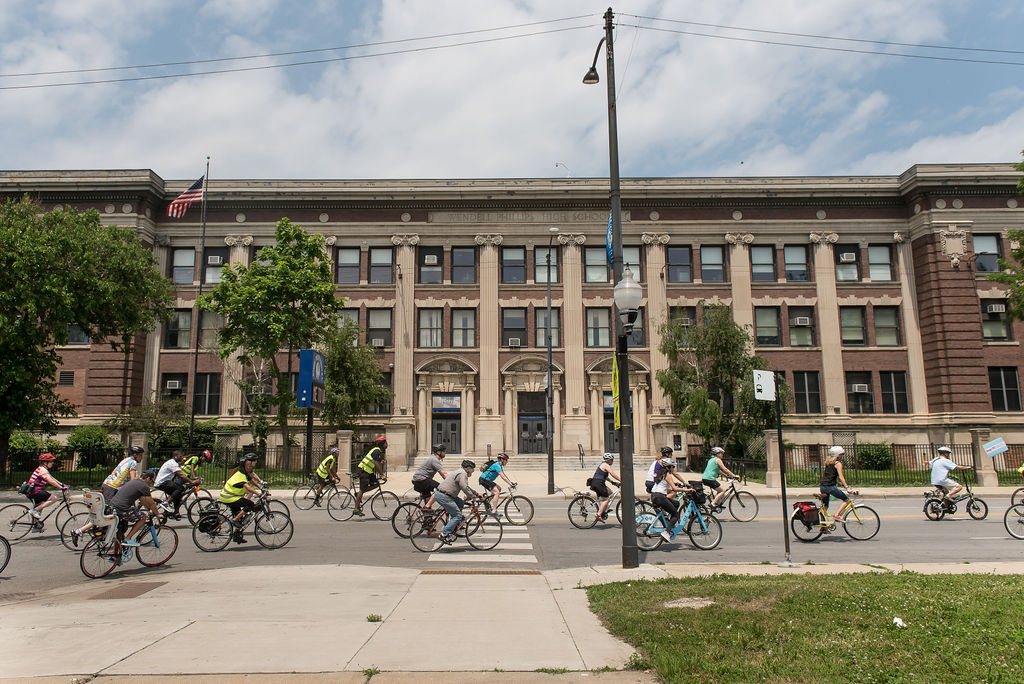 But why limit yourself to walking? Building upon surging interest in bicycling, local history and active transportation, librarians at the Newberry Library in Chicago, the McCracken County Public Library in Paducah, Ky.; and the Maine State Library in Augusta have all expanded upon this idea to offer bicycle-based history tours. Here are some tips for starting your own.
Find a partner
First, these programs depend upon partnerships. Do not go out and try to do this by yourself. 
For safety reasons, you want to work with groups that have the expertise needed to organize safe, well-organized group rides. It is possible to develop this expertise in-house, but unless you happen to have on your staff someone like
Calli Crow
, the volunteer coordinator at Michigan's Kent District Library and a former cycling instructor for the League of American Bicyclists, it's much quicker, more effective and safer to bring in this expertise by working with partners. 
The best partners are bicycle-oriented organizations, including bike coalitions, bike shops, bike advocacy groups or even just plain old community groups of bicyclists. 
In Paducah, the library teams up with the Chain Reaction Cycling Club for their Pedal in Paducah Program series. In Chicago, the Newberry teamed up with Blackstone Bicycle Works. In Maine, the library teamed up with the Bicycle Coalition of Maine (as well as the Maine State Museum).
Choose a format
You can organize a bike history tour in many different ways. In Paducah, the library led a bike ride to, and then through, a local cemetery as part of its annual Pedal in Paducah program, a "series of laid-back, leisurely-paced, family-friendly rides" offered throughout the summer. Tours start and end in the library parking lot. 
In Chicago, the Newberry received funding from the National Endowment for the Humanities for a program on Visualizing the 1919 Riots in Today's Chicago. This bike program focused on helping Chicagoans understand the history and legacy of Chicago's 1919 Race Riots by taking a bike tour of some of its key sites. Reporters from the local NPR station rode along and shared the journey, extending this program's reach. The library also made the route map available online so people who did not attend could take the ride themselves at their leisure. 
In Maine, the state library and its partners decided to "commemorate the 100th anniversary of women's right to vote and at the same time, learn about the benefits of safe, relaxed bike riding" by hosting a free family event on Saturday, June 22. A bicycle rodeo in the morning was followed by "a relaxed slow ride … along the Kennebec River Rail Trail and back." What does all this have to do with the history of suffrage? For many women, the bicycle offered independence in the early 20th century. The day celebrated the "importance of bicycling to the movement for women's right to vote," and thus communicated how the rise of bicycling has influenced American politics and history in complex ways.
Not into the history angle?
If a history tour doesn't work for your library, consider the D.C. Public Library's model. On Sunday, May 19, the library led its 10th annual Tour de DCPL, a free community bike ride that visits several of the library's 26 locations. Every year, to celebrate National Bike Month, a group of library staff, advocates and community members strap on their bike helmets to help DCPL promote environmentally friendly transportation and explore how our libraries connect with the communities they serve.
Similar programs have been successfully offered in Brooklyn, San Jose, Tucson and Salt Lake City, among other cities.
Other ideas?
There are so many other ways to combine bicycling and history. Have you done anything similar at your library? Let us know in the comments and to read more about this topic, check out the program model submitted by the Newberry Library.
Popular Topics
Health and Wellness
Women's History Month
Job Functions
Resources and Program Starters
Collaborations