Short Title
Bilingual Market Storytime
Here's what LP Fisher Public Library learned when they brought storytime to the farmers' market.
Saturday mornings in our small town are not the busiest time at the LP Fisher Public Library, especially in the summer. People have either gone to the lake, are working in their gardens, or are at the farmers market. We are situated in a fairly rural area and agriculture (both marget garden and industrial) makes up a fair bit of our economy. So in 2018, we decided to try going to where the farmers and shoppers are — the market.
Our set-up at the market
For several Saturday mornings last summer I headed to the marketing with a colorful picnic blanket, seven or eight picture books (about half in French and half in English), and some fun physical literacy or STEM toys, like sensory play sand (which never dries out and is easy to clean up), magnetic building blocks, kid-size binoculors, plastic instruments and juggling balls.
The books were geared for a variety of ages; I tried to include books that encouraged movement and interaction, like Hervé Tullet's "Couleurs" (I brought the French and English versions) or Anna Llenas "The Color Monster" (also available in English and French).
I would sit there for an hour or more and read or play games with any families that wandered into my vacinity, and I would tell them about the library and our programs (especially Summer Reading Club) and hand out our calendar of events.
If the weather was fine, I set up my blanket on the grass near the water's edge (by the torturously aromatic food vendors). If the weather was rainy, or the grass was wet from the previous evening's rain, I set up under the porch near the front door of the indoor market.
What I learned
There were drawbacks to both locations. On the porch, I was often drowned out by the musicians who busked next to the doors to catch the most traffic (and get out of the rain themselves). On the lawn I was a bit out of the way and people weren't necessarily sure if I was part of the market or just some odd lady sitting alone on a blanket with toys and books trying to entice random children to play with her. Having our own dedicated location under a tent would be best.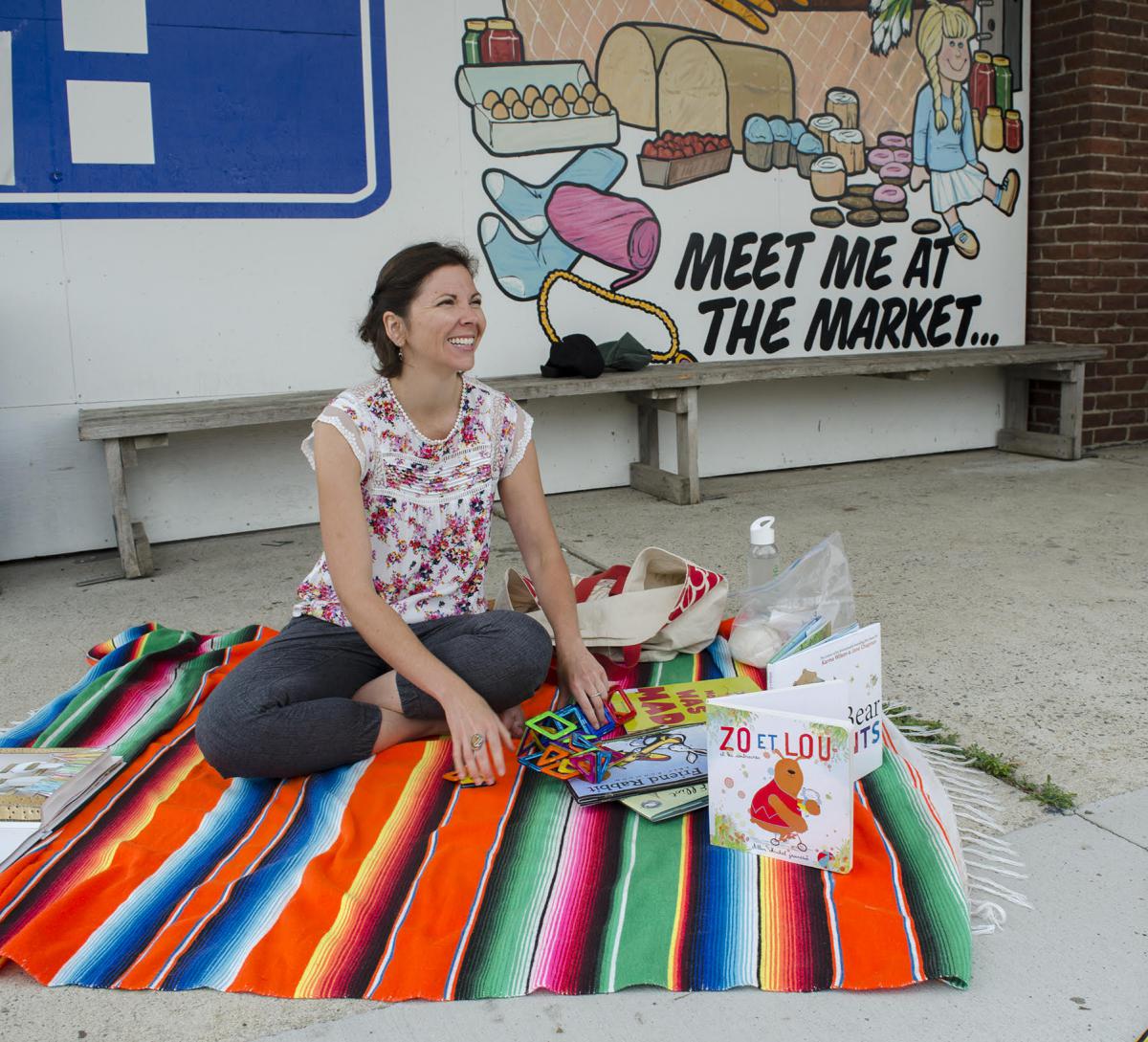 While we advertised the storytimes through the library's Facebook page and print calendar, those who weren't already library members didn't know about the event. It would have been nice if the market itself had been more involved in promoting us. Even though we arranged the program with them ahead of time, the staff working at the market seemed clueless when people inquired, so better communication next year is definitely on the agenda. 
We also need a sandwich board or large banner or something to announce who we are. I sort of got lost amidst the colorful backdrop of vendors and crowds of people. Luckily, I'm not terribly shy. When doing this sort of outreach it is best to send a staff member who has no qualms about soliciting random strangers to read with her on a picnic blanket with teddy bears.
Other than the above-mentioned chaos, it was still a worthwhile venture that we will repeat in summer 2019, with modifications. I got to talk to many community members and tourists who had never visited the library before (many of whom came to visit us for children's programs later that summer), got to help children (and parents) with their literacy skills, gave the library a presence in a new place, and got some fresh air and sunshine (always good for productivity and mental health). 
If you have a farmers market in your town or city, I highly recommend reaching out to see if you would be welcome to offer programs there.
Popular Topics
Community Engagement
Health and Wellness
STEM
Audience
Children / Family
Community Members
Rural