Got old, outdated or damaged books? Before you toss them into the recycling bin, consider turning them into book art.
Every librarian faces the question of what to do with the old, outdated, unused or damaged books weeded from their shelves. Give them away? Recycle them? Throw them out? One fun possibility is to repurpose old books into book art, allowing the pages of an old book to transform into something new.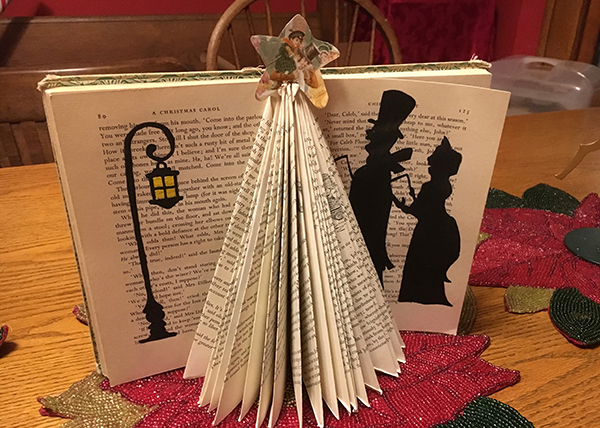 What is book art?
Book art is a growing trend among both book lovers — using pages of books (or sometimes an entire book) to create something new. You can fold old book pages into an assortment of origami animals or use watercolors to paint an image on a page. You can fold pages from a book into shapes such as trees or hearts. Book art is whatever you decide to create.
How to begin
Before you invite your students or patrons to a book art activity, you'll need to assemble supplies. The most important are book pages.
When you are weeding books, set aside a stack of books whose pages are still in good shape; you don't want to work with damaged or yellowed pages. Using a hobby knife or pair of scissors, slice the pages out of the book. Once you pull off the book's cover and remove the spine, you can easily cut out the pages. If the edges of the pages are ragged, use a paper cutter to trim them so the book pages are straight. Fill a box with these book pages. In addition to saving individual book pages, also save several books for projects that require an entire book. 
Other possible supplies include markers, colored pencils, scissors, glue, ribbon, paint, yarn, decoupage glue, buttons, a hole punch, rulers and so forth.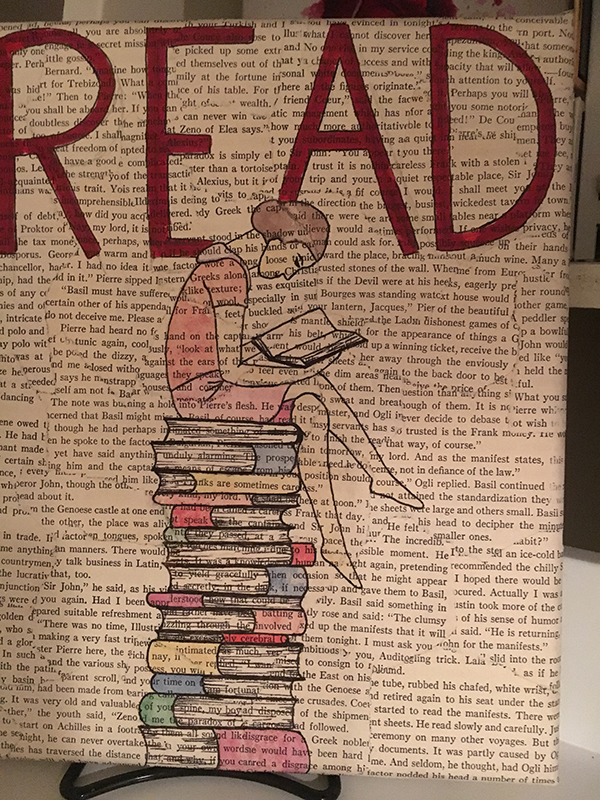 Issue an invitation
Once you have collected supplies, invite interested groups to the library for a book art party. You can connect a book art gathering to a recognized reading celebration such as Teen Read Week, Children's Book Week or National Library Week. Or you might decide to host a book art event on a random Wednesday afternoon just to offer a diversion from the drudgery of a typical week.
Make a large sign to invite your students or patrons; use old books' pages to cut out letters for the sign. Create a display of sample items made from book pages to entice guests.
Resources
There are multiple books available that provide step-by-step instructions on art projects based on book pages and old books. "Book Art" by Clare Young (2018) and "Playing with Books" by Jason Thompson (2010) are just two books that provide a wealth of ideas for book art possibilities. Pinterest also has dozens of ideas! 
What can you make with book pages?
The easiest things to make are bookmarks. Cut a 2-by-6-inch rectangle from a book page, use a hole punch to cut a hole near the top, and thread a colorful ribbon through the hole. Done! If you laminate the paper before you cut it, the bookmark will last longer, or you might glue the book pages to cardstock for a sturdier bookmark. 
Other options include buttons, beads to make a necklace and even lampshades.
There is really no limit to what can be created from book pages: buttons, earrings, origami, greeting cards. I've found the best thing to do is collect the supplies, invite the students and get out of their way. You might want to provide simple snacks such as apple slices or brownies during your book art event; all creativity is sweeter when accompanied by snacks!
After the event
Once your book art gathering is over, make a display of some of the items created — or photographs of the items — so they might provide inspiration for the next book art event. Book art is a wonderful way to share the story of a book in a whole new way.
Library Type
Public
Rural
School (K-12)
Popular Topics
Coloring, Crafts & Hands-on
Job Functions
Resources and Program Starters
Audience
Adult
Children / Family
Community Members
Rural
Tweens and Teens
Young Adult