Short Title
Book-to-Movie Clubs @ the Library!
We know, the movies hardly ever measure up. But that doesn't make a Book-to-Movie Club any less fun.
"The book was better" is a phrase I probably utter too much. I'm that killjoy in the room who will refuse to see movie adaptations because they never seem to measure up to what I imagined as I read the book. However, when a group of friends suggested we do a Book-to-Movie Club at the library, I knew it was too good an idea to pass up.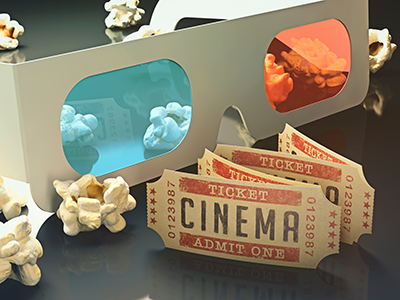 The premise: every month we read a book. Then we gather together one evening and watch a film adaptation of it. The program tends to run a bit long (between the movie and a short discussion, we're usually there between two and two-and-a-half hours). So we eat dinner while we watch.
We've been offering this program for about a year now, and while it doesn't draw a huge group, we do have an interesting array of people who come regularly. It's a fun thing to look forward to every month. It's also an easy and cheap program to pull off!
Here's how we do it:
First, I come up with a list of books (with movie adaptations) that we will read in the coming months. This past December, I chose books for January through June. In May, I will choose July through December. I take a few factors into consideration when choosing books:
The book's length. I don't want to make anybody read a 1,000-page tome. Everyone has other books they're reading, and a couple attendees are members of other book clubs, as well. I try to choose books that are 400 pages or less. Less is preferable.
I choose books with many copies already in the library system, preferably in a variety of formats (large print, regular print, digital and audio.) We don't purchase books for the book club, and we don't ask our patrons to, either. So it is important that there are enough copies to go around.
I ask for recommendations from the regular participants. If they suggest one that fulfills all of my requirements, I make sure to put it on the list!
When I evaluate the books, I also evaluate their associated movies. For the purpose of this program, I will only show movies that are:
Two hours long or less (so, sadly, we will not be reading "Heart of Darkness" and watching "Apocalypse Now" any time soon).
Available to show through our blanket movie license.
I also appreciate finding movie adaptations that are slightly (or very) different from the book, because they always make for great conversations. For instance, when we read "Pride and Prejudice," we watched "Bride and Prejudice", the Bollywood version of the film. For "Frankenstein," we watched "Mary Shelley's Frankenstein," and the differences between the book and the movie made for quite a lively discussion!
I've found that this program works best when you try to attract a slightly varied audience. When I originally planned the program, I asked my friends what movies they would like to watch, and their answers were heavily weighted toward sci-fi and horror. I'd happily watch horror movies every month, but I wanted to expand the audience beyond my little group of friends, so I made sure to mix up the choices. For instance, one month we watched "Misery" and the next, we watched "To Kill a Mockingbird." This has had the effect of creating a diverse group of people from about 30 years old to over 70. This helps the discussions, especially about some of the older films, be very interesting due to the varying perspectives! And as with any book club, if somebody desperately hates one of the selections, they just don't come that month.
Finally, let's get to what everyone seems to come out for ... the food. We do a potluck dinner along with the movie every month, which makes the evening special. One of our patrons likes to come up with food themes for the movies, so before the meeting, I will usually distribute potluck ideas to the regular attendees. Often, the regulars bring so much food that if someone were to come in for the first time and not bring a dish, there would still be plenty for them to eat. Some food themes we've done are Indian food for "Bride and Prejudice," a tea party with tea sandwiches for "The Importance of Being Earnest," and Southern-style food for "To Kill a Mockingbird." We don't always match the food to the book, but it's a fun thing to do and gives some cohesion to the potluck meal.
There are a lot of really good lists online of book-to-movie adaptations, but here's my list to get you started:
Happy Watching!
Audience
Adult
Older Adults / Seniors
Young Adult