Skokie Public Library is winning the fight against "summer slide" with its longtime buddy-reading program.
Libraries know all about the "summer slide." We've addressed summer learning loss with reading clubs and other educational programs for decades. As a matter of fact, some families have come to view libraries as a sort of summer school or educational camp during the longest, hottest days of the year. Whoever thinks summers are slow at a library has never visited a youth department in June, July or August!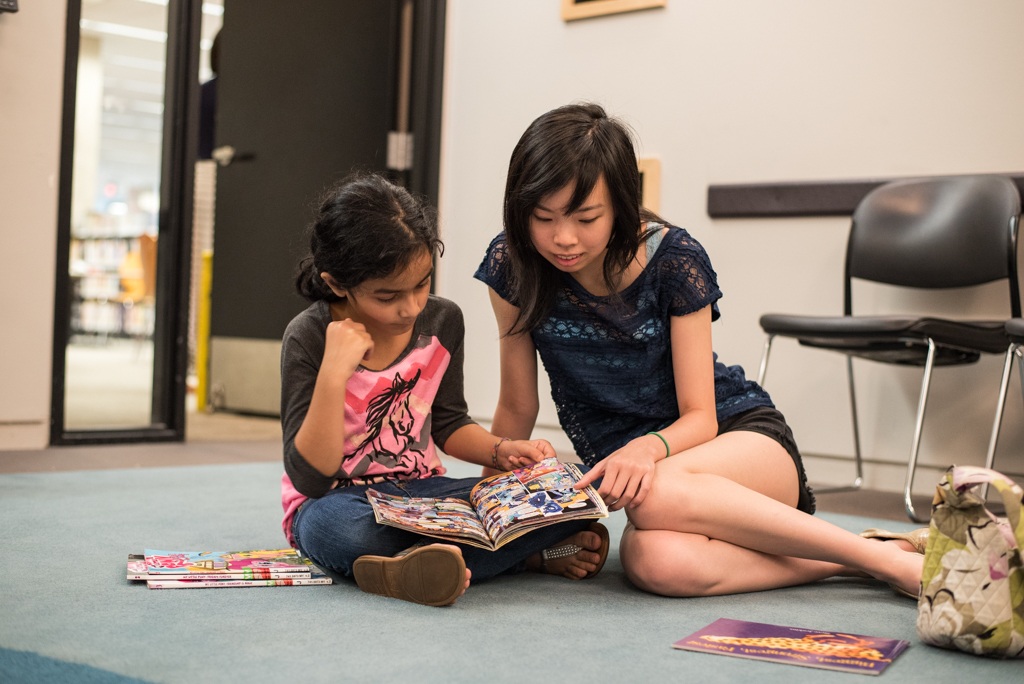 There are still challenges. While many kids relish the idea of sitting back with good books all summer long, others see summer as a reading reprieve and dread even looking at a book. Because young readers haven't yet built up reading momentum, it's even more critical to keep them exposed to books, whether or not they struggle with reading. If even the strongest readers succumb to that slide, what do you think happens to the others?
Twenty years of buddies
Since 1998, Skokie Public Library's Booking with a Buddy summer reading enrichment program has encouraged new and emerging readers to do exactly that … READ! Booking with a Buddy offers a fun and interactive experience for children of all reading abilities entering first through third grade in the fall. Little buddies are paired with a junior high, high school or adult volunteer twice a week for five weeks. During that time, buddies not only read together, but participate in early literacy games and activities that inspire reading success and confidence.
This year marks the program's 20th summer. That means close to 2,000 kids have participated in the program, and that's just the little buddies! Big buddies have gone on to become teachers, doctors, lawyers, you name it. One big buddy, who started out as an earnest 12-year-old that first summer, is now a successful rabbi with children of his own. Actually, the first set of little buddies are all 26-, 27- and 28-year-olds. WOW!
I started with the program during its second summer, 1999, and I'm glad to see it sustain its own momentum. I'm not going to lie, it's hard work and makes for long days, but it's so worth it.
Meticulous matching = productive pairs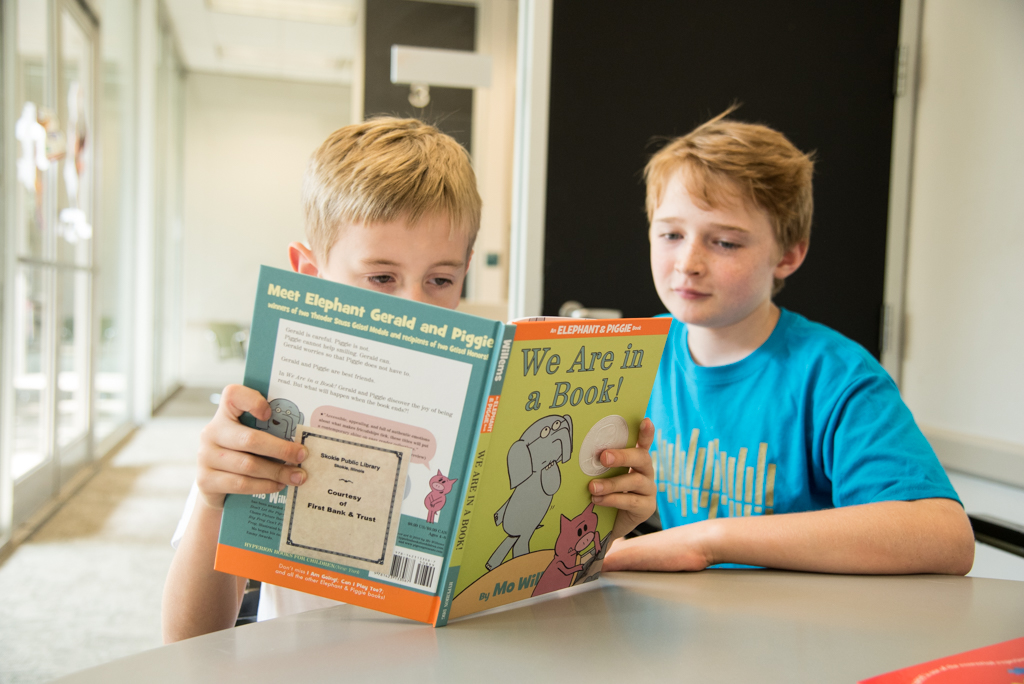 Why is Booking with a Buddy successful? Many young learners still enjoy reading with and to others. Children who resist reading to their parents, teachers or other adults sometimes respond better to tweens, teens and young adults, who may be seen as peers or role models rather than traditional authority figures. A handful of adult volunteers also participate as big buddies for those children who prefer a more maternal/paternal big buddy or a more structured reading session.
Through our detailed application process, we work very hard to match children with big buddies who complement individual reading styles and bring out the best in each child. Our enthusiastic volunteers are excited about making a difference in the life of a child, many having been little buddies themselves in the past. Added benefits include improved vocabulary and comprehension as well as increased social skills and comfort in new or unfamiliar situations.
One aspect that separates us from other book buddy programs is that little buddies have the same big buddies throughout the course of the summer. These pairings have been meticulously matched during the application process. Sure, scheduling issues arise and substitutes fill in, but for the most part, there's continuity from week to week, which makes for a more comfortable setting for everyone.
In 2014, we changed things up a bit; instead of meeting once a week with big buddies during the five-week program, little buddies met twice a week. It's a bigger commitment from little buddies (and their parents), but we've found kids are even more enthusiastic about the program, and parents are excited that their children are reading more often and getting added exposure to books (and the library) during the summer. Because the best volunteers are busy individuals, we only require them to commit to one day a week, so each little buddy has two big buddies, a Monday buddy and a Wednesday buddy.
Program application and organization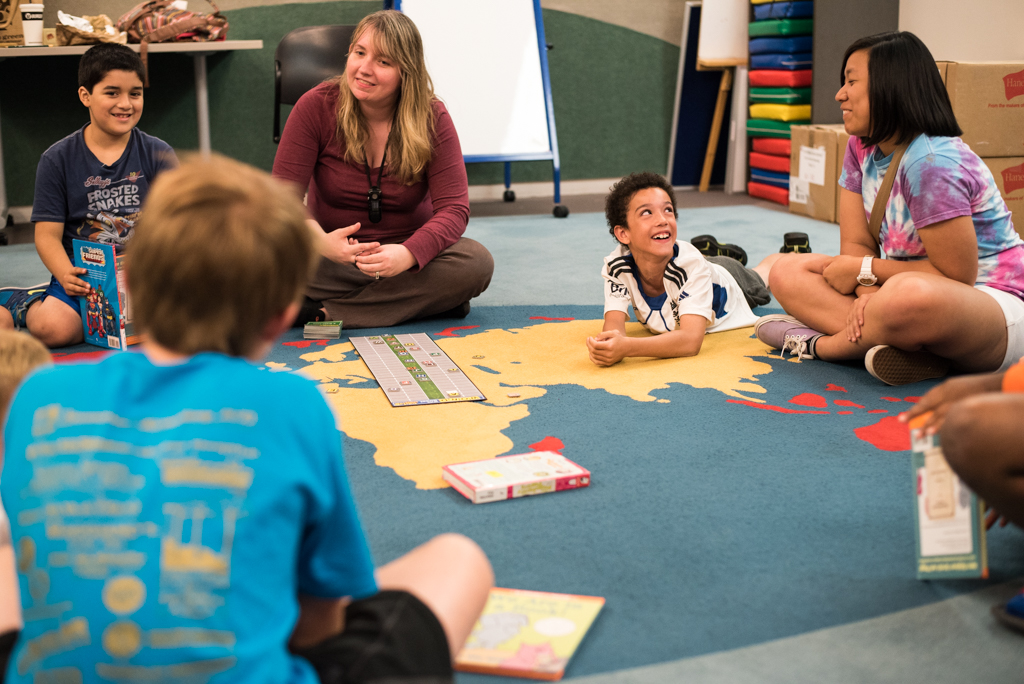 That brings me to the structure. How do we organize this program? When parents register their child, they access an application with questions about their child's reading abilities and preferences as well as timeslot choices. We have six one-hour sessions through the course of the day, starting at 11 a.m. all the way through 8:30 p.m. Up to 12 pairs can meet during each one-hour session.
Parents drop off little buddies in our youth program room, where they meet up with big buddies. Snafus happen. People run late or get sick (at the very last minute), but for the most part, everyone is eager to start each session. We do require parents and big buddies to swap contact information with the expectation that they will still contact the library, but they should let their buddy know first of any issues. This and many other logistics are covered in our Big Buddy Orientation and the Volunteer Manual. Parents meet as a group on the first day of the program (after their child has been paired with their buddy) and are sent weekly emails with notes about the program as well as literacy resources and statistics.
Buddies at work
For each session, big and little buddies find a comfortable spot within the youth department to read together. I am available for each of the sessions and walk around to monitor activity and progress, helping find appropriate books along the way. I try not to be intrusive with the pairs and stress to big buddies to keep it fun and light, as this is not a tutoring program.
After 45 minutes of reading, I gather all the pairs back in the program room to play a group-based reading game or activity. Some of our most popular activities have included Zingo, Word on the Street Junior and Silly Sentences. The games are a great incentive to keep kids reading throughout the session, and they also end each session on a high note. It is also a good opportunity for me to assess the dynamics of pairs, as I "lead" each game and interact with everyone throughout.
The last two summers, we've partnered with a local bank who donates a short chapter book for each little buddy. As nice as this surprise is, the bigger gift is the love of reading many children develop as a result of this simple yet special program. Let's get ready for another 20 years (and then some)!
Mandy O'Brien, a youth services librarian at Skokie Public Library, loves to engage kids with reading and writing, whether through storytimes, writing clubs or reader's advisory.