Short Title
Tips for Hosting a Wikipedia Edit-a-thon
Navigate your way through Wikipedia wonderland with this step-by-step programming guide.
In today's information landscape, there is no avoiding Wikipedia. Not only is it the largest encyclopedia, but it's one of the 10 most visited websites in the world. As early as 2011, more than half of the U.S. population was already using Wikipedia for research, according to a Pew Research Center project. A major part of Wikipedia's success is that anyone can contribute to its content. Many eyes can fix many errors, as they say, but what are we to do with the knowledge that the individuals behind those eyes are mostly men in their mid-20s? 
Enter the Wikipedia edit-a-thon. For the past few years, educational and cultural institutions have brought together women, people of color, LGBT communities and other underrepresented groups to collectively edit and improve Wikipedia's content, with an eye toward greater inclusivity and broader perspective. The skills that librarians can bring to Wikipedia — specifically the ability to critically evaluate and synthesize multiple sources, locate credible information and deconstruct bias — and their talent to teach those skills makes them uniquely qualified to host an edit-a-thon. So how does one get started?
Step 1: Familiarize yourself with the culture of Wikipedia (or find a local expert)
Wikipedia is a community with its own social norms and practices. Start by reading the Five Pillars, the fundamental principles upon which Wikipedia is built. From there I recommend moving on to Wikipedia's 10 Simple Rules, then either the student training modules or the ambassador training modules. Be careful: You can quickly fall into a rabbit hole of documentation and how-to guides. Wikipedia is effusive on no topic so much as itself!
You can also reach out to a local Wikipedian to either host a staff training workshop or offer an introductory tutorial at the beginning of your event. Contact nearby institutions that have held edit-a-thons or find local Wikipedia groups to identify potential trainers. For example, there is a Facebook group specifically for Los Angeles editors, many of whom are librarians, archivists, curators or educators.
Step 2: Chose a theme and date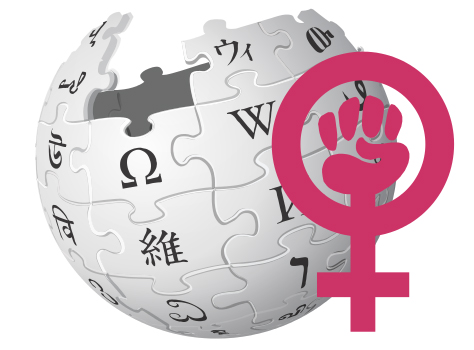 While a theme for your edit-a-thon isn't necessary, I strongly recommend it. Having a theme will make it easier to identify a target audience and pull together resources (Steps 3 and 4). Strategically choosing a date can be beneficial as well. For the past three years, institutions around the world have sponsored Art+Feminism edit-a-thons in March. Scheduling your event in coordination with an annual event like Art+Feminism provides you with access to the resources, tools, tips and support these communities offer. Most importantly, there is a list of articles that need to be created or improved!
Step 3: Partner and perform outreach
As an academic librarian, my target audience is almost always students. To that end, I recommend identifying specific classes related to the theme of your edit-a-thon and reaching out to the faculty. Wikimedia Commons has a number of resources for instructors on how to integrate Wikipedia into assignments, including a 12-week syllabus and teaching manual.
However, be sure to advertise the event locally as well by creating an edit-a-thon meetup page. Reach out to relevant and local historical or cultural heritage groups, especially galleries, libraries, archives and museums. The goal of an edit-a-thon is not just to generate more content, but to also recruit new editors, build connections among local editors and increase your participants' overall confidence in editing, evaluating and using Wikipedia.
Step 4: Provide the essentials
The two essential resources for any successful Wikipedia edit-a-thon are internet access and food. Beyond that, I recommend having a couple extra laptops on hand; new editors like to work in groups, so having one computer for every participant isn't always necessary. If you want to go above and beyond, use your librarian skills to pull together credible resources relevant to your theme (one trunk load is sufficient) or create a LibGuide of recommended online resources. 
Step 5: Ready, set, edit!
At minimum, your edit-a-thon should last a few hours. You will likely spend the first one to two hours getting new editors up to speed. Wikipedia has created a useful list for what you should do during an edit-a-thon. Consider bringing in an expert Wikipedian to work with new editors one-on-one. The recommended ratio of newbies to experts is 10:1.
Not everyone will have the opportunity to create a new stub, but within two hours most of your attendees will have time to improve a few articles. Nota bene: One of the easiest projects for new editors is to add or update citations. It should be no surprise that Wikipedia has lists of articles that need citations or have broken links.
Step 6: Rinse and repeat
I've attended a number of Wikipedia workshops over the past two years and one phrase I keep hearing is "the hardest part is getting started." It's a known issue that the syntax and architecture of Wikipedia can be daunting the first time you log in and try to create a user page. However, remember that the goal of hosting an edit-a-thon is not only to improve specific articles, but also to increase the number and diversity of people confident at editing Wikipedia.
As you continue to host more edit-a-thons, you will begin to build a local community of experienced editors who are better at identifying gender gaps, heteronormative perspectives, societal privilege and Western bias in Wikipedia. More importantly, they will be more apt to address those issues in what is arguably the greatest information repository created. Be bold!
Job Functions
Resources and Program Starters
Collaborations
Professional Development/Training
Audience
College Students
Community Members