Short Title
Children's Programs for Aboriginal History Month
A Woodstock First Nation educator taught young people to make an indigenous shaker at the  L.P. Fisher Public Library.
In Canada, June is Aboriginal History Month and June 21, 2016, was National Aboriginal Day. Every year, public libraries across Canada celebrate our First Nations' cultures and accomplishments. This year was an exceptional celebration since the Supreme Court of Canada issued a landmark ruling that declared the federal government responsible for the approximately 200,000 Métis and 400,000 non-status Aboriginal people who are not affiliated with specific reserves, alongside Aboriginals with "status" and Inuit.  
Indigenous rug, puzzles a hit with kids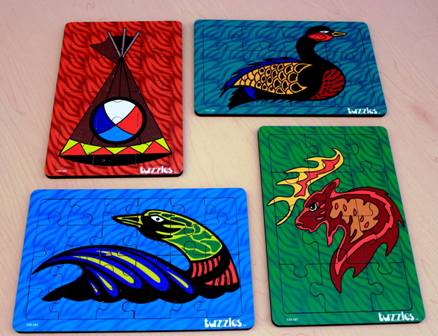 In celebration, the library board and Town of Woodstock joined forces with the New Brunswick Public Library Service to buy a gorgeous indigenous rug for our children's department and four matching puzzles. The kids have had so much fun playing with the puzzles that the edges are already showing some wear and tear. The staff are also getting really good at putting them back together at the end of the day!
We ordered both of these items from Wintergreen and promoted them on our Facebook page, urging our community members to come check them out. We also created book displays in the children and adult departments highlighting works by Aboriginal authors and featuring Aboriginal storylines.
Since our theme for this year's Summer Reading Club (SRC) is Explore!, we decided to use the launch party to celebrate Aboriginal History Month, as they are both in June. To help plan programs around your local First Nation history, I highly recommend reaching out to your community members and local Band Council. There are also lots of fun resources online to help you get started. For our programs this year, I approached Anatasha Lyons from Woodstock First Nation and the Aboriginal Visual Arts educators at the New Brunswick College of Craft and Design (NBCCD) to participate in our events. Unfortunately, NBCCD wasn't able to participate this year, but Anatasha agreed to come teach us how to make authentic Maliseet shakers.
Creating deerskin Maliseet shakers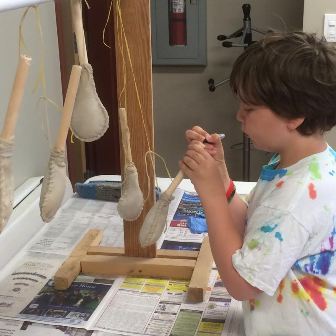 This Shaker Workshop took place in two sessions, which was done over two weeks to allow the deerskin to dry. Below is Anatasha's description of these amazing instruments:
"The traditional shaker/Əlehstikən was primarily used to keep the rhythm (beat) of music frequently heard at communal gatherings and also applied heavily by Medicine Men and Women, also known as Mətewələnowək in the Wəlastəkwewiyik (Maliseet) language. The Mətewələnowək would often use them for ceremonial purposes. Traditional shakers were most largely made from bone, gourds or rawhide. If made from bone, it was often an antler and referred to as Halənəss. Gourd shakers were also made by the Wəlastəkwewiyik people as they were traditionally farmers of the three sisters: corn, beans and squash. Shakers were also made from turtle shells when they were available and of correct size. Customarily, rocks, bones, dried kernels and seeds were used to make a variety of noises. However, more modern materials can be used, such as beads and BB pellets. The style of shaker that was made at the L.P. Fisher Library was created from deer hide (ətohkewey mətekən) and a mixture of traditional and modern materials were used during construction."
The kids and their parents had such a great time making the shakers, learning about their history, learning to respect the animal they came from and how to treat them properly. We had a vegetarian family participate that were, at first, reticient about using animal hide, but once they saw how respectfully the animal was treated they felt it was acceptable with their values.
On the first day the wet deerskin was sewn together with sinew and filled with sand, then hung upside down to dry for a week. On the second day, we emptied the sand, glued up the holes, filled the head with corn, rice, BBs and beads until we got the sound we liked, and then inserted the dowel. Once that was complete, we got to decorate them with a traditional Maliseet motif of the double curve, feathers and ribbons. My eldest son decorated his with his "spirit bear" (he was very inspired by Anatasha's stories). We were lucky enough to keep four shakers here to use in our children's programming, and the children were delighted to take theirs home.Community reactions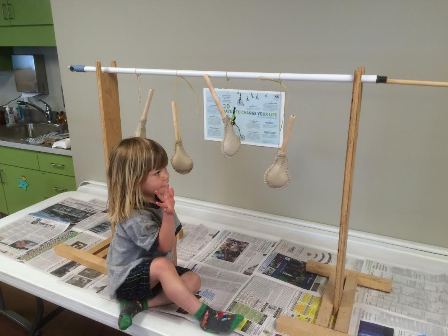 We were so pleased with the turnout for the workshop (seven kids plus their parents/caregivers) and the quality of Anatasha's instruction that we've asked her to return in the fall to teach a more intensive workshop for teen and adults about how to make traditional Maliseet hand drums. 
We aren't the only ones excited about these workshops. The day our shiny new shakers were proudly on display at the circulation desk a patron from the Woodstock First Nation stopped by the library. "Wow!" he said. "I had shakers like that when I was a kid! Only we used a real stick for the handle. Where did you get these?" When we told them we made them, with children, here at the library, he was very impressed and proud that we were sharing his Maliseet heritage with local children from all different cultural backgrounds.  
People from all different cultures working together to learn about and respect another culture's history and art in a place where everyone is welcome, the public library: now that is something to celebrate!