Short Title
Comics & Cosplay Club: An Itinerary
Malvern Public Library's Comics & Cosplay Club nights offer some fun, some learning and some friendly competition.
I had just begun my job as director of the Malvern Public Library when I decided to kick off my first summer at the library with the launch of my brainchild, the Comics & Cosplay Club.
The club quickly became our most popular program. Fandom is a great way to bring people together, and I have developed a meeting plan that provides structure and variation to our Comics & Cosplay Club nights.
The following is an outline of my itinerary. Meetings take place from 4 to 6 p.m. on Thursdays. While the club was (and remains) open to all ages, it has been especially popular among young adults who are passionate about sharing their love of all things comic book- and manga-related.
Learn a little Japanese
Each two-hour meeting starts with a brief Japanese lesson during which participants work together as an informal classroom in an effort to learn to speak and write in Japanese. 
I typically do a combination of YouTube tutorial videos with accompanying worksheets for a lesson, which I create from scratch in Microsoft Word. Depending on the group, we usually focus on basic phrases, the Hiragana and Katakana (alphabets), or even practice conversational Japanese with one another.
Show and tell
Next, we often hold a show-and-tell session that gives members an opportunity to showcase a favorite manga- or comic book-related item they own. I've seen it all: manga, action figures, fanfiction stories, jewelry, homemade costumes, you name it.
Competitions
The occasional contest encourages friendly competition amongst members. We've held video game contests, art contests, fanfiction writing contests, dance competitions and cosplay contests (especially popular around Halloween). I give out small prizes such as Pocky (a favorite snack), books, bookmarks, anime magnets and buttons.
Watch some anime
Each meeting concludes with viewing a favorite manga/anime- or comic book-related movie and/or series. The kids love Pokemon, Fruits Basket, Godzilla, anything Hayao Miyazaki related, and the list goes on!
Costumes and snacks
Members are encouraged to attend the meetings dressed as their favorite fictional character and to bring a snack to share during the movie that they feel their chosen personality would enjoy. We have had mochi ice cream, candy sushi, popcorn with M&Ms and cookies. 
Other ways to get kids involved
Today, our Comics & Cosplayers remain as busy as ever with their involvement at our library and in the realm of social media. If you are a fan of the library on Facebook or frequent our website, you will notice a new logo and promotional ad have been published for our library's Comics & Cosplay Club. This is but one shining example of the talent our youth have to share with the community. The kids have even written their own Comics & Cosplay Club Manifesto.
Rebecca Bassich is the library director at the Malvern Public Library in Malvern, Iowa. This blog post is part of a series, organized by Iowa State Library, exploring programming in small libraries throughout the state.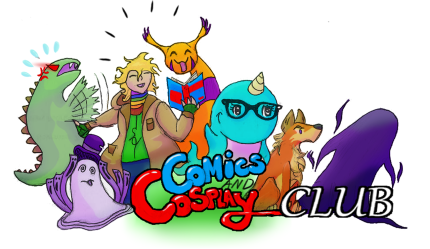 Popular Topics
Books and Authors
Coloring, Crafts & Hands-on
Tech and Gaming
Audience
Children / Family
Tweens and Teens
Young Adult